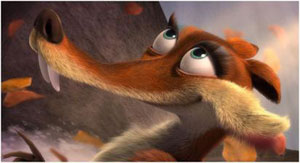 It's summertime, and a few of us have taken time off to attend to other matters, such as a wedding I just returned from. Ben will be letting us know what he's been doing quite soon, and Rodney's been tending to some DVD reviews which will be posted in the near future.
The member of our staff keeping busiest around here, though, has been Jérémie Noyer, who has a few interesting pieces being written as we speak. His most recent effort is an interview with Ice Age character designer Peter de Seve. The interview covers his work on the whole trilogy. Do check out Peter de Seve Breaks the Ice with Ice Age: Dawn Of The Dinosaurs for this informative chat and some nice pieces of behind-the-scenes artwork!
And, I can't believe this, but we never hyped up our review of Ice Age: Dawn Of The Dinosaurs! In fact, James popped by last week to tell us about the film, which he said is very different from the last two films in the series, but maybe turns out the best of the three. Read why in his review of Ice Age: Dawn Of The Dinosaurs
Meanwhile, Ben has been pretty busy in other quarters, but he did manage to slip in a few days ago unannounced and post his DVD review for Tom & Jerry: The Chuck Jones Collection. These cartoons have been slapped down a bit over the years, with many saying that they don't do the Hanna and Barbera cat-and-mouse team justice; but as Ben states, these underrated short films "are more than just an interesting curio, being a highly unique peek at one director's take on other creators' long-standing characters."
In DVD release news, Warner Home Video has just announced two more volumes for their highly recommended Saturday Morning Collections, with us getting new volumes for both the 1960s and 1970s. These great sampler sets offer a nifty opportunity to experience what Saturday mornings were all about back when Saturday mornings meant something to kids and cartoon fans everywhere. As with the previous sets, early info looks contradictory, with the covers shown in their press release not matching the described contents (e.g. Inch High, Private Eye shows up on the 1970s cover, but not the episodes listing). I'm also hoping that they won't really burden each set again with an episode of The Jetsons, which were already overexposed in the previous sets. With all the shows in the Hanna-Barbera library, can't we find something else to show off? I also noticed that some shows listed for the next 1970s set were actually 1960s shows, so we'll look forward to updated information from the studio. However these volumes turn out, though, I know I'll be checking them out.
Lots more reviews and articles to come, so stay tooned! -Rand.