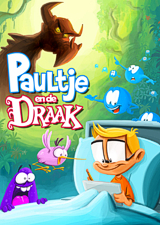 A small but fascinating item posted on our Animated News page a couple of months ago got me very interested in a short animated film that had just been completed in Holland, Paul & The Dragon. Intrigued by its central concept of helping children with cancer deal with their situation via an exciting story told in traditional animation and a healthy dose of humor, I contacted its creators, Paco Vink and Albert 't Hooft to request a copy and to see if we couldn't help bring a little international exposure to their worthy cause.
The result is a couple of new pieces for you today, including a full review of the featurette-length movie and DVD itself, which I was touched and impressed by, the visual quality of the storytelling highly proficient in the way it conveys its intentions without the use of dialogue. Having been involved in a similar kind of project (albeit a straight comedy and in live-action), I know the barriers one is setting themselves in going this route, and that they overcome them and present the story so strongly is a further achievement to the already very accomplished film.
Having also now read Jeremie Noyer's engrossing interview with Paul & The Dragon's two creators, I'm even more impressed, given their revealing the production process and how the film was completed over a length of time. Here's hoping that our humble exposure here may bring some well deserved attention to the film at that it leads to Paul & The Dragon being seen internationally: it would certainly bring a smile to children all over the world suffering with this most unfortunate of illnesses.
If you're able to play PAL-format DVDs, I wholeheartedly suggest following the links at the end of each piece to secure your copy and support the VOKK organisaition's work. And I wish Paco and Albert the very best of luck with their delightful film: AniKey has certainly proven themselves as a name to keep an eye on in the future.
Stay tooned! — Ben.