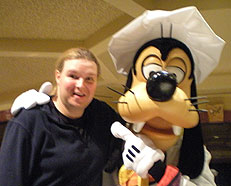 Hello Animated Views readers! James here, as Ben's computer problems continue to keep him offline for the time being. My internet service went out for about three days recently and I was bouncing off the walls not being able to get on the web! So I really sympathize with what Ben must be going through after a couple of weeks! The good news is Ben has new hardware on the way. And from what's he's told us it's very nice with some extra features that'll come in handy for the website. I'm sure he'll be happy to brag about his new rig very soon! To make up for his absence, maybe when Ben gets back he and his good friend Goofy here can work on a new short together: "How to Buy a New Computer"!
While this time of year is generally slow for us anyway due to the lack of new disc releases, we haven't been just taking it easy. Our sister site, Animated News, is still in full swing. Especially now that we're in "Awards Season" where every film related entity in the world is handing out the hardware! Oscar has just announced that Ed Catmull (co-founder of Pixar) and Mark Kimball (longtime Disney technical wizard) have been awarded two of the Academy's prestigious prizes by the Board of Governors. WALL-E continues to rake in the trophies, with his latest being the People's Choice Award. And the Producers Guild and BAFTA's are getting in on the action too.
In news that excites us here at the Views, Disney has announced their HD software slate for 2009. Joining the previously announced Blu-ray Pinocchio: 70th Anniversary Platinum Edition will be Pixar's Monsters Inc. and A Bugs Life, and the fairest of them all, Snow White and the Seven Dwarfs Platinum Edition. We'll obviously be covering them all here so, as Ben would say, "Stay tooned"!
Thanks for sticking with us. Assuming Ben doesn't kill me for posting that picture, I'll see ya real soon! — James