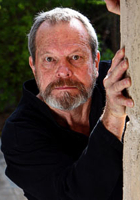 How great to hear that former Monty Python animator, director and star Terry Gilliam will be honored at this Sunday's BAFTA film awards at London's Royal Opera House in the UK with a Fellowship in recognition to his contribution to film, the highest accolade the British Academy can bestow. It's especially neat to see Gilliam honored in this way (previous recipients include Charlie Chaplin, Alfred Hitchcock, Stanley Kubrick and Steven Spielberg) after his subsequent directorial career has survived various ups and downs, and some truly original films: Jabberwocky, Brazil, Baron Munchausen, Twelve Monkeys and Fear And Loathing In Los Angeles among them.
This comes right at the perfect time: after the disappointingly lackluster Brothers Grimm, I'm extremely excited about his next film, The Imaginarium of Doctor Parnassus, in which Johnny Depp, Colin Farrell and Jude Law stepped in to complete the multiple roles that Heath Ledger had been shooting. Depp is a long-time collaborator, and I'm hoping that his risen stock and a success in Parnassus may yet see Gilliam's cherished The Man Who Killed Don Quixote enter production once more…and this time reach the finish line. We can hope, but in the meantime, congratulations to him on this overdue accolade!
---
Howsabout some new releases: we've a little more on the mysterious Koch Vision debut of Max Fleischer's Gulliver's Travels on March 10, which promises an anamorphic widescreen presentation. Seeing as the film was made way back in 1939 (the second American animated feature only to Snow White in fact), this should be a big no-no, and details on the title have been scarce. But we've some confirmation from Koch: the disc will contain the 77 minute feature in both a widescreen format ("digitally restored and re-mastered from the original source 35mm film and enhanced for 16×9 – allowing you to see more picture than ever before!") and the original 1.33:1 ratio, with sound in newly remixed 5.1, 2.0 and original mono formats.
So, apparently, we will be able to view the 1939 film as intended, though the widescreen option remains an intriguing curio and is sure to be eye-opening or a travesty. We'll find out on March 10, when the film comes to DVD (pricing TBA at either $12.98 or $14.98) and Blu-ray Disc ($17.98-19.98). In all respects the details seem to mirror WinStar's 60th Anniversary Edition that came out a few years ago and I have to wonder if the same basic transfer isn't being rehashed: extras will bundle in the same, and often-seen, The Making Of A Popeye Cartoon peek inside the Fleischer Studio of the time, and two of the eight spin-off cartoons featuring town crier Gabby: as yet not confirmed, but I'd be surprised if they weren't King For A Day and Swing Cleaning. Here's the BD artwork, and by a related coincidence, a first look at the classy Max Fleischer's Superman: 1941-1942 two-disc set from Warner Bros, coming April 7 for $26.98: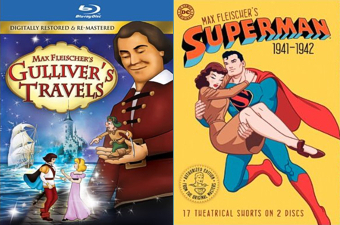 Also just announced is Frank Miller's grand folly The Spirit, which grossed just $19.8 million (ouch!) in theaters. Coming to DVD and BD on April 14 (single disc: $29.95, two-disc: $34.98, Blu: $39.99) from Lionsgate, the bonuses will pack in featurettes, an alternate storyboarded ending, a digital copy and more. On March 24, Watchmen: Tales Of The Black Freighter starts the promotional ball rolling for this spring's major motion picture, with voices including Gerard Butler and featurettes, Chapter One of the Watchmen Motion Comic and a sneak peek of DC's next, Green Lantern among the DVD ($27.95) extras. From Warners, the BD ($35.99) will add an exclusive Watchmen scene and bonus interview. Lastly, Wolverine And The X-Men: Heroes Return Trilogy features episodes of the Nicktoons series with commentaries, featurettes and character profiles, coming to DVD ($14.98) from Lionsgate on April 21.
Stay tooned! — Ben.