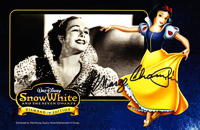 Hey folks, I can't tell you how
really
excited I am about today's post from Jeremie! Just as with our
currently running contest
, those that have been following our updates this week will know we're celebrating the release of
Snow White And The Seven Dwarfs
on Blu-ray Disc with a new feature each day, including chance to win a signed photo of Disney Legend Marge Champion, the live-action reference model for Snow White herself.
Well, Jeremie's gone one better than even that, speaking exclusively to Marge Champion about her experiences working with Walt and his army of animators on the world's first animated full color and sound feature production! Touching on her amazing Hollywood career and the response to Snow White when it premiered in 1937, her recollections make for a lovely trip down memory lane.
There's still more to come, including a look back on the film's production and, of course, a full review of the new disc too, so stay tooned! — Ben.