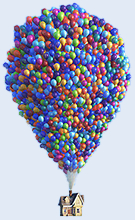 Big thanks to Rand for jumping in for me last week while I was off in a world of my own catching up on various "real world" projects, one of which I'll do my usual shameless plug for here on the site at some point over the coming days.
In the meantime, he's kept us up to date with the new reviews popping up on the site, which have just been added to with Rand's latest addition, Saturday Morning Cartoons – 1970s: Volume 1, the second recent collection of programming from way back when. Mr Cyrenne has been very taken with these sets, though this pick of the 1970s output doesn't seem to quite rate up there with his comments on the 1960s collection posted last week, even if the enthusiasm is still sky high.
Talking of which, and brand new on the site, is something we've all been very excited about here – the latest piece from our interviewer extraordinaire, Jeremie Noyer. Today he speaks exclusively with Up director Pete Docter to reflect on the Pixar helmer's influences, past career and the workings of his multi-layered new movie! Whoever knew he was such a big Muppets fan? Or that, between you and us, he perhaps prefers Looney Tunes cartoons over the Disney shorts? It's all in here, folks, as well as a lot more besides, in an insightful discussion that delves behind the scenes of Pixar's latest smash, currently still holding its place atop the domestic box office (and the only film this year, as I understand, to even manage two weeks in a row)!
Stay tooned! – Ben.