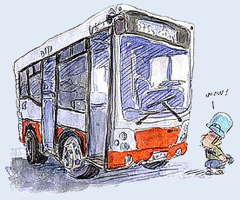 Our first ever welcoming of our interviewer extraordinaire Jeremie Noyer was with his first piece for Animated News & Views back in 2007 (wow, where does the time go?) when he celebrated Ratatouille's arrival in theaters via a discussion with the film's storyboard artist Enrico Casarosa. One of the things Enrico mentioned was his personal project The Venice Chronicles, a comic strip styled journey through Italy which he'd been adding to his own website one page at a time and hoped to soon have out in a print edition. Well, that time has come – Jeremie's latest interview sees him catching up with Enrico and speaking more about The Venice Chronicles and how he translated his observations to the page. This is a really lovely chat which provides a very nice exploration of the artistic process, so be sure to check it out!
---
In DVD news, it seems much of the March madness is over, with an unusually high abundance of DVD releases coming out over the past few weeks. April's still had some notable titles put out on shelves, as highlighted by two new reviews from Rodney, the first of which is the retroactive Schoolhouse Rock! Earth, a new incarnation of the classic musical series. Despite much enthusiasm for both the idea of bringing Schoolhouse Rock! back to screens and its environmental theme, Rodney comes away with "mixed feelings", the generally decent level of animation not always gelling with the sometimes only so-so eleven new songs.
On the opposite end of the spectrum, the high energy flashy CGI style of Star Wars: The Clone Wars – A Galaxy Divided, the continuation George Lucas' expansion of his sci-fi universe to fit in all the story that he really should have gotten right the first few goes around. Nah, I jest of course: Rodney actually has fun with the disc, which collects four episodes of the television series, and suggests this is a project that was always going to work best on small screens. Just a note on the DVD presentation: Rodney questions the broadcast aspect ratio of 1.78:1 to the 2:35:1 the show is reportedly framed at. Having seen some of these in HD, I can confirm that Clone Wars is indeed shot for the wider frame, and can only suggest that we'll see the full frame when season sets eventually start to trickle through.
May the force be with you, and stay tooned! — Ben.