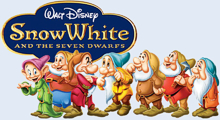 Of course today sees the release on Blu-ray Disc of Walt Disney's triumphant first foray into animated feature filmmaking, Snow White And The Seven Dwarfs, known as "Disney's Folly" at the time, when Hollywood collectively believed audiences would not sit through an hour and a half of cartoons. Over 70 years later, they not only sat through Snow White in 1937, but we're still sitting through them today!
If you haven't yet bought your copy, why not support Animated News & Views and buy through our affiliated link at Amazon.com, where the set is currently going for less than $20. Even better, enter the promotional code SNOWHITE and get a further $10 off the purchase price (also good on the other editions), bringing the cost down to just $9.99 for a very limited time only!
---
Continuing our celebrations of all things Snow White, Jeremie Noyer recently joined the Disney Animation Research Library's Lella Smith for a roundtable discussion on the development of the Dwarf characters, from their initial appearances to the picking of their eventual names. If you haven't rushed out to pick up the movie yet, this is a nice taster for the kinds of treats in store!
There's more on the Dwarfs' characters, and the continuing importance of Snow White as a groundbreaking motion picture event, in our feature The Characters And Legacy Of The First And Fairest Of Them All, a collection of facts, figures and fun that looks back on some of the film's many milestones, packed with more images and clips from the movie and the new Blu-ray disc!
And don't forget our ongoing Snow White Contest, where a lucky reader will not only win a copy of the BD/DVD combo pack, but the runners up have a chance at grabbing a signed photo of Marge Champion – who Jeremie just happens to be interviewing tomorrow!
So…stay tooned! — Ben.