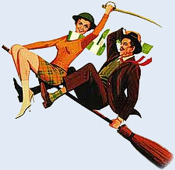 Let's fly back to a more innocent age, back to when Disney's live-action films were not particularly admired but that have stood the test of time to be rediscovered again. Yep, the 1970s at the House Of Mouse was not the most innovative of times: Walt had just passed on and the Studio was stuck with the troublesome task of remaining contemporary while adhering to the Disney ideals. The results were not always memorable, but there are far more gems to be found among the output from this decade than many would have you believe,
Bedknobs And Broomsticks, now available as an Enchanted Musical Edition
, among them.
Though the new disc release of the film fails to add anything new (indeed, it loses some of the best info from the previous release), as Randall Cyrenne remarks in his review, the movie is a "charming film in its own right, full of pleasant songs, wonderful performers, and lots of its own brand of magic". The disc holds the 25th Anniversary restored edition that was reconstructed by historian Scott MacQueen, and for more on that effort, and those that went into the making of the original movie, don't forget to catch up on Jeremie Noyer's fascinating interview with co-composer Richard M. Sherman!
Have a great weekend, and stay tooned! — Ben.