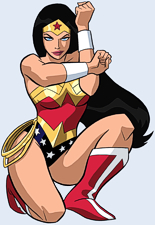 We've a double-dollop of superhero shenanigans for you today, from both Rodney and Randall's latest reviews!
First up, and posted a couple of days ago, Rodney Figueiredo watches Watchmen: The Complete Motion Comic, a rather intriguing way of bringing the pages of a visually told story to life in limited though seemingly very effective animation, retaining the original's tone (even down to the speech bubbles, or dialogue boxes for you taking all this far too seriously)! Rodney certainly feels it captures the comic's intentions, perhaps more so than the current live-action movie: "By keeping the entire comic book basically intact, the motion comic will undoubtedly become the most faithful adaptation of the novel", he says, adding that "the motion comic does an incredible job of bringing this classic graphic novel to life, retaining the beauty of the graphics and the poetic writing of the original".
Coming wham-bamm-slam up to date, Randall Cyrenne has been hanging out with the Amazon princess herself to offer his comments on DC's latest, Wonder Woman (on Blu-ray Disc). Forgoing the long-rumored, often planned but always abandoned live-action take, this is the DC Universe guys' return to basics: an origin tale that no doubt sets things up for more to follow. Rand's impressed overall, remarking that "the story hits a nice balance between action and humor; the action is not particularly bloody, but is undoubtedly gory: do remember that various factors – both visually and thematically – do earn this movie a PG-13 rating. Wonder Woman lives up to the reputations of the previous Warner Premiere features that have starred DC characters, and it makes me even more excited to see what they do with Green Lantern next".
---
Today also sees the release in stores of Azur & Asmar: The Princes' Quest, the latest wonder from the French writer-director of the Kirikou films and Princes And Princesses. It's taken a while for the distributor to actually come about putting the title out in any format, I first having seen posters for it on a trip to France a couple of years ago and it having been sat on a shelf until the Weinstein Company eventually decided on a direct to DVD approach. Marking today's release, Jeremie Noyer speaks with director Michel Ocelot about Azur & Asmar and his switch from traditional and cut-out animation to a unique rendering in CGI. We also have a review of the disc in the works, so look for that shortly.
---
To round up today, we have some video clips for several new Warner Bros. Animation titles either in stores right now or coming very soon. To catch them – including peeks at The Zeta Project, A Pup Named Scooby Doo and a bonus feature clip from Max Fleischer's Superman, check out the "More…" link at the end of this post, and remember that purchasing those discs though our Amazon links does help us to keep the content coming!
Stay tooned! — Ben.
---
The Zeta Project

"In this spin-off from the animated series Batman Beyond, Zeta is an experimental infiltration robot equipped with weaponry and a holographic self-projector that allows it to assume any identity. Unfortunately, his programming also evolves to the point where he acquires both feelings and a conscience. He flees the U.S. government, who believe he has been re-programmed by a foreign power".

---

A Pup Named Scooby Doo Seasons 2-4

"This series is about a pup named Scooby-Doo, with his friends, Daphne, Velma, Fred and his best pal, Shaggy. They always have adventures, try to fight evil villains, and then all along it is just a person in a rubber mask. Unlike the previous Scooby-Doo series, this one is more cartoonish".

---

Max Fleischer's Superman: 1941 – 1942

"Warner Bros. and DC Comics open the vault to release the very first animated DC Comics Superman cartoons. Commonly known as the Fleischer series, the animated Technicolor short films will be released on DVD as a 2-disc collection featuring all 17 action-packed vintage theatrical cartoons.

Max Fleischer's Superman will also include great bonus features including a revealing documentary which defines the tradition of the "Super Human" archetype of hero and why Superman resonates with fans on such a deep and personal level. Also included in the bonus features are interviews with surviving members, relatives and biographers of the animation and production team and contemporary animators such as Bruce Timm (Batman: The Animated Series), Paul Dini and Dan Riba (Superman: The Animated Series) who detail the influence these cartoons have had on their own works".

Click Here For A Super Rescue Scene From Jungle Drums!

Click Here For A Clip Discussing The Superman Mythos!

Max Fleischer's Superman streets on April 7th.