Imagine Entertainment/Universal Studios Home Entertainment (October 13 2009), single disc, 57 mins plus supplements, 1.78:1 anamorphic widescreen, Dolby Digital 5.1, Not Rated, Retail: $19.98
Storyboard:
The adorable little monkey is back to celebrate the festive season with The Man With The Yellow Hat.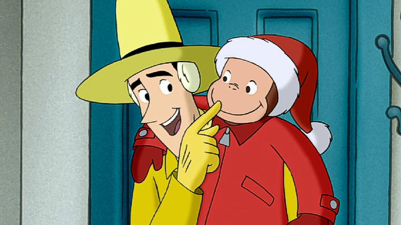 The Sweatbox Review:
Although Disney's well-promoted release of The Princess And The Frog has done well to make an argument for good quality theatrical hand drawn animation, it's all too easy to forget that the medium hasn't actually been that dormant on big screens in the past few years. Spoiled by the rise to two (or more!) traditionally animated films per year from Disney and various studios that decided to have a go (from DreamWorks to Warner Bros), audiences were bred on these kinds of films and then forgot about them as more increasingly empty but colorful eye candy came along courtesy of CGI. Disney's new Princess makes a big play for the fact that it's "the return" of the medium, but it never really went away.
Back in Walt's time, features came only every once every couple of years, and sometimes went just as long as the four year gap between 2005's Home On The Range and Frog's debut this year, and that doesn't even count the fact that animation has remained as prevalent as ever, even if it's created in a different technique. And as well as the Mouse House's own hand drawn direct to video fare, we've also been treated recently to other studios' traditional offerings, some of which have been very poor television upgrades (Aqua Teen Hunger Force) and some of which have been very charming, high quality features, Curious George from 2006 being a case in point.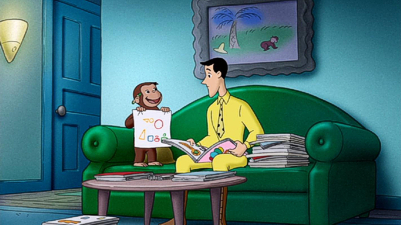 Until that point, Universal's commitment to animation had shown a spotty track record, abandoning cartoon shorts after Walter Lantz' Woody Woodpecker and friends shut up shop, and only dipping a toe in the waters via their association with Steven Spielberg, who produced Don Bluth's An American Tail and The Land Before Time pictures and launched the Amblimation studio that only amounted to a handful of releases. Even the big Disney renaissance of the 1990s, during which it seemed almost every other studio attempted to grab some of the animation market, didn't get Universal jumping in with both feet, and it's only really been the emergence of CGI recently that has gotten them excited – and even that's usually only through their independent label Focus Features.
It's true that Universal had been all too happy to churn out cookie-cutter "sequels" to The Land Before Time over and over again, perhaps being more accusable of Disney themselves for developing the "cheapquel" market – but arguably kick-starting the Studio's current interest in theatrical feature animation was Curious George, another collaboration, this time with Ron Howard's Imagine Entertainment. Perhaps enticed by the talent involved (a then still hot Will Ferrell and Drew Barrymore provided voices alongside such a stalwart as Dick Van Dyke) and the brand recognition of Margret and HA Rey's series of books, Universal seemed to be fully behind George's conversion to the screen, and the result was an extremely pleasing animated film.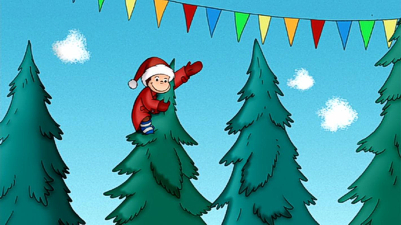 It's designed for younger audiences, for sure, but the quality animation – from a host of then unemployed traditional Disney artists including those from the Project Firefly facility started up after the demise of Disney Animation Florida, James Baxter Animation and numerous individuals all hungry for work – make it something for hand drawn fans to look out for. The gentle tone, surprisingly amusing script, spirited but not annoying vocal talents and solid cartooning led to a very sweet film which reminded me a lot of the original Winnie The Pooh featurettes (even the otherwise clunker-plug for Volkswagen cars can be begrudgingly overlooked for the way they integrated the design into George's world).
The film led to an ongoing animated series for George on the PBS Kids channel, which reverted more towards the look of the Reys' original books and for its content, and the development of a sequel, Curious George 2: Follow That Monkey, though its whereabouts seem to be lost in limbo. Originally scheduled for 2009, if a theatrical release did come, then it went quickly after, and even the home entertainment listings are iffy on a definite release this year or next. In the meantime, then, we have A Very Monkey Christmas, a one hour special that falls somewhere in between the somewhat lavish values of the theatrical feature and the simpler style of the PBS television series.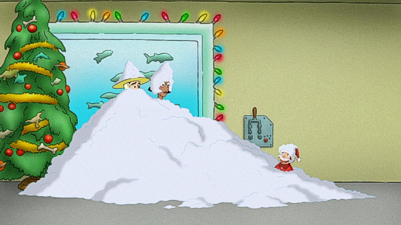 Here we find George and Ted (as The Man With The Yellow Hat is named in the film) counting down the days until Christmas, decorating the house and having some festive fun while each one is hiding the fact that they can't decide on what to give the other for a present! The result is a slight but highly pleasing return visit to George's ultra soft and sweet world that should entertain younger children and give their parents something to sit and laugh at with them too. George's antics and misadventures are always fun, and every now and then there's a lovely bit of business for Ted and more than an amusing line or two of dialogue.
The old-school charm in the animation again recalls the simpler look of the Pooh cartoons, and although A Very Monkey Christmas isn't as CG enhanced as George's big theatrical outing, the actual cartooning is accomplished and retains a storybook quality that genuinely feels like the pages of a George book has come to life with a higher level of quality to either George's PBS Kids' show or even some of the more recent Pooh television endeavors. The creative backgrounds especially provide something to look at even if George's attempts to find the perfect gift for Ted can sometimes feel a little episodic, and a smattering of hummable songs and measured vocal performances (by Frank Welker as George, Jeff Bennett and Jim Cummings among others) are refreshing in this day and age of over-stimulated shouty voices. As such, this Monkey Christmas is a well crafted introduction to George and animation in general for very young children.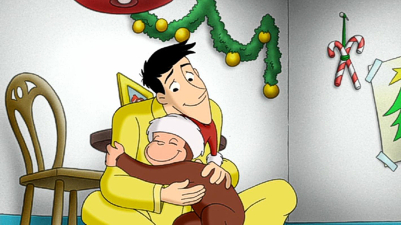 Is This Thing Loaded?
The disc opens with previews for a handful of other Universal-distributed animated titles, the first two of which needn't make for any wish-lists soon, starting with Barbie in A Christmas Carol, "an all-new holiday classic that you family will enjoy year after year", though I could recommend at least 50 other versions that would top having to sit through this. Somewhat hysterically, Barbie And The Three Musketeers might just have to be seen to be believed, as the plastic babe sets out to serve justice with an all-girl trio (naturally) of swordswomen, and there are pushes for Bionicle: A Legend Reborn, and spots for the PBS Kids supporters Sun-Maid and Chuck E Cheese's.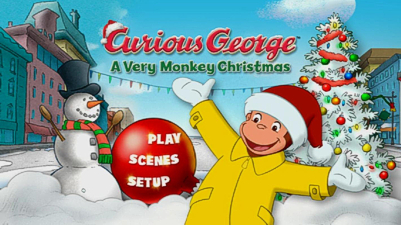 There's also a welcome trailer for Curious George 2: Follow That Monkey, the erstwhile theatrical sequel that finally looks like it has a release, on DVD in Spring 2010, but that's it in terms of extras. I'm not sure what else could have been added to this release, but even without going the whole hog of spending out on a brief featurette on the production it would have been generous to include just a couple of episodes of the PBS series, maybe with a general winter, holiday or birthday present theme. It's a missed opportunity not to perhaps played up even a sneak peek scene from the second movie, though the lack of additional content is reflected in the low list price, and the main feature itself has been given a healthy number of 12 chapter index points.
Case Study:
Sporting a white keepcase, A Very Monkey Christmas naturally fits in with the general use of these cases for children's fare and has a hint of snow about it too, even with the use of George's trademark yellow coloring elsewhere on the artwork. In all other respects, the disc is about as basic as it comes, with a still frame silent main menu, simple text printed on the disc itself, and no other inserts.
Ink And Paint:
Although the sleeve notes this is a "dual layer format" disc, I couldn't see the need for that given that the total of the video content is just over an hour and, indeed, it seems that this is a misprint. No matter, since the video has all the space it needs to breathe, and the digitally produced progressive image is nigh on perfect for DVD without one spot of compression noticed. Using over 3.5gb of the disc, the bitrate is constantly shooting up and holding around the 8s and 9s in terms of megabits per second, offering no problems here at all.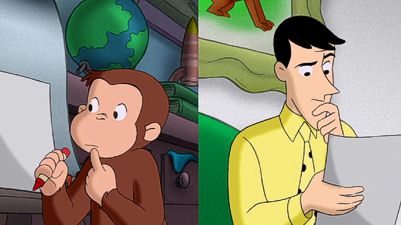 Scratch Tracks:
Just as pleasing in terms of reproduction is the Dolby surround soundtrack, though it's the actual production values that sometimes disappoint, mostly in the synthesized music. George's world is often filled with a slightly relaxed jazzy mood, and the limited instruments used provide some nice enough background tones, but whenever the score needs more of a push, the lack of real orchestration is sadly clear. Of course, younger children won't care or notice in the slightest, though it is a shame that producers don't push the boat out and make their soundtracks sound as nice as the visuals look. English, French and Spanish subtitles are also included.
Final Cut:
I'm obviously not in the target demographic for the Curious George franchise, but even I continue to be charmed by the cute adventures of the mischievous monkey. This quasi-feature retains the charm of the original books and, though not as elaborately budgeted as the theatrical movie, the production values are more elaborate than George's television outings. Parents can be assured that their youngest will find an hour of decent quality enjoyment and clearly signposted storytelling in A Very Monkey Christmas. It may not become a festive perennial, but the low list price (which should see it going for around $15 online) should encourage curious fans to check it out. It's very cute.
Animated Classic or Back To The Drawing Board?