Jay Ward Productions (1967), Classic Media/Genius (February 12, 2008), 2 discs, 374 mins plus supplements, 1.33:1 original full frame ratio, Dolby Digital Mono, Not Rated, Retail: $19.95
Storyboard:
A dumb lout of a jungle hero, an all-American racecar driver, and a super-powered poultry person make up one of Saturday morning's all-time great shows.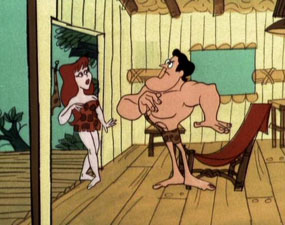 The Sweatbox Review:
I always think that it would be great to go down in history as someone who contributed at least one great thing to his or her particular field. When you stop to consider it, very few of us get to leave a truly lasting impression that is recognized by millions of people. And yet, television producer Jay Ward can be recognized for three television milestones: 1949's Crusader Rabbit, television's first original cartoon show; Rocky And His Friends (later The Bullwinkle Show, but popularly known as Rocky And Bullwinkle)— which was one of TV's true cartoon classics; and Ward's final show, the fondly-remembered Saturday morning cartoon show George Of The Jungle. George appeared on ABC beginning in 1967, airing opposite the debut of The Aquaman-Superman Hour Of Adventure and reruns of Atom Ant And Secret Squirrel. Despite having only 17 episodes produced, his show ran for a few years on the network (between Saturday and Sunday morning runs). While many younger people might know George only from his popular Disney film with Brendan Fraser, slightly older fans know that he appeared on one of the most fun and enjoyable shows to ever appear on Saturday mornings.
After The Bullwinkle Show ended that series' five-year run, Ward quickly went on to produce the more child-friendly Hoppity Hooper for ABC in 1964. Like Rocky And Bullwinkle, final production of that show was done in Mexico by Gamma Productions (who also did shows like Underdog for Total Television), and as such the animation quality was lacking. And, without the sophisticated scripts that Ward's moose and squirrel had enjoyed, Hoppity remains a somewhat forgotten cartoon. At the same time, Ward was producing cartoon commercials for the Quaker Oats Company, in a long association that began in 1962 and went until 1984. The Quaker deal was lucrative, but Ward, who really had never wanted to get into commercials, still yearned to produce episodic television. His sponsor, General Mills, asked him to do a pilot for a show conceived years earlier—- Super Chicken. The pilot turned out well, with narrator William Conrad telling the story of wealthy play-chicken Hunt Strongbird, Jr. and his swashbuckling alter ego Super Chicken. Unfortunately, Super Chicken didn't fly for the executives at CBS, but Ward had another trick up his sleeve.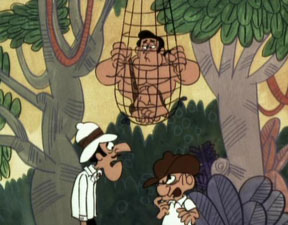 General Mills commissioned another pilot. George Of The Jungle was originally created by Allan Burns, who conceived of a small plump fellow wearing a leopard skin and tie, living in the jungle after being dumped there by his rich parents. This idea was revised considerably for the final pilot, as written by Bill Scott. The produced pilot was very similar to George's final look and feel, with George foiling elephant-nappers caricatured after Bogey and Hepburn's characters in The African Queen. However, General Mills still took a pass on this pilot too, allowing Ward to shop it around elsewhere. He ended up at ABC, where both Super Chicken and George Of The Jungle were given enthusiastic receptions. A deal was struck to use both ideas in the same program, and ABC agreed on a cost of $38,500 per episode. Ward was able to handle all production in Los Angeles, where he had better quality control, but his desire for better and better quality had its downfall. The show went hugely over-budget; but apparently Ward didn't care. The commercials work could subsidize George Of The Jungle, and the result was a product Ward could be proud of.
The first segment of the show featured George himself. George was an obvious parody of Tarzan. The pilot actually had his live-in girlfriend named Jane, but legal considerations saw her name changed to Ursula. George was played by series head writer Bill Scott (who had also done Bullwinkle's voice) as both thick-headed and unromantic, seemingly not even realizing that Ursula was a woman, referring to her sometimes as "Fellah." (The opening titles mention and show two identical women— Ursula and Fellah— but the implied kinkiness of such a set-up left this idea abandoned.) She didn't seem to mind George's inattention all that much, particularly seeing as how George also thought his elephant Shep was a puppy. Rounding out the main cast was an erudite ape named Ape, who spoke in a cultured English accent utilizing a voice by Paul Frees based on Ronald Colman. Thanks to George's friends, he managed to overcome his stupidity in order to successfully take on all manner of jungle threats.
Aside from Scott, the voice cast included Paul Frees (narration, Ape, and some villains) and June Foray (the long-suffering Ursula, and incidental female voices). Another voice acting legend, Daws Butler, stepped in to do some villains and other characters. Perhaps the most memorable part of the show, despite its funny scripts and enjoyable cast, was the bouncy theme song: "George, George, George of the jungle, strong as he can be… Watch out for that treeeeeeeee!!!"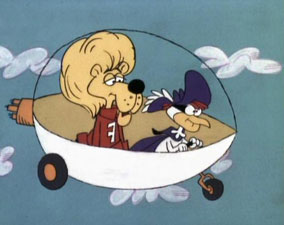 Super Chicken also got its long-awaited debut on the show. The concept had been gestating since as far back as 1959, when Chris Hayward and Lloyd Turner came up with the idea for a Superman spoof. A pilot script had been written in 1960, with further revision made before the 1965 pilot. The writers eventually settled on the name of Henry Cabot Henhouse The Third for Super Chicken's secret identity. His companion, a slow-witted lion named Fred, was the one to fix up Super Chicken's magical elixir, a drink that appeared to be a martini, but was called "super sauce." Super Chicken, voiced by Scott, travelled in the flying craft The Super Coop, and faced off against Dick Tracy-type villains like the Oyster, The Fat Man, and The Muscle. His adventures were wacky, full of quick action and silly gags. Faithful Fred (Frees) constantly seemed to get the worst of things during the course of each story, with Super Chicken counselling him, "You knew the job was dangerous when you took it, Fred!"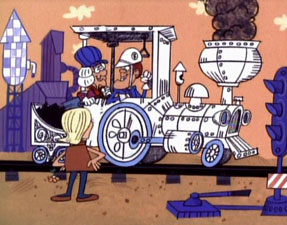 The third segment (actually appearing as the second segment on the first six shows) was Tom Slick, about an upstanding and outstanding racer who was just as adept at driving a hot air balloon or a submarine as a race car. Tom (Scott again, doing his Dudley Do-Right voice) was ably assisted by girlfriend Marigold (Foray) and his elderly mechanic Gertie Growler (Scott), and often faced off against Baron Otto Manic (Frees). Manic had his own sidekick, Clutcher (Butler), and appears to be a forerunner of Dick Dastardly from Wacky Races. In fact, the whole Tom Slick premise of incredible racing competitions is very similar to the 1968 Hanna-Barbera show. One could say that H-B ripped Ward off, but really both shows were inspired by the 1965 Blake Edwards feature film The Great Race. Whenever Manic wasn't present, Tom raced across land, sea, and air against a variety of sneaky competitors. Like its companion segments, Tom Slick is good, clean fun, but it lacks the pizzazz of other Ward productions. Tom is just… a boring guy. He is supremely good, but has no other features, good, bad, or otherwise. This provides some humor, as other characters react to his goody-goodiness, but generally this segment survived mostly on plot gags, not character gags, and as such is the least of the three segments on George Of The Jungle.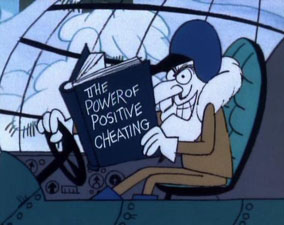 Puns remained plentiful on this show, just as they had been on the other Ward productions. The stories are consistently funny and sharply written, performed by some of the best voice actors around. In short, this is a great show. However, compared to Rocky And Bullwinkle, there is less of a satiric edge. Ward never saw a reason to dumb down his shows for a child audience. In fact, he figured that children were in some ways more sophisticated viewers than adults; but his sponsors and the networks did not share that feeling. The lack of network enthusiasm for Ward's brand of TV show meant that, despite making numerous live action and animated pilots the next few years, Ward never sold another show. His early 1970s cartoon pilots Hawkear, Frontier Scout and Fang, The Wonder (?) Dog were the last of his animated TV attempts to get to that stage, until one more attempt, Rah Rah Woozy, in 1980. This was the last animated show to come out of Jay Ward Productions. In an era of increasing network interference and a perception that cartoons were for supposedly brainless children, Ward's ideas didn't stand a chance. Once Ward stopped doing commercials, and ended his attempts at other projects, the studio folded for good in 1984. Long-time associate Bill Scott passed away the following year, after twenty years of scripting, story editing, and voice work on the Ward programs. Paul Frees left us in 1986. And with these two gone, Ward lost all interest in pursuing further creative endeavors. However, he did take great satisfaction with the resurgence of interest in his shows in the 1980s, so that by the time he died in 1989 he knew that he had been assured of a lasting place in television history.
The DVD set for George Of The Jungle therefore includes the last of Ward's great television contributions. All seventeen episodes are present, with all segments intact over two discs. Unfortunately, no interstitials are included, despite having appeared on earlier VHS tapes. Still, it's wonderful to finally have these cartoons on DVD. If sales are good, we may yet get those last two seasons of Rocky And Bullwinkle!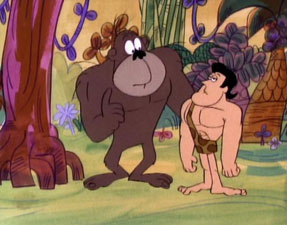 Is This Thing Loaded?
A preview for the new George of The Jungle series, shown on Cartoon Network (and Teletoon in Canada) appears on the first disc. Far more interesting to see are the original pilots for George and Super Chicken! The George Of The Jungle Pilot (7:15) and Super Chicken Pilot (5:30) are each looking a little more worn than the episodes themselves, but they are plenty of fun. It's interesting, too, to watch them in order to make out the differences between the pilots and the final programs, such as having George's girlfriend named Jane, and slightly different voice work (including Hans Conried playfully narrating George, and different characterizations by Scott). Without these pilots, this package would not have seemed complete.
Unfortunately, there are no other materials here to place the show in any historical context, and no behind-the-scenes featurettes or artwork. I guess I still have my books for that, but it would have been nice to see something on the DVD set. The one thing I do appreciate on this set is that not only is there an episode menu listing each individual cartoon for each episode, each cartoon is selectable from that menu. Additionally, the main menu features some nice animation.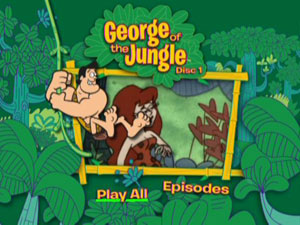 Case Study:
For the past while, Classic Media has been using a book type of "hardcover digipack" for their animation collections. Except for the fact that they don't lock shut, leaving the included episode listing insert to fall out, it's an attractive, sturdy format. George gets most of the attention on the packaging art, with Super Chicken having a small image, and ol' forgettable Tom Slick gets only a mention and no artwork. Inside, the two facing discs work with the show's theme song and the artwork behind the discs to offer a funny salute to George slamming into yet another tree.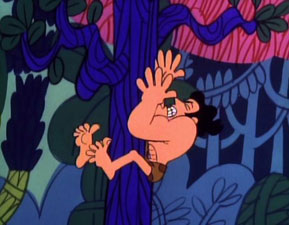 Ink And Paint:
These appear to be unrestored cartoons, but at least the compression work is good. That means you get to see every dirt speck, scratch, and assorted blemishes in their digital glory. Cartoons are perhaps slightly faded, with some grain apparent, but you've likely never seen these look any better.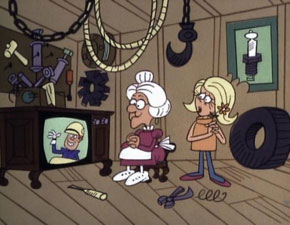 Scratch Tracks:
The mono sound is nothing special, but it does the job. It's fairly flat, yet one can't rally complain. Hopefully you speak English, because there are no other language options. There are also no captions or subtitles on this release.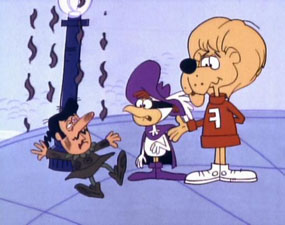 Final Cut:
It's been years since this series saw release on videotape, and I'm now officially glad that I never picked up a set on eBay like I had been so tempted to do. This DVD release is missing the interstitials, but otherwise it should please fans. Even it is unremastered, the video and audio are adequate, and the episodes are not edited for content as far as I know. Every great barb and sly remark is in there, all in an attractive book-type package. The inclusion of the two pilots is the icing on the cake. While many DVD cartoon releases get by on nostalgia, this is really a show of strong quality. This release is recommended for anyone who has ever enjoyed Saturday morning cartoons or Rocky And Bullwinkle.
Animated Classic or Back To The Drawing Board?