Filmation (1979), BCI (July 18, 2006), 4 discs, Approx. 530 mins plus supplements, 1.33:1 original full frame ratio, Dolby Digital Mono, Not Rated, Retail: $39.98
Storyboard:
Earthman Flash Gordon is joined by a beautiful woman and an esteemed scientist as they journey to the planet Mongo, which is threatening the existence of life on our own world. They find that they must go against the evil Emperor Ming, but to pose a credible threat to Ming they must somehow unite Mongo's many peoples in the spirit of revolution.
The Sweatbox Review:
Although Filmation was one of the preeminent television animation studios in the 1970s, its shows have been held in mixed esteem. This was largely due to the limited animation and the frequent use of stock footage, balanced out by frequently entertaining scripts and a moralistic approach to storytelling. Those of us who grew up in that era have our favorite shows, some of which hold up better than others today. Probably my favorite was The New Adventures Of Flash Gordon, an adventure cartoon that had a more sophisticated look than most other shows of that era, not to mention a more mature tone.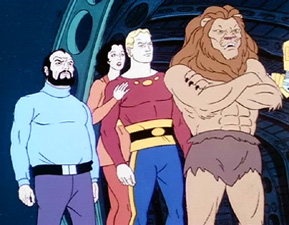 Even then, as a preteen, I was aware that the Flash Gordon character had been around for a while, thanks to reading up on the back history of Star Wars— the film George Lucas made when he could not secure the rights for making a Flash Gordon movie. Flash had appeared first in a wonderful newspaper comic strip, created by Alex Raymond in 1934, on direction from the Hearst Syndicate to conceive a rival for the popular Buck Rogers science fiction strip. Thanks largely to the amazing artistry of Raymond, Flash's popularity came to surpass Buck's. A succession of other fine artists ensured that Flash's popularity would last beyond Raymond's departure from the strip in 1944. George Lucas's inspiration for his own space saga came largely from the three Buster Crabbe Flash Gordon movie serials which were great theatrical successes and were later shown on television. There was also a TV show in the early days of television starring Steve Holland, but it would take until 1979 for a TV program to approach the creative success of the serials.
Filmation had most of its success with adapted properties, right from its first show, The New Adventures of Superman. They were always on the lookout for what to adapt next, and producer Lou Scheimer was a longtime fan of Flash Gordon. He worked hard to get the rights to do a Flash Gordon movie from King Features/Hearst, and sold NBC on the idea of doing it in live action in prime time. Striving to make the most of the opportunity, he hired Sam Peeples, writer of Star Trek's successful second pilot, to write a script. What came back to Scheimer was wonderful, but it would cost a fortune to do in live action. He sheepishly told NBC that the movie would have to be done in animation, and fortunately NBC was happy to do it that way.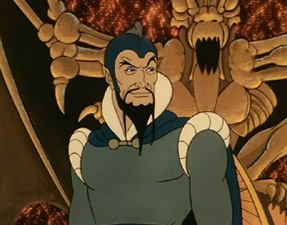 The budget would still have to be stretched in order to do the movie to the level that Scheimer wanted. Dino De Laurentis, producer of the live action 1980 Flash Gordon theatrical feature, reportedly helped out with some financing since he was impressed with Filmation's efforts. When the animated version, (titled Flash Gordon: The Greatest Adventure Of All) saw its prime time premiere, it was greeted with practically universal acclaim as one of the most faithful and entertaining comic strip adaptations ever. The movie was then re-edited into the first five episodes of a Saturday morning show, The New Adventures Of Flash Gordon. While those first five episodes gained some new animation, they also excised some scenes such as (most unfortunately) the opening set-up scenes on Earth.
Since Saturday morning viewers did not get to see exactly how Flash came to team up with the lovely Dale Arden and the scientist Hans Zarkov, they were quickly thrown into the story as the threesome was well on its way to Mongo in a rocketship. The ship came down on Mongo, which had been approaching Earth and threatening its destruction. They eventually find themselves in front of Emperor Ming the Merciless, who takes a liking to Dale and covets Zarkov's scientific genius.
Throughout the rest of the first season, Flash and his comrades repeatedly escape from the clutches of Ming, while making friends and enemies of the various races of Mongo. During the course of their adventures, they create alliances with Thun of the Lion Men, Price Baron of Arboria, and Vultan of the Hawk-Men. Flash's goal was to unite the various factions of Mongo against Ming, thereby saving earth as well as bringing freedom to the peoples of Mongo. Complicating things were the amorous intentions of a number of females he encountered, including Ming's own daughter, the luscious Princess Aura.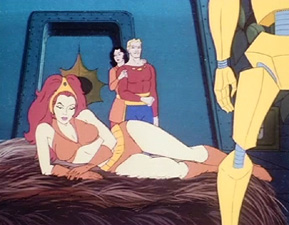 The first season of the show was based, just as the original movie serial, on the first year or so of Alex Raymond's comic strip. Flash and his friends traveled to many different areas of Mongo, filled as it was with a large diversity of terrains and humanoids. The exotic settings combined with dynamic action and surprising sensuality to create a cartoon unlike anything on television at the time. Naturally, its quality and distinctiveness led to low ratings; and the serialized nature of the storytelling, comprised of cliffhanging-ending chapters every week, did not help.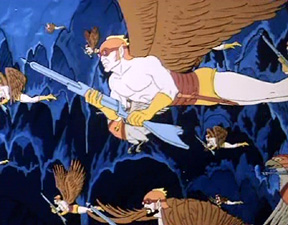 But for those who faithfully watched the entire sixteen episodes of the first season unfold, it was magical. The splendor of Raymond's strip was in great evidence. Nowhere else on Saturday mornings could one find such strong adventure storytelling told in such a serious and compelling fashion. The dangers felt real, and the women were gorgeous. It was enough to blow a kid's mind!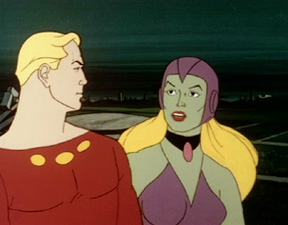 Sure, it still had a lot of recycled footage, just like all Filmation shows, but it was really good stuff despite the limiting television budget. Filmation used a fair bit of rotoscoping for its adventure programs, giving the characters realistic movement at a level beyond typical Saturday morning fair. So, one didn't mind watching a glorious run cycle or Princess Aura turning over on a couch over and over again quite so much. Even the ships got rotoscoped, adding further realism to their movements while flying over Mongo. Admittedly, this still looks like Saturday morning television; the budget and time constraints did not allow for full animation. But the directors did a fine job at economizing the animation to get the most out of the artists and provide the best visuals possible. The draftsmanship on the show is very good, especially given the detailed, realistic models the animators had to work with.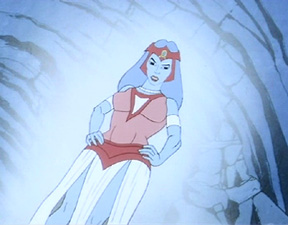 As I mentioned, low ratings for The New Adventures Of Flash Gordon led to creative changes on the show, and the second season was a shadow of the first. The drawing was still first-rate, but the storytelling became simpler. Gone was the epic season-long storyline with cliffhanger chapter endings. Instead, each episode was broken up into two unrelated stories, often featuring a childish pink dragon named Gremlin. At this point, it still wasn't really a bad show. Some of the second season stories were decent enough (even Paul Dini's name shows up in the writing credits), but it just wasn't the same anymore.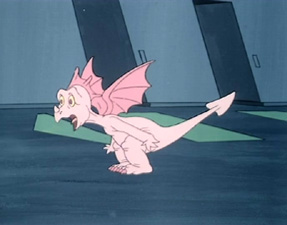 Anyone who loved the first season was bound to be disappointed in the second, while those that stopped watching the first season likely never came back to see its less interesting second season. The second season had only eight episodes (sixteen stories), however, so its content does not reflect much on the show as a whole.
Ah, but that first season! Glorious.
Is This Thing Loaded?
It just makes one want to weep. While certain studios put little to no effort in producing materials to accompany the presentation of their old cartoons on DVD, BCI goes all-out to provide fans with great bonuses on their licensed sets. Flash Gordon is no exception, and as someone who loved the show when it originally aired, that makes me very happy indeed.
BCI recorded three Audio Commentaries for this set, with the best by far being a commentary on the first episode by Producer Lou Scheimer and Assistant Animator Darrell McNeil, hosted by Andy Mangels. Together, they explore the genesis of the show, and compare the first five episodes to the original movie. Mangels and Scheimer return for Episode 18's Sir Gremlin, along with Writer Tom Reugger. This one is much less informative, but they do discuss the addition of Gremlin to the cast, and talk about some of the voice actors. Lastly, Mangels hosts a commentary with Writer Michael Reaves on the very final story, Gremlins Finest Hour. Reaves had little to do with the show overall, having written only two stories, so he has little to offer and instead mainly discusses his own career.
The rest of the bonuses are found on Disc Four. Blasting Off With Flash Gordon (21:34) is a lovely featurette that examines the origins of the cartoon and places it in context with other Flash Gordon productions. Rick Norwood, publisher of Comics Revue, happily discusses the original strip and its creator Alex Raymond, as well as previous attempts to adapt the property.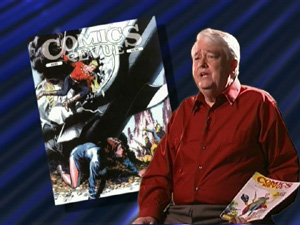 Scheimer is featured extensively in the featurette as well, again talking about how the show came about and why changes were made for the second season. Ironically, while most fans are much more enthusiastic about the first season, Scheimer discusses why he thinks the serialized format was a commercial (not creative) mistake in terms of producing a kids' Saturday morning cartoon. Additionally, there are anecdotes from several others involved in producing the show. All are obviously very proud of their association with Flash Gordon and recall it fondly. It was during this featurette that I realized why Darrell McNeil's name was familiar to me—- he co-authored the definitive book on Filmation (Animation By Filmation), a relative rarity of which I am very pleased to own a copy.
Storyboards For Stock Action Sequences (3:01) compares the storyboards of shots of Prince Baron and Ming's Metal Men to the final animation.
A great treat on this set is the inclusion of a Bonus Episode: Defenders Of The Earth Episode #1 – Escape From Mongo (21:58). This 1985 show from Marvel Productions bizarrely teamed up three King Features properties— Flash Gordon, The Phantom, and Mandrake The Magician (along with his assistant Lother). The first episode tells of how they and their offspring and protégés come to work together to battle against Ming in his efforts to subjugate the Earth. It was a high concept show, and the first episode does show some promise. I shall look forward to seeing how the rest of the show holds up when I check out BCI's DVD sets.
Flash Gordon Chronicles has scrolling bios for 12 Heroes, 10 Villains, 8 Aliens, and 9 Settings. The information contained therein could be gleaned from simply watching the episodes, but you do get a peek at some model sheet artwork as well.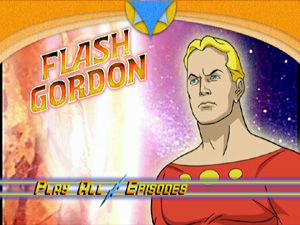 I would also like to mention that an equal amount of effort went into the Menus, which have a nice bit of motion to them and present individual chapters for all the episodes. Each Episode Menu also has Gremlin's Fun Facts, a selection of trivia about that episode and the show in general. Overall, this set screams "effort". BCI obviously has a good handle on how to handle classic cartoons and please their fans.
DVD-ROM: Pop the fourth disc into your DVD drive, and you have access to Scripts, Storyboards and the Flash Gordon Series Bible. These are stored as PDF files, and consequently can be read by Adobe Acrobat Reader on either a PC or Mac. Scripts include those for Ming's Last Battle, The Desert Hawk, Vultan King Of The Hawkman, Standard Opening, and The Frozen World. The storyboards are for two episodes, Ming's Last Battle and The Frozen World. The New Adventures Of Flash Gordon Bible is the complete, original 35-page document that described the show for the writers, directors, and artists. Very cool!
Case Study:
The four single-sided discs feature nice series-based artwork, each disc carrying images of two of the show's characters. The discs are housed in a double-thick case that opens to reveal overlapping discs on each side. The hubs are a bit tight, so be careful trying to extract the discs. There are a few inserts included, comprised of a nice episode guide pamphlet, a separate promo for BCI's Hearst sets, a Funimation catalog, and two artcards with beautiful Flash Gordon artwork by Gene Ha and Frank Cho. The case is covered with an identical slipcase that slips over the top.
Ink And Paint:
BCI likely had to make do with whatever prints they were provided, and unfortunately there is no indication of any restoration work. There is a moderate amount of dust present in some episodes, vertical lines come and go, and the picture is generally soft. The good news is that the compression work done for the DVD is reasonably good, so that most artifacts are of a physical nature, not digital, aside from a bit of dot crawl visible on larger screens. The result is that this looks like an old cartoon show, warts and all.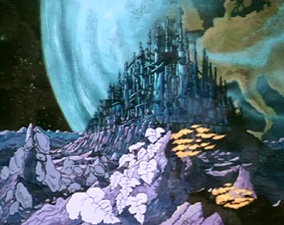 Scratch Tracks:
The mono sound is naturally thin but has no major problems. The music on the show, like most Saturday morning cartoons, is repeated in every episode, but at least Flash's music is pretty good. It captures the adventurous, classic feel of the show and is neither intrusive nor dated.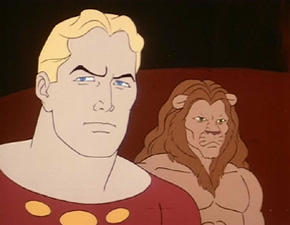 No subtitles are offered.
Final Cut:
This is vintage Saturday morning greatness, as far as I'm concerned. I was very excited to learn that BCI was releasing this series, and their work on preparing the set (with consultant Andy Mangels) is splendid. A video restoration would have been great, but on a smaller screen one likely won't mind that this simply looks like an old cartoon show. Alex Raymond was not the first chronicler of a space hero, but he did it better than most, and his fine work is felt throughout the cartoon.
The price for the set is very reasonable for what you get, and there is really no other Saturday morning cartoon that I would recommend more strongly than Flash Gordon.
Animated Classic or Back To The Drawing Board?