With the recent passing of Joe Barbera, we have now lost both of the giants responsible for the Hanna-Barbera cartoon studio. These two men had amazing success in both theatrical and television production, and it is wonderful that so much of their work is coming to be available again on DVD. Whether you are a long-time H-B fan, or a younger fan who would like to find out more about these titans of the industry, we hope you will enjoy this retrospective. Part One can be read here, and Part Two is here; what follows is the conclusion of our three-part article.
---
By the 1970's, Bill Hanna and Joe Barbera were recognized as the most successful cartoon producers in the world. Most toon experts would likely say that they had peaked by this time, as they began to rely on spin-offs, knock-offs, and adapted properties. Still, they had a few pretty good shows yet to share…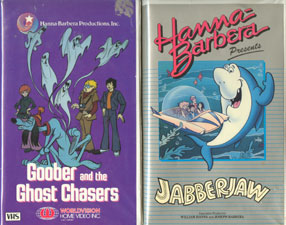 Scooby's success led to several other shows starring groups of kids and often a mascot and rock music, such as: Josie And The Pussycats (1970, female rock band), The Funky Phantom (1971, with kids, animals and a ghost traveling around and solving mysteries), Butch Cassidy And The Sun Dance Kids (1972, another rock band as secret crime fighters show, now with a dog named Elvis), Goober And The Ghost Chasers (1973, the most obvious Scooby knock-off, except with a dog that turned invisible), Clue Club (1976, kids and dogs solve mysteries… again; returned in 1977 as Woofer And Wimper, Dog Detectives), and Jabberjaw (1976, rock band of the future and a shark get into mischief). There was also The Buford Files (1979, a bloodhound and two teenagers solve crimes; this series aired as part of Yogi's Space Race, then Buford And The Galloping Ghost).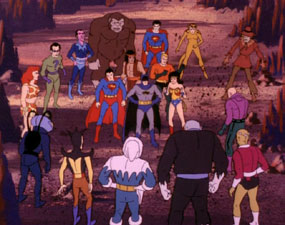 Adaptations from other media truly prospered in the 1970's, from Super Friends, to The Addams Family (both 1973) and The Partridge Family 2200 A.D. (1974). Live action sitcom I Dream of Jeannie was spun off into Jeannie (1973). Charlie Chan appeared in The Amazing Chan And The Chan Clan in 1972. Even The Harlem Globetrotters got their own 1970 show on CBS. 1978's The Godzilla Power Hour paired segments about Godzilla and son Godzooky with the adventures of Jana of the Jungle. An old favorite returned in 1978's The All-New Popeye Hour. Another comic strip character appeared in 1979's The New Schmoo, from Al Capp's Li'l Abner strip. H-B also licensed Casper the Friendly Ghost to make Casper And The Angels in 1979. Fans of the bizarre may also wish to check out 1978's The Three Robonic Stooges or 1979's fondly remembered (well, by me anyways) The Super Globetrotters.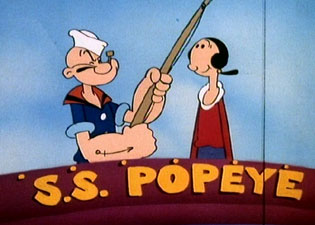 Miscellaneous '70's shows contained a mix of animals, vehicles, and sitcoms. Most were forgettable, although everyone naturally has their favorites. They included the following: Where's Huddles (1970, domestic sitcom), Help! It's The Hair Bear Bunch a.k.a. The Yo-Yo Bears (1971, more zoo animals trying to escape), Wait Till Your Father Gets Home (1972, generational conflict sitcom), The Roman Holidays (1972, basically Flintstones in Ancient Rome), Speed Buggy (1973), Peter Puck (1973), These Are The Days (1974, small-town nostalgia series, think The Waltons), Wheelie And The Chopper Bunch (1974, with anthropomorphic autos), Wonder Wheels (1977, a teen and his motorcycle). Action series included Sealab 2020 (1972), Valley Of The Dinosaurs (1974), Devlin (1974, family drama about a family of circus motorcycle daredevils), and C.B. Bear (1977; this show also had segments for Shake, Rattle And Roll, Undercover Elephant, Heyyyyy It's The King, Posse Impossible, and Blast Off Buzzard).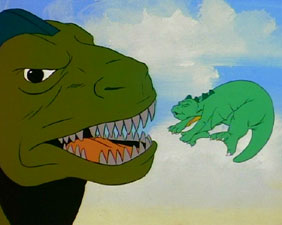 After two successful seasons, Scooby had the format of his show changed, and for two years (starting in 1972) it was known as The New Scooby-Doo Comedy Movies. These new shows brought in special guest stars such as Jonathon Winters, Don Knots, and Batman. More versions of Scooby would follow over the years. Many more versions…
Meanwhile, viewers were being treated with variations of The Flintstones. NBC ran the old episodes until 1970, then 1971 brought The Pebbles And Bamm Bamm Show, showing the toddlers from The Flintstones as teenagers along with some zany friends. Then those episodes were combined with new ones on CBS from 1972 to 1974 as The Flintstones Comedy Hour and The Flintstones Show.
Yogi Bear found himself in a new series in 1973's Yogi's Gang. This hour-long show began a tradition of featuring the H-B stable of characters together, showing that they were all great pals. The show had such other characters as Huckleberry Hound, Snagglepuss, and Magilla Gorilla, all traveling around the country in a balloon named the Ark Lark. They encountered various environmental and societal problems, making it part of the "relevance" drive in popular culture in the 1970's (also seen in such comics as Green Lantern/Green Arrow and Amazing Spider-Man).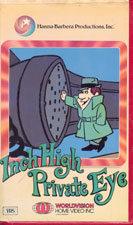 1973 also began to bring back superhero-type characters again, but this time in a lighter vein, when Inch High, Private Eye starred a tiny detective. 1974 brought the silly fun of Hong Kong Phooey, a canine martial arts hero who relied more than he knew on a cat named Spot (who was striped, naturally). The Great Grape Ape gave the world a giant purple ape with mental powers and his sidekick Beegle Beagle in 1975. That same year also saw Hanna-Barbera bring out a new, watered-down Tom And Jerry show, which is generally viewed with disdain by Tom And Jerry fans. Tom And Jerry, Grape Ape, and a character similar to Wacky Races' Muttley appeared in The Tom And Jerry/Grape Ape/Mumbly Show. A year later, a new hero was matched with Scooby in a can't-miss show.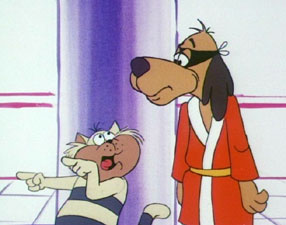 1976 saw a new Scooby show, switching over to ABC for the Scooby-Doo/Dynomutt Hour. This is also when Scooby-Dum and Scooby-Dear joined the cast. This show was the introduction for the mechanized bumbling super canine Dynomutt and his partner Blue Falcon. 1977 saw another format change with the 2-hour Scooby's All-Star Laff-A-Lympics. Aside from Scooby and Dynomutt segments, there were 2 Laff-A-Lympics segments that featured a large assortment of Hanna-Barbera characters engaged in a track and field competition (Scooby Doo and Yogi Bear each led squads against the third team, the Really Rottens). Laff-A-Lympics is an H-B fan's dream, with over 45 characters being featured. The last segment in the two-hour show was a new one called Captain Caveman And The Teen Angels. The show was trimmed in 1978 to become Scooby's All-Stars.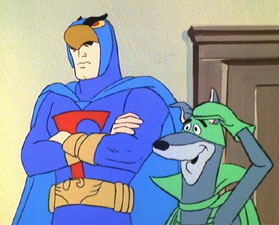 H-B star Yogi Bear was given another series in 1978, with a premise similar to Laff-A-Lympics. Yogi's Space Race was a 90-minute series that again starred other H-B characters, all competing for a Mars vacation. Other segments in the show included The Buford Files, The Galloping Ghost, and The Galaxy Goof-Ups. Goof-Ups, starring Yogi and Huckleberry, later got its own time slot in early 1979; and the other segments were combined into Buford And The Galloping Ghost.
1979 saw the introduction of the much-reviled nephew of Scooby in Scooby And Scrappy Doo. That same year, Scooby received his first TV special, Scooby Goes Hollywood.
NBC acquired The Flintstones in 1979, and re-dubbed thirteen of the original show's episodes with a new "Fred" and "Betty", as the original voice actors had died. The New Fred And Barney Show was then expanded to an hour to become Fred And Barney Meet The Thing (yes, that's The Thing from Marvel Comics' Fantastic Four). Three months later it was combined with The New Schmoo to make the 90-minute Fred And Barney Meet The Schmoo. The name changed to The Flintstone Comedy Show in 1980, featuring segments such as "The Frankenstones", "Captain Caveman", "The Bedrock Cops", "Pebbles, Dino And Bamm Bamm", and a segment with Wilma and Betty as newspaper reporters. (Joe's pet idea, The Blackstones, was never picked up by any of the networks, who were cool to the idea of adding racial politics to the Flintstones' universe.)
Before leaving the Seventies, it should be mentioned that Hanna-Barbera also produced or co-produced several literary adaptations in the 1960's through the 1970's, either for networks or syndication. Just a few of the animated ones were Alice And Wonderland, Gulliver's Travels, and Black Beauty. The 1966 production of Jack And The Beanstalk re-teamed H-B with Gene Kelly for a combination of live action and animation. There were also films done entirely in live-action in the 1970's and 1980's, like C.H.O.M.P.S. and Kiss Meets The Phantom Of The Park. 1973 also saw them release the celebrated Charlotte's Web into theaters, and Heidi's Song came to the big screen in 1982.
Many television specials were also made in the 1970's. Notable ones include a 1973 adaptation of Lost In Space, 1971's A Christmas Story, and the Emmy-winning The Last Of The Curlews. The Flintstones specials began with 1977's A Flintstone Christmas and 1978's The Flintstones Little Big League (with a preteen Pebbles), with several others to follow.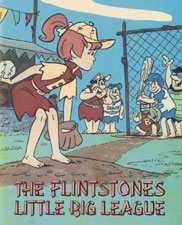 The 1970's had seen Hanna-Barbera expand tremendously, and they had become the world's largest producer of television animation. At one point in the late 70's, they were producing ten shows a week, and they employed 2000 people! To aid them in this output, H-B was by now utilizing contractors from other US studios as well as foreign countries, since they were already employing the majority of animation people in California. Hanna-Barbera Australia was the first foreign partner, working on The Funky Phantom in 1971. Later, small studios in Taipei, Madrid, and Mexico were used initially more due to practicality than cost issues. Argentina, the Philippines and Poland were used also in later years. Some of the contractors could handle an entire show, while others would do only one aspect, like inking and painting. There were a few glitches along the way, naturally, like when the star of The Gary Coleman Show was mistakenly drawn as white by the animators in Mexico!
The 1980's
This decade saw Hanna-Barbera continue to exploit their proven franchises, and also do further adaptations of characters from other sources. One of their more original outings at this time was Drak Pack in 1980, featuring a mix of good teenagers and evil bad guys who had the characteristics of old movie monsters.
The Happy Days universe was explored in cartoon form with Fonz And The Happy Days Gang (1980, with a time travel twist), Laverne And Shirley (1981) and Mork And Mindy (1982; did you forget that Mork first appeared on Happy Days?). The Gary Coleman Show cast the popular child actor as an angel in 1982. 1983 saw an animated The Little Rascals, and The Dukes (1983) adapted the popular Dukes Of Hazzard TV series.
Various licensed cartoon characters could also be found. There was Richie Rich in 1980, and Private Olive Oyl featured Popeye's sweetheart in 1981. The Pink Panther was resurrected in 1984's The Pink Panther And Sons (co-produced with DePatie-Freleng). Popeye returned in 1987's Popeye And Son. A different type of license was explored with 1988's The Completely Mental Misadventures Of Ed Grimley, based on the Martin Short character seen on Saturday Night Live.
The Kwicky Koala Show (1981) was a throwback to the funny animal days, with the pilot produced by the legendary Tex Avery who came out of retirement for the project. Aside from Kwicky, other segments of his show had Dirty Dawg, The Bungle Brothers and Crazy Claws (a cat). 1983's The Biskitts had miniature dogs, and 1986 gave the world Foofur.
New sources of inspiration were found in other licensed properties. 1982's Shirt Tales was based on a line of greeting cards, while Pound Puppies (1985) was a toy tie-in. Another toy tie-in was Challenge Of The Gobots (1984). Pac Man (1982), of course, was a video game first.
New reincarnations of old favorites started with a Jetsons spin-off, 1981's Astro And The Space Mutts (teamed with Teen Force and older shows to form a Space Stars program). Scooby got more air time in 1984's New Scooby-Doo Mysteries, 1985's The Thirteen Ghosts Of Scooby-Doo, and 1988's A Pup Named Scooby Doo; 1985 also saw 41 new episodes of The Jetsons, with another ten in 1987; The Flintstone Kids began in 1986 (as an alternative to attaining the "Cabbage Patch Kids" license).
Hanna-Barbera's biggest 1980's hit, though, was The Smurfs, adapting a previously obscure (to North Americans) comic strip from Belgium about tiny blue people. Licensed Smurf toys had been showing up recently in North America, and they were "discovered" by NBC's Fred Silverman, who had happened to spot some of the toys and was quite taken with them. The show debuted in 1981; it went on to win some Emmy awards and was expanded to 90 minutes for its second season. Several Smurf TV specials were created as well. A vaguely similar show also debuted in 1981, Trollkins, featuring tiny whimsical creatures; and another program with little fantasy creatures, Monchhichis, came in 1983. The Smurfs' success led to another Welsh comic, The Snorks, being adapted in 1984.
By 1985, Super Friends had evolved into Super Powers Team: Galactic Guardians for its final season. As Super Friends wound down, yet another Yogi Bear series was launched in order to headline the syndicated The Funtastic World Of Hanna-Barbera in 1985. Numerous H-B characters again joined him in Yogi's Treasure Hunt ; these included Top Cat, Augie Doggie and Doggie Daddy, Huckleberry Hound, and others. The other Funtastic segments were initially The Paw Paws and Galtar And The Golden Lance. Soon, new episodes of Jonny Quest joined the show as it expanded to two hours. Later on, other shows entered the rotation, including Sky Commanders, The Snorks, The Further Adventures Of SuperTed, Fantastic Max, Paddington Bear, and Richie Rich. 1986's Wildfire was a fantasy adventure show.
1987 saw H-B produce a series of ten movies for TV syndication. These included Yogi's Great Escape, Yogi And The Magical Flight Of The Spruce Goose, The Flintstones Meet The Jetsons, Rockin' With Judy Jetson, and Top Cat And The Beverly Hills Cats. 1988 saw The New Yogi Bear Show enter syndication.
A series that Joe and Bill were very proud of was The Greatest Adventure, an animated Bible story series distributed on home video in the 1980's. Great care was put into the creation of the series, and famous actors such as Vincent Price were given voice roles. The first seven tapes alone sold over a million copies and the series won many awards.
The Later Years
In the last years of their partnership, Bill and Joe generally worked on their own projects. The last one that they worked on together was 1990's big screen animated film Jetsons: The Movie. Unfortunately, Universal's insistence on controlling the film's production (including replacing Judy's original voice with that of singer-of-the-month Tiffany) made it an unhappy process, and Joe walked out on production and never did see the movie. Bill and Joe later appeared together in animated form at the wedding of Pebbles and Bamm Bamm in the 1993 TV movie I Yabba Dabba Do!. (The success of that telefilm was matched later that year by Hollyrock-A-Bye Baby, where Pebbles and Bamm Bamm had twins.) 1994's live-action adaptation of The Flintstones saw Bill and Joe both appear in person.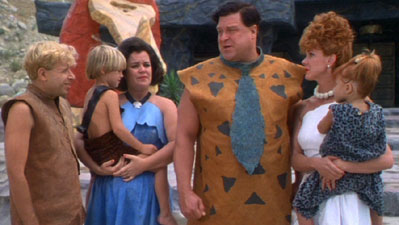 Turner Productions bought the studio the 1991, and later Turner was acquired by Time-Warner in 1996. Hanna-Barbera was merged with the Warner Bros. animation studio, although for a time it did manage to keep its own identity. Hanna-Barbera's facilities by then were already aimed at producing content for Cartoon Network, which started broadcasting in 1992, and both Bill and Joe directed some new shorts. A quick (and incomplete) rundown of the 1990's shows demonstrates the shift from network and syndicated shows to Cartoon Network properties: Captain Planet (1990), Bill And Ted's Excellent Adventures (1990), Tom And Jerry Kids (1990), The Pirates Of Dark Water (1990), Yo, Yogi! (1991), Fish Police (1991), Capitol Critters (1992, last network show, on ABC), Two Stupid Dogs (1993), Real Adventures Of Jonny Quest (1995, with an older Jonny and some computer graphics), Space Ghost Coast To Coast (1997), Johnny Bravo (1997), Cow And Chicken (1997), Dexter's Laboratory (1997), and The Powerpuff Girls (1998).
Losing Two Good Friends
Bill Hanna died on March 3, 2001. Joe continued working to some extent until he died on December 18, 2006. Their works have been seen in 90 countries and in 22 languages.
In remembering the Hanna-Barbera shows, people often associate their productions with limited animation, countless spin-offs, and cartoons based (officially or unofficially) on popular TV shows. This is all true, but one should also remember that they made shows that they could sell to the networks. If the networks were in the mood for derivative stuff, then that is what they had to be given. Proven properties were used over and over again, but only because they stayed popular. Plus, when you look at the entirety of the H-B output, there are an amazing variety of shows present. True, they spread themselves too thin at times, and the animation quality was often lacking, but on the whole no one can deny the huge impact that Joe and Bill made to keep animation a valuable commodity in the post-theatrical days. Without their efforts, there would be no Cartoon Network, no Nicktoons, and probably no Simpsons or King Of The Hill. So say what you will about Bill Hanna and Joe Barbera, but also give them their due. They were truly giants in the cartoon world, and much of their output remains fresh and funny today.
Home Video
A terrific assortment of Hanna-Barbera stuff was put out on VHS tapes, especially during the 1980's. I picked up many of my videos on eBay, although sometimes Blockbuster proved to be a good source when they were selling off their previously viewed tapes. For those with laserdisc players, many of these discs were also produced, including the entire "Personal Favorites" series; these had Bill & Joe-hosted interstitials, with volumes devoted to Animal Follies (including Ruff And Reddy), Huckleberry Hound And Friends, Yogi, The Flintstones, Scooby-Doo, and Jonny Quest. Other laserdisc compilations included ones for Atom Ant, Secret Squirrel, more Jonny Quest and The Flintstones (including a box set of the first 14 Flintstones episodes, with extra features), Space Ghost And Dino Boy, and a couple for The Jetsons.
For a time, there was precious little available on DVD. Scooby had lots of discs out, but other than that there was only a disc called Cartoon Crack-Ups which had a nice little assortment of cartoons like Top Cat and The Flintstones. This, of course, barely scratched the surface of what Warner Bros. had available in the H-B library. Then in 2004, at long last, Warner Home Video began to put out their collectors' sets of vintage Han-Barbera material, until the banners of "Golden Collections" and "Classic Collections". These multi-disc sets got better and better over time, providing more bonus material with almost every release. About 20 sets are out at this writing, including all of their prime time shows and many other classics, with more in the pipeline. There are also WHV's Super Friends discs, an out-of-print Image Entertainment DVD featuring H-B's Popeye cartoon, and Godzilla cartoon discs from Sony Wonder. Of their features, Charlotte's Web is out on DVD, and in Canada one can get a DVD of The Man Called Flintstone.
It is a great time to be a Hanna-Barbera collector, whether one wants to watch the cartoons or collect other items related to the studio. With the Internet and such sites as eBay, one can also find numerous other Hanna-Barbera collectibles that have been produced through the years— comics that number in the hundreds, lunchboxes, and toys too numerous to mention. There are also newer items always being produced, such as McFarlane Toy's figures. The studio as its own entity may be gone, but the legacy of Bill Hanna and Joe Barbera can still be celebrated and enjoyed.
References
The three parts of this article only cover the highlights of the careers of Joe Hanna and Bill Barbera. Those interested in learning more about the details of their studio and its productions are encouraged to look up the following books, which include their autobiographies:
My Life In Toons by Joe Barbera
A Cast Of Friends by Bill Hanna (with Tom Ito)
The Art Of Hanna-Barbera by Ted Sennett (awesome coffee table book, with hundreds of illustrations and photos)
The Encyclopedia Of Animated Cartoons by Jeff Lenburg
The Flintstones – A Modern Stone Age Phenomenon by T.R. Adams