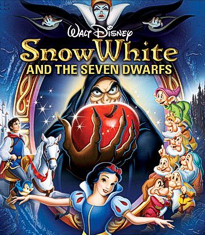 What's this!? A new announcement today plays up the Disney's Diamond Collection banner that will be heading this fall's release of Snow White And The Seven Dwarfs. Calling the Blu-ray release on October 6 the launch of the "spectacular all-new Diamond Collection", it seems we now have yet another marketing line to add to our shelves.
"Just as the movie itself transformed the entire motion-picture industry upon its debut in 1937", the press release gushes, "the revolutionary new Diamond Collection brings audiences the most immersive and highest-level viewing experience, that includes unparalleled features, exclusive high definition content and updatable experiences, superior picture and sound, and much, much more". Hmmm…sounds like a Blu-ray Platinum to me!
"Disney Smart Navigation" will allow "the magic and personality of Disney Characters to come to life as never before", while "Disney Family Play" promises to be "the ultimate interactive Hi-Def experience, offering a variety of immersive games, activities and unprecedented levels of personalization and customization features to transform how families experience home entertainment together".
Exclusive to the Diamond Collection will be:
• Hyperion Studios – discover first-hand the Hyperion Studios and virtually walk the halls of this historic landmark. This amazing Backstage Disney feature contains newly dimensionalized archival photos, animator recordings, archival transcripts and rare footage of Walt himself revealing how Disney's gifted filmmakers crafted the very first animated feature.

• Magic Mirror – the iconic Magic Mirror guides the audience through the Diamond Edition features, serving as the host. The Mirror will recognize viewing patterns, knows where the audience has left off and will even suggest where to navigate next, marking the first use of artificial intelligence in a Disney Blu-ray release.

• DisneyView – that side panel idea, with art by Toby Bluth, and another extra profiling the artist.

• Mirror, Mirror On The Wall – the mirror can find the secret princess inside each viewer with a series of questions, then create for them a personal message from their favorite princess who will call them on the telephone.

• What Do You See? – players must untangle scrambled images in this interactive game.

• Jewel Jumble – players put jewels from the Dwarfs' mine in the proper order to win this game.

• Scene Stealer – viewers can upload a personal photo and experience life as one of the Seven Dwarfs…onscreen in the actual film.
We've yet to see this Diamond Collection branding, but a look at the horribly messed up new package art can be seen top right, and with the amount of material available to the researchers on this title you can bet that, as with the Platinums, it's all down hill from here on this new Diamond line. If they really wanted to impress us, they'd tidy up Ward Kimball's Soup Song and offer that as a unique supplement…but then again there is the proper 75th anniversary to think about in 2012.
---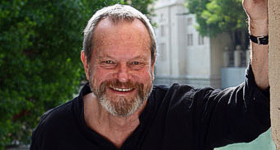 With Disney/Pixar's Up proving to be a truly memorable opener to the latest Festival of Film in Cannes, held each each in the south of France, it's interesting to hear of some of the news that's coming out of the event.
It's unfortunate to have to report that MGM is in cash trouble again, with a string of recent flops not sustaining their business, which has seemed to rely all too heavily on the James Bond series which they now co-produce with Sony. Spending on their vast library of catalog fillers has ground down since the economy went south, and a swelling of their business over the past year has not helped keep costs in check. With only a remake of Fame (arriving in September) likely to be anything near the kind of big hit they need, MGM isn't the same company as the powerhouse Studio that made all those classic song and dance spectaculars, but I do hope the historic name doesn't once again fall prey to corporate shenanigans, even if the investment company behind Relativity Media does seem to be making some unclear moves on the company.
In much better, rather exciting news, it seems former animator and now often saddled director Terry Gilliam's [upper right] star is back on the rise. Recently awarded a Fellowship by the British Academy of Film and Television Arts, he's also been getting very good buzz on his latest film, The Imaginarium of Doctor Parnassus, with Heath Ledger in his last role and co-starring Johnny Depp, Jude Law and Colin Farrell. I personally can't wait to see this one, but it's already proving to be a hit: those that saw a sneak are now offering to stump up the cash to bringh his long-planned The Man Who Killed Don Quixote to the screen. Oscar-winning producer Jeremy Thomas will partner with Gilliam on the film, the first round of filming of which was documented in the devastating documentary Lost In La Mancha, the script revolving around a filmmaker who is charmed into Quixote's eternal quest for his ladylove, becoming an unwitting Sancho Panza. No word on if Depp will be cast again, but one assume – and hopes – he's ready to jump back into the saddle.
The other big news is Martin Scorsese's announcement that he's heading back into New York wiseguy territory with another long-planned project, Sinatra, a biopic on legendary crooner Frank. There's not much else to say about this right now – casting hasn't even begun – though the sheer scale of the budget means that its likely going to be a very glossy affair, just as Ol' Blue Eyes would have wanted it.
Stay tooned! — Ben.