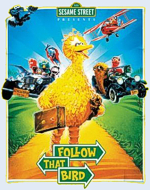 You've got to love Warner Home Video. Not only do they routinely put together some of the most unique packages on their special editions, but their current and ongoing run of Deluxe Editions has really seen them push out the boat in terms of bringing a little something extra – no matter how small – to a whole host of reissued titles.
Latest in the line – and the subject of my freshly posted review – is Sesame Street Presents: Follow That Bird – 25th Anniversary Deluxe Edition, which throws out the old transfer and wheels in a nice new anamorphic upgrade as well as a new short but sweet retrospective with the Bird's performer himself, Carroll Spinney.
Longtime readers of the site will know I'm a Muppet fan, and as such even the simpler nature of this little movie appeals. It's not the most sophisticated of Jim Henson's outings, but Follow That Bird remains a genuine chunk of original Muppetmania, the first and really only authentic of the Sesame Street features. Perhaps for fans only, but still recommended.
More reviews on the way, so stay tooned! — Ben.