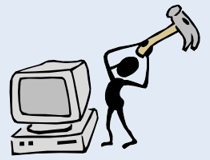 Well have I ever had a nightmare before, during and after Christmas! Just as we were about to post a bumper festive bunch of content – including our look back on The Best Of 2008's highlights and lowlights – for you to wade through over the holidays, my internet connection decided to cut itself off right in the middle of Windows and Java programs attempting to download updates. Thanks to the UK's Virgin Media, whose service can be called spotty at best, those two programs then got caught in a perpetual loop of trying to update while the internet stubbornly refused to connect. Since I've been running Windows 2000 since, well, 2000, we decided this was probably a sign to finally upgrade ourselves to a more robust system, and I ended up going for a pretty high-end spec that bundled in a Blu-ray player, meaning I've now officially joined Rand and James in the Blu camp and that we'll be able to bring you much more in the way of BD content reviews. While on the spending spree, we threw in a 32" Panasonic television, seeing as our old set also went on the fritz in the past few weeks.
But…we're off to a great start to the new year! The computer has taken longer than anticipated to be built and configuration of programs a little trickier than anticipated, but everything's pretty much in place and the rush of intended content for the site will start finding its way to our pages over the next few days or so. Big, big thanks to my colleagues James and Randall for covering with their updates, and luckily remote email access allowed me to stay in touch and continue to participate in our forums too. While I've been offline, there have been some big things happening, both in animation and the world at large, and I'll offer some thoughts during the week as I start to catch up. Speaking of which, I've just finally been able to put up our aforementioned, long awaited (and mammoth) Best Of 2008: The Year In Review feature that I had been working on when the computer went down. Randall, James, Rodney and myself all deliberated (deliberately) on the results and, although we've cheated a little this year and played loose with the top ten format, you'll still find a wide variety of titles represented in our choice picks, near misses and some that you'll certainly want to stay away from!
---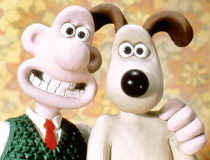 Another new bit for me is a review of Wallace & Gromit's latest, A Matter Of Loaf And Death, a little late after its Christmas broadcasts in the UK, but again that was a piece almost completed more than a week before the official premiere but that I've only been able to post now. I enjoyed this one, though while it is as accomplished as ever, it's perhaps not quite as stunning or original as director Nick Park's previous efforts. Rand's also been hard at work, and while I've been equipping myself for the future, he's darted back to the early days for a helping of Presenting Felix The Cat: The Otto Mesmer Classics 1919-1924, as well as a featured article on Felix' creator Messmer and, dovetailing nicely with our choice of the recent Looney Tunes set in our 2008 picks, the original Uncensored Bosko: Volume 1 collection from Image.
---
And Jeremie's continuing series of fantastic interviews has been held up by my computer woes, meaning that his discussion with The Tale Of Despereaux art director Olivier Adam wasn't able to hit out pages in time for the film's release, but this is still a very insightful look into the process. Plus we have a new contest gone up to win a copy of Sony's direct-to-disc sequel Open Season 2 and an Art Of Open Season book! You'll find that right here. So, a lot to catch up on, and this is just the start…look for more updates and reviews over the next few days as I manage to finally clear out some of those backlogged articles!
---
Elsewhere in the animated movie world, I've been excited to find a couple of new previews online that should get those fans of The Nightmare Before Christmas salivating. We've still got the feature length stop-motion version of Frankenweenie to look forward to, but in the meantime, Nightmare's director Henry Selick's long gestating Coraline has a gorgeous trailer online in anticipation of its February 6 opening, while the ever busy Tim Burton himself has his production of Shane Acker's feature version of 9 coming to theaters on 9/9/09 (nice). Universal don't have the greatest track record in animation, and the opening dates for both these projects aren't the biggest scene stealers, but lets hope their Focus Features label draws in those looking for something of a little different quality…they both certainly look like they'll feature heavily in our picks for the coming year.
It's great to be back! Stay tooned! – Ben.