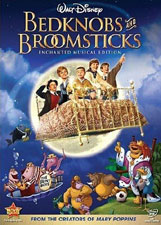 We've a trio of new pieces for you to kick start the week, and most exciting is Jeremie Noyer's catching up with none other than the most wonderful composer Richard M. Sherman for a delightful interview on the recent re-release of Bedknobs And Broomsticks on DVD and on the eve of the upcoming CD retrospective The Sherman Brothers Songbook. For many years, the Shermans' music was an essential ingredient to what made certain Disney films truly magical, and with the concurrent release of The Boys, a feature documentary on their lives and careers, it's truly heartwarming to see them get their due recognition.
Bedknobs And Broomsticks was a very good film that underwent a lot of production troubles, not least the Shermans taking a hiatus from the Disney Studio at the time, and it wasn't until the 25th Anniversary LaserDisc edition in 1996 that audiences could finally see (closer to) the film's original ambitions. With the new DVD replicating that restored extended cut, now is the time to catch up with Angela Lansbury and company to rediscover a lost gem.
---
Just added to our reviews section are a couple of new live-action titles: the Disneynature feature documentary Earth brings the Studio back to the wildlife filmmaking genre of the classic True Life Adventures, though the stunning Blu-ray Disc may stir extreme feelings of déjà vu for those that have previously seen the BBC's Planet Earth series. Secondly, the original Little Rascals are back on DVD in The Our Gang Collection, the first ever release of the final MGM shorts in the series, just released thanks to the Warner Archive, and often as funny and inventive as they ever were, even if some of the these later films were beginning to run out of steam.
More on the way, so stay tooned! — Ben.