November 2, 2009 — The re-launch of Animated Views is here, plus a whole heap of fresh content with news, reviews and interviews among them, including Disney Legend Floyd Norman!
We're baaaaa-aaaaack! The wait is over and we're very pleased, excited – and exhausted – to welcome you all to the next stage in Animated Views' online life. This update to the Animated News and Animated Views pages has been long in the planning, and there are still many new additions and extra features to come. You'll immediately notice our new layout, but don't worry: everything is still here and more, including the return of the rolling News updates, now safely snuggled in on our joint new front page! So how did we end up with this new look, what's new on the site, and what can we look forward to in future?
It all started, for us, on October 18, 2003. With Olivier Mouroux's popular Animated Movies website shutting up shop so that he could concentrate on the "real world", a rag-tag band of contributors to that and other animation sites joined together to keep the flame going. Animated-News.com enjoyed a successful first few years, covering all aspects of the animation realm as it grew. We expanded, too, launching a companion reviews and interviews site, Animated-Views.com, in 2006, which has continued to flourish.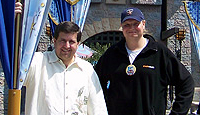 In 2008, when I met up with two of my co-conspirators in the Animated News & Views network, James and Randall (that's me on the right with James at Disneyland last summer), we identified that the News service was beginning to flounder and that something needed to be done. It was decided that the work of one front page would be better handled between us and that a merging of the sites would allow us to continue providing the level of animation coverage in various areas that we became known for.
Now, just a few days past our sixth anniversary, we are proud to unveil the result, a completely new take on Animated Views and one that will continue to serve up the most in-depth reviews of the latest titles as well as keeping you up to date with our Animated News service. With the introduction of new formats and a further expansion of our coverage planned, we've broken categories down for easier access, including specific DVD, Blu-ray and Film reviews, Jeremie's always illuminating Interviews, and our occasional Retrospective articles from our established and new writers.
You'll find all of that – and more – in our snazzy new menubar along the top of the page, as well as direct links to our latest features, current headlines and the hot topics under discussion on our Forum boards. There's even a way for you guys to tell us what you think about the titles we cover by way of new reader ratings on the review pages! And if you'd like to be a part of Animated Views' future, there's also what you need to know in order to join us, with much more still to come. Don't forget that any purchases you make through our Amazon.com links help us to keep all this content coming, and we'll be highlighting some good deals around the site too!
---
So…what have we got for you to kick start this new phase? Well, for starters we have some content that's been sneaking online for the past few days…
• Snow White And The Seven Dwarfs – Disney's new Diamond Edition boasts a beautiful transfer, but the supplements are not the fairest in the land.

• Sister Act – Jeremie speaks exclusively to Alan Menken's musical director Michael Kosarin about the new London stage adaptation.

• Superman/Batman: Public Enemies – superheroic fisticuffs are not match for Rand's Kryptonite-fueled Blu-ray review.

• Tinker Bell And The Lost Treasure – the producer/director team of Sean Lurie and Klay Hall discuss Tink's latest adventure with Jeremie.

• Gigantor: The Collection, Volume 2 – More giant robot action in Rand's evaluation of the anime classic.

• Tom and Jerry's Greatest Chases: Volume 3 – Rodney catches up with the cat and mouse for some of the best in the duo's career.

• Winnie The Pooh: Seasons Of Giving – Rodney's back again to spread Christmas cheer with this repackaging of Pooh classics.

• Michael Jackson's This Is It – we couldn't let the biggest pop-cultural movie event of the moment pass us by, could we?

• Wallace & Gromit: The Complete Collection – Rand's latest review looks at the Blu-ray release of Nick Park's danger-prone duo, which includes the hi-def debut of their newest adventure, A Matter Of Loaf And Death.
---
Also new to Animated Views, and in anticipation of the upcoming release of Walt Disney Treasures: Zorro, The Complete First and Second Seasons on DVD, Jeremie got a chance to have a fun reminisce with Disney Legend Floyd Norman, who recalled visiting the set of the swashbuckling adventure show on the Disney back lot, and he has the photo snaps to prove it!
And we're celebrating the re-launch of the site in a very big way, with one of our biggest contests ever! Up for grabs is a real Santa's sack of DVD goodies worth almost $200, featuring everything from Winnie The Pooh and Mickey Mouse to Beverly Hills Chihuahua and Lilo & Stitch! Open throughout the entire month of November, our Mega Christmas Contest is open to everyone, but please make sure you can provide a US destination as the prize package will only be shipped to a United States address.
There's also more on the way, including a heap of ongoing reviews for the big upcoming holiday titles, additional features and a new look for our friendly Forum…so be on the lookout for that over the coming days and be sure to log in and tell us what you like – or don't like! – about our new look and feel. We hope you enjoy it!
Stay tooned! — Ben and the entire Animated Views Team.