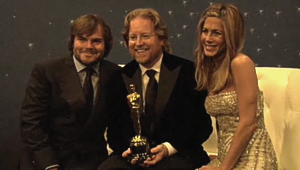 "Each year I do one DreamWorks movie and I take the money from that to the Oscars and bet it on Pixar!" So said Best Animated Feature presenter Jack Black, cracking up Jeffrey Katzenberg and equaling Steve Martin for one of the two funniest lines of the evening at the 81st Annual Academy Awards, held at the Kodak Theater in Hollywood last night. It was an odd show on the whole, with host Hugh Jackman welcoming the audience and nominees almost into his own living room: an intimate nightclub styled setting at which the first few rows might as well have been sitting on the stage!
With some peculiar choices in the nominated roles and films themselves, it was never going to be a banner year, and the results largely did little to change that: predictable early craft wins for The Curious Case Of Benjamin Button, including an absolutely undeserved grab for Best Visual Effects, gave way to a Slumdog Millionaire sweep, including wins for Best Director and Picture. Pixar's WALL-E was a natural for Best Animated Feature, with director Andrew Stanton making very nice short and sweet acceptance comments, while three big surprises came with La Maison en Petits Cubes taking away the Best Animated Short award over Presto or This Way Up, Japan's Departures filmmakers accepting for Foreign Film instead of the expected Waltz With Bashir and, in something of a last minute shock recognition for Milk, Sean Penn for Best Actor, beating out favorite Mickey Rourke.
But in most other areas it was business as usual: Penelope Cruz for Vicky Christina Barcelona, Heath Ledger's inevitable prize for his haunting performance as The Joker in The Dark Knight and legendary comedian Jerry Lewis putting in the Old Hollywood career achievement appearance, while man of the evening Jackman held fort fairly admirably during a shambles of a ceremony that was by turns over glitzy and more than a little embarrassing and amateur throughout. An opening musical number recalled the fun of Billy Crystal's legendary openers but left Jackman out of breath, while a later song and dance selection (again with Jackman, joined by a showgirl costumed Beyonce) claimed that "the musical is back", though the cry rang empty: one could argue that it never went away, and what an odd choice it was to have Baz Luhrmann arrange the sequence after snubbing his Moulin Rouge. Adding to the confused state of affairs, many of the songs weren't Academy Award winners, nominees or even from Oscar nominated movies: a glaring oversight in most of the clips packages that were sprinkled throughout the night.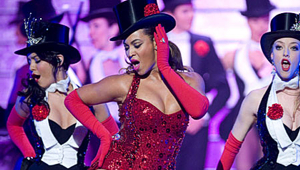 Elsewhere the music was just as jumbled: celebrated score composer Michael Giacchino taking on those duties this year but making further curious choices by having freeform jazz playing behind some presenters and an absurdly high leaning on the theme from The Big Country, which seemed to act as a filler whenever there was some dead air (and the less said about his use of Gone With The Wind to support the introduction of past Best Actress winners the better).
The decision to have Queen Latifah singing over the Memorials segment led to the camera not knowing whether to focus on her or the names on the screens in the background, meaning that more than several names went unreadable and, therefore, unduly dismissed. Also rude were the presenters of one of the foreign titled films, who started to laugh among themselves when they slipped up on the pronunciation of the winner: certainly not an act of appreciation, especially coming as it did after a woefully unfunny clip selection in which those presenters featured. Ben Stiller also fell flat, spoofing Joaquin Phoenix's recent "was he or wasn't he there?" appearance on Letterman, though it was an aim that seemed to go missing by most of the attendees.
There were some plusses: at least the very boring Benjamin Button (a film that feels like it lasts a week, as it has been described) was largely shut out, though it did win the aforementioned Visual Effects award for making "Brad Pitt look like a gnome", in the words of a very natural (and future host?) Will Smith, "and him having an abnormally large head", I'll add. On a related note, I thought it was very brave and a triumph on her part, for Jennifer Aniston to present the Animation awards in front of her ex-husband Pitt and his new wife Angelina Jolie, who otherwise both looked resigned to the fact that neither of them were destined to take home the little golden guy (I'm talking Oscar, not the shriveled Button, though Jolie does get to keep her own). On the rest of the glamor front, even the frocks and fashions were subdued, though most looked presentable without the usual faux pas that usually plague some of the ladies' choices of dress.
Despite it being something of a crooked mess, sincere congratulations nevertheless to those who won and, of course, to our own Oscar winner, forum member BobbleheadBuddha, who correctly predicted 20 out of the 22 categories and wins our prize bundle of Disney DVDs! We kept up with the show all through the evening via the Animated News & Views chat: for those who missed us or simply want to relive all the excitement, you can read a full transcript here.
Finally, for those of you who got the same sense of Forrest Gump deja vu as I did when watching Benjamin Button, chat participant EricJ provided a fun link to a very acute dissection of the films, curiously both written by Eric Roth. Check that out here, and very cheeky it is, too: seems the Academy weren't the only ones to have the wool pulled over their eyes. See you for more of the same next year!
Back soon with more reviews, so stay tooned! — Ben.