November 17, 2009 — Saturday Morning and Justice League cartoons covered, plus 2012, a trio of retro reviews and the first look at our new Media section!

It's absolutely clear as day why new "Master of Disaster" Roland Emmerich's latest destruction epic 2012 has just taken a whopping $225 million dollars internationally (including $65m in the US) over its opening weekend: the picture is as entertaining a thrill ride as they come and a marked improvement over his other similar fare Independence Day, Godzilla and The Day After Tomorrow. Those were all films I liked enough, but 2012 feels like an upgrade, perhaps closest to Tomorrow more than anything. Of course it's a load of hogwash, but it's also the most fun and excitement you're likely to have in a movie theater this year and a real throwback to the big spectacles of The Towering Inferno and its like…go see!!
---

From the brand-spanking new to the sheer nostalgic now, as Randall drops in with his takes on a pair of Saturday Morning Cartoons compilations: 1960s Volume 2, and 1970s Volume 2, both just released by Warner Home Video. I personally haven't been sold on these sets, and Rand's comments for both seem to back up my reasons. Like him, I agree that compilation sets can be terrific ways to sample an obscure show or two, but the repeating of content from sets that many interested in Saturday Morning Cartoons will already have is the show-stopper. Although Rand suggests sets like these are where "the whole is greater than the some of the parts", the titles in the 1970s collection make it sound fun!
---

Next up, Rodney's been running the Justice League: The Complete Series marathon through all 91 episodes of the show's five year run of 15 DVDs. The most consistent of the many DC animated programs, I often find myself dipping into the League when an old show turns up on TV, originally grasping at childhood memories of Super Friends but becoming more and more impressed with the more mature approach. These are just great characters to hang out with, and Rodney's very fine review elaborates on the many unique aspects the program developed and explored. As he says, this was "a landmark superhero show that will go down the ages as a standard for which all superhero team shows will be compared to. Engaging and groundbreaking, Justice League features some beautiful animation and complex storyboarding".
---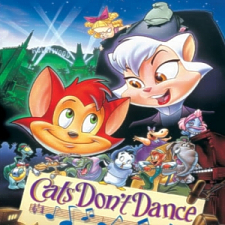 We do like to bring you a mix of old and new, and from our back-catalog of previously reviewed titles, Rodney has also added a popular trio: it's more than high time Mark Dindal's Cats Don't Dance be treated to a correct widescreen edition, but for those who can't wait to hear Randy Newman's showtune approach for The Princess And The Frog, this is a rarely seen but fun outing. In anticipation of next year's release of Fantasia 2000 on Blu-ray, what better time could there be to revisit the original DVD release with its surprisingly in-depth and generous supplements – the BD is going to have to try much harder than the recent Snow White if it is going to impress. Finally, the smash hit that brought TV animation to the big screen, The Care Bears Movie, is looked at in its release from MGM. Though comments at the time resulted in this being compared to a feature-length toy commercial, Nelvana's film is actually worthy of better praise than that, even if the sequels it spawned did resort to those levels.
---

Lastly today, I'm very pleased to announce the opening of our new Media section! The upgrades to Animated Views keep coming, and we're hoping to expand this section in the future to bring you sneak peeks at upcoming theatrical, DVD and Blu-ray releases, plus occasional fun freebies. Already, you can catch Pixar director Pete Docter discussing a favorite Monsters, Inc. scene from the Blu-ray release, Princess Tiana herself, actress Anika Noni Rose, speaking about the music of Disney's The Princess And The Frog, and grab your free printable posters designed for Up, plus much more!
Don't forget our recent review of Fantastic Mr Fox, out nationwide in the US this weekend, and keep your eyes peeled to our front page, too, for further reviews this week: Up, Monsters, Inc. and, tying in with AMC's just launched remake, Patrick McGoohan's The Prisoner are all on the way, and you can still catch Jeremie's exclusive interview with Monsters, Inc.'s Randy Newman, who "scores because he cares"!
Stay tooned! — Ben.