November 4, 2009 — The French Connection: when Ben met Jeremie, plus Pixar's Up comes in for a landing on disc with some cool poster giveaways and bonus clips!
Now that our welcome message has been up for a couple of days, howsabout we start progressing with some updates!? To start us off, last week proved to be memorable for reasons other than the last sprint to get the new-look Animated Views up and running, as I met up with our interviewer magnifique Jeremie Noyer!
Back in 2008, one of the highlights of the year, if not a major moment in our entire lives, was when the "big three" of Animated Views, James R Whitson, Randall Cyrenne and myself, threw caution to the wind and decided to meet up in person for the first time, marking the fifth anniversary of the site. The destination was San Diego's annual Comic-Con, and the vacation turned out to be something very special indeed for all of us and the family members we had dragged along, topped off with a three-day wander around Walt's original Disneyland.
One of the folks unable to make the trip was our "fourth musketeer" Jeremie [above right], who at that point had recently started to contribute his always insightful and varied interviews to Animated Views. Being that the Animated Views staff are so fractured all over the world – Jeremie hails from France, for instance – it's a miracle that any of us have ever met at all! A close call came last Christmas when Jeremie visited Disneyland Paris and I was very tempted to join him, but various circumstances precluded that from happening. However, with Jeremie and myself both due to be in London last week, we couldn't possibly pass another chance up to finally get together face to face.
Jeremie was in town to enjoy a performance of the London stage adaptation of Sister Act: The Musical and, when we met the next day, he not only provided a glowing review of the show itself but was delighted to tell me it was made even more special because of the presence of its creators: none other than composer Alan Menken, lyricist Glenn Slater, writer Cheri Steinkeller and musical director Michael Kosarin, in the audience to suggest and review any changes to the show!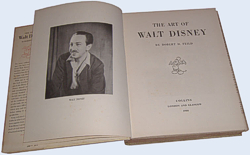 It's still an odd sensation meeting people for the "first" time after knowing them for a while online, and possibly comparable to meeting up again with an old friend. We had a wonderful, typically British lunch (we both went "traditional", Jeremie with Yorkshire Pudding, me with Fish 'n' Chips!) which stretched into the evening, the two of us speaking about animated movies, music and composers, before I took him to some of the cool old bookshops I try and visit when in town. As luck would have it, in one of them Jeremie managed to find a 1944 reprint of Robert D Feild's 1942 book The Art Of Walt Disney! I joked that I would have fought him for it if I didn't already have a copy, but it was a great find and a very nice souvenir of an already incredible visit.
Although eventually we had to each catch our subway "tube" trains back in our different directions, it was extremely pleasant to have the chance to not only chat with someone with the same passions, but also to make contact with another contributor to our site – and Jeremie has some great things in the pipeline for us too!
---
Next "Up" today, in anticipation of next week's release of Disney•Pixar's latest on Blu-ray and DVD, the Studio has kindly sent over high resolution images of some of the terrific retro poster art made for the film – and they're available for download and printing so you can have your very own set!
There are eight in all, so help yourself to these (we'll offer the final set of four on Friday), and print the whole collection! To download, simply choose an image, click on it for a pop-up at its original size, and save to your hard drive using your usual process. It couldn't be simpler, but be aware of the large files (an average of around 15mb) if you're on a slower connection.
---
---
Lastly, we've a sneak peek of some of the bonus material set to debut on the Up Blu-ray and DVD combo pack, in stores next Tuesday, November 10. From the exclusive new short Dug's Special Mission, here's Dug in a hole:
---
Talking Dogs:
---
Voice of Russell:
---
Thanks for all the positive words of praise that have been coming in following the unveiling of the new site. We're not done yet, so stay tooned! — Ben.