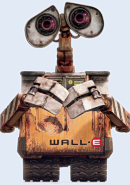 Tomorrow sees the DVD and Blu-ray release of the biggest animated film of the year, Disney/Pixar's WALL•E, of course, and our full review of the Special Edition is raring to go right here!
Although my comments are aimed at the regular DVD edition, there's our usual comprehensive coverage of the set's bonus features, including the new short BURN•E and Leslie Iwerks' 2007 feature documentary The Pixar Story, a slightly odd inclusion that gets a little lost in this collection, but is nonetheless very welcome. The set's picture and sound is as stunning as you'd expect, and points to an exhilarating experience for sure on high-def Blu-ray Disc: my advice is, if you can, go for that format, in either two or three disc flavors (the third disc is a digital file version which may be handy for some), but for those still with good old DVD, there's also lots to enjoy!
It's going to be WALL•E week here at Animated News & Views, with Jeremie Noyer bringing several new pieces to the site. Up first is a link bump for an interview with Tim Hauser, author of The Art Of WALL•E, Chronicle Books' look at the concept and production artwork generated by the film's development. In addition to Tim's describing how he worked with Pixar on the creation of the book, you'll find a couple of handy pop-ups that allow for closer viewing of some of those concept works!
And if that isn't enough, don't forget our WALL•E giveaway contest, and follow the "More…" link at the end of this post for the first of three WALL•E Film Facts sheets, and stay tooned! – Ben.
---