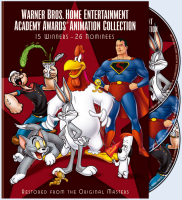 In what I think is a brilliant use of the various libraries Warner Home Video controls and is able to plunder, today's post is just a reminder about their Academy Awards Animation Collection: 15 Winners, 26 Nominees. There are two releases out today: a single-disc round-up of the 15 Oscar-winning shorts from the Golden Age of animation might sound pretty cool, but the one to really go for, especially with the low-price offered by Amazon.com ($30, down from the $45 list), is the full three-disc 15 Winners, 26 Nominees set pictured right.
Now, it's true that many of these shorts have been previously released across the many Golden, Spotlight and whatnot collections over the past few years, but I think WB have played a strong hand here, presenting a themed collection that plays the public domain game, but from remastered prints and backed up with the kind of quality packaging and extras (60 minutes' worth, including the new Drawn For Glory: Animation's Triumph At The Oscars featurette) that we've come to expect from major Studio releases. Where else could you bunch Bugs, Pepe, Speedy, Tweety, Droopy, Tom & Jerry and many more together legitimately along with a grouping of new to DVD titles and special one-off shorts? For instance, the more than several cartoons making their disc debuts include Chuck Jones' classic The Dot And The Line and High Note, Tex Avery's Little Johnny Jet, and both versions of Peace On Earth: Harman-Ising's original and the Hanna-Barbera CinemaScope remake Good Will To Men, plus other oddities and rarities – all in their original fullframe or widescreen ratios!
Naturally, many of these cartoons will find their way to disc on other releases, but that's going to take a while, and with Oscar season upon us – and Disney's own long announced but apparently dormant collection still awaiting release – this is a great way, I think, of looking back at the apex of the animated cartoon medium in its prime. Even better – we have two copies to give away in our latest contest! A full review is coming soon, but on the tech specs alone, this looks like a winner!
Stay tooned! – Ben.