Disney (1947-1950), Walt Disney Home Entertainment (December 11, 2007), 2 discs, 263 mins plus supplements, 1.33:1 original full frame ratio, Dolby Digital 2.0 Mono, Not Rated, Retail: $32.99
Storyboard:
Disney's irascible fowl stars in another assortment of classic shorts, this time joined by new supporting cast members.
The Sweatbox Review:
Even casual cartoon fans know that Donald Duck is way more fun than Mickey Mouse, so let's not belabor the point. By 1947, it had become quite clear that the House of Mouse was being carried on the feathery shoulders of a duck, and a memory of some really good feature films of varying popularity. Mickey had only one short released in 1947 (Mickey's Delayed Date), and it was his first one in five years, with only five more to be released over the next six years! Meanwhile, ol' Donald was just quacking along, pumping out a steady slew of funny, engaging cartoons. Mickey had had his time in the sun. The late Forties and Fifties belonged to Donald. This current set of Donald Duck cartoons (1947-1950) shows us just how Donald had maintained his popularity, with 30 of the sharpest, funniest cartoons you are likely to ever enjoy.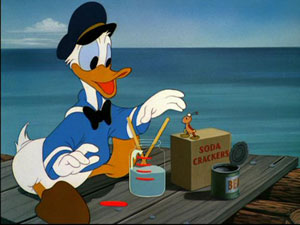 Of course, having already starred in over sixty cartoons by the time 1947 rolled around, not including all his appearances in Mickey Mouse shorts, Donald's solo antics threatened to become tiresome to the theater-going public. Yes, hard to believe that anyone could tire of a duck becoming frustrated with events of common life, but it was probably wise that the directors chose to bring in some new foils for Donald. His nephews had been a part of the cast since nearly the inception of his own series of shorts, but fresh faces were needed. So, in this collection we get to meet a bee character (never named, but known in the studio as "Spike" or "Buzz Buzz") and Bootle Beetle, as well as a few encounters with his nephews Huey, Dewey and Louie, and his girlfriend Daisy.
Disc 1
I always rather enjoyed seeing Donald play off of his nephews, as there were clearly signs of both love and rivalry between them. This is the case in the set's first entry, Straight Shooter, where they all go to the fair. Sleepy Time Donald is kind of a standard yet fun affair, with Daisy dealing with a sleepwalking Donald. More clever is Donald's Dilemma, a story that Daisy narrates, which sees Donald hit on the head by a flowerpot, and oddly gaining a wonderful singing voice. The next entry is unique, in that Goofy shares the title card with Donald, in Crazy With The Heat; the pair rarely appeared together (outside of the Terrific Trio shorts of course), but this desert picture is a unique chance to see the chemistry between them. Then, Bootle Beetle introduces Donald's latest animated colleague, actually an older, wiser beetle telling a cautionary tale to a younger one— a tale involving a certain enraged duck! Wide Open Spaces is a solo cartoon, but still a tale of Donald versus nature as he searches the countryside for a safe place to sleep.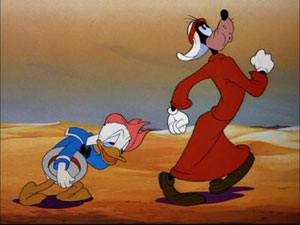 After appearing nameless in a Mickey Mouse cartoon, those lovable chipmunks were named for the Donald Duck cartoon Chip An' Dale, where they are adversaries of Donald in his woodland cabin. Proving that even the simplest idea can make for a great cartoon, Drip Dippy Donald sees the duck battle a dripping faucet while desperately trying to get some sleep at home. Then, in Daddy Duck, Donald adopts a baby kangaroo. The idea of Donald gaining a beautiful new voice is revisited in Donald Duck's Dream Voice, where he takes a pill to change his voice and become a more successful brush salesman. The Trial Of Donald Duck sees Donald in court over an incident in a restaurant.
Inferior Decorator introduces the bee who would take on Donald through several cartoons in this era, here vexing Donald's attempts at home redecorating. In Soup's On Donald's carefree rendition of Zip-A-Dee-Doo-Dah gives way to a battle with his nephews over cleaning up and eating their supper, culminating in their convincing Donald that he's dead!
Disc 2
Sea Salts is narrated by old Mac, who tells the tale of his time spent after a shipwreck with "Captain Duck," who continually swindled him out of his fair share of fresh water years ago. Winter Storage brings back Chip 'n' Dale, while Honey Harvester is of course another bee picture. This is followed by one of my favorite chipmunk tales, All In A Nutshell, the one where Donald is selling nut butter, and sees Chip 'n' Dale as a natural resource to be harnessed. The Greener Yard returns to the story device of an older beetle telling a story to younger one, this time a warning about invading Donald Duck's yard. We then return to the bee in Slide, Donald, Slide, where the bee interrupts Donald's enjoyment of listening to the World Series on the radio. If you're starting to see a pattern here, it will come as no surprise that the next short again has Chip 'n' Dale, as they pester Donald at Christmas time in Toy Tinkers. By this time, I was missing the nephews, and indeed Huey, Dewey, and Louie show up in Lion Around, as they try to trick Donald with a lion suit in order to get a pie.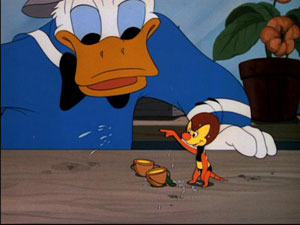 Crazy Over Daisy is a unique cartoon that I always enjoy, a period piece with Donald roaming around town on an old-fashioned bicycle on his way to woo Daisy; but even in this time-displaced tale, Chip 'n' Dale interfere with Donald's day. Chip 'n' Dale, threatening to take the series away from Donald at this point, then mess up his camping trip in Trailer Horn before taking the next one off (Hook, Line And Sinker has a mountain lion and cub instead) before returning for Out On A Limb.
As you can tell, Donald was giving plenty of screen time to co-stars by this time, though these all remain quintessential Donald Duck cartoons. Donald remains a focal figure, and continues to display the bad behaviour we all love him for, though by this time he had perhaps been toned down just a bit… or at least, you might think so until seeing the cartoons Disney decided to keep in the Special Features section. Regardless, these cartoons were produced during a time when most of Walt's resources were still directed into the shorts, and the fluidity of animation and the comic timing had never been better. These are some very slick cartoons. After this, he plunged back into full-length features, television, and theme parks, where he found so many more ways to entertain the world.
Is This Thing Loaded?
The first disc oddly has an advertisement for The Pixar Shorts Collection: Volume One, not in keeping with how these Treasures are often spared the usual Disney ad hype. Other than that, though, there are none of the usual "Sneak Peeks" normally found on Disney DVDs.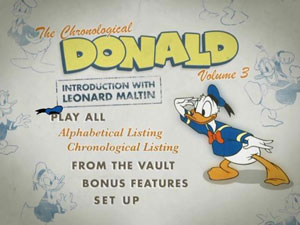 Leonard Maltin continues as the host of this wave of Walt Disney Treasures, and as such he is on hand to guide us through the discs. The Introductions with him run about two minutes each, with the first one using some sloppy green-screening that has the background distorting and sliding behind Maltin. Aside from that, the intros are informative and interesting, with time being spent placing the shorts in some context and discussing the new characters that appear in this collection.
Fortunately, Disney has once again spared us collectors from inadvertently scarring our children forever, as they have placed select cartoons into the safety of a special section entitled From The Vault. Three appear in this section on the first disc, and two on the second. However, even with a half-minute Maltin patronizing introduction, I was still at a loss to find what was so offensive about some of these shorts. Clown Of The Jungle has a bit more violence, and the aracuan bird does mimic suicide a couple of times, but this would be tame if it were a Warner Brothers cartoon. I hate to see it ghetto-ized in this collection, as it is a fun, unique cartoon with a South American setting and is just as polished as anything else in this set. Chip 'n' Dale appear with Donald in the rather typical Three For Breakfast, its only offence being a Chinaman gag near the end of it. I could see how the African and African American caricaturing in the Oscar-nominated Tea For Two Hundred could be a problem for some, but I was still able to enjoy this tale of ants vs. Donald on a picnic, and found it overall to be delightful. In fact, it has a great deal of clever bits, such as the ants carrying Donald away from the picnic site while sleeping, carefully navigating around or over various obstacles. The second disc contains Donald's Happy Birthday, which is one of the most fondly remembered cartoons from my Wonderful World Of Disney days, the one where Donald's nephews buy him a box of cigars for his birthday, but he thinks they bought it for themselves. The portrayal of smoking here is supposedly offensive, but I find that ludicrous, as this cartoon probably did more to discourage me from smoking than anything else. Bee At The Beach is the most puzzling choice of all. It's a pretty standard bee picture, and I'm at a loss to understand why I should find anything in it potentially harmful. But, whatever its issues, I'm glad Disney showed it and all these others uncensored, though their placement in a "vault" section suggests more notoriety than is the case, and feels more like a marketing ploy than an act of real concern.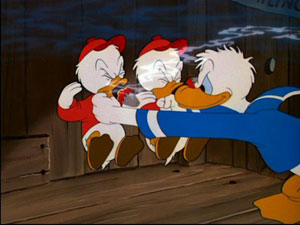 The Many Faces Of Donald Duck (14.40) is a nice addition to the set, as it discusses Donald's other screen appearances, ranging from the various package features of the 1940s, to spots on the Mickey Mouse Club, to more recent appearances in The Prince And The Pauper and Fantasia 2000 (and more). They did miss Donald In Mathmagic Land, but perhaps this is a good sign for it appearing in the next set. Donald Duck On The Mickey Mouse Club gets a short intro by Maltin, explaining that there are a total of ten spots hidden as Easter Eggs on the set, each showing a different ending for the opening of the show, which featured Donald banging a gong (years before Gonzo did it on The Muppet Show).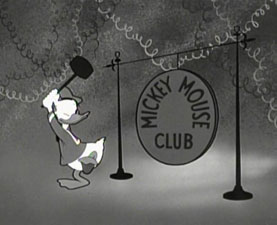 Sculpting Donald (9:10) gives us Ruben Procopio, Disney animator and maquette sculptor. Maltin talks to him as he constructs a maquette of Donald Duck, going from sketch to armature to clay. While it has little to do with the classic shorts, it is a cool featurette that does offer some history of the studio and even Disneyland. Lastly, Galleries are found on either set, showcasing production art from many of the shorts.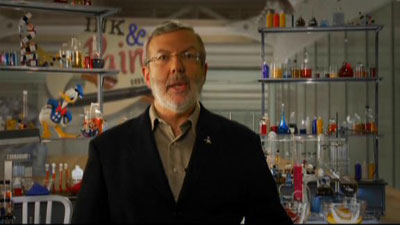 Case Study:
First of all, yes— Roy Disney's signature is still on the packaging of this set, shown on the back of the tin, as well as on the back of the almost identical disc case. Oddly, one of the special features is given two different names on each version, with only one reflecting the final title for The Many Faces Of Donald Duck. Other than that, the packaging actually undersells the extras that can be found. Similar to the past couple of waves, the back of the tin is bare, but has a faux back pasted on with one lonely dab of glue that looks to have been placed there only to keep the paper from sliding in the shrink wrap, as it is too measly to really hold onto the paper once the wrap is off. The case itself is double thick, with a tray. Paper materials include an eight-page booklet, a numbered Certificate Of Authenticity with signatures of Roy Disney and Leonard Maltin (this set had 50,000 copies made), "collectible art" featuring the original poster for Inferior Decorator, and a slip for Disney Movie Rewards.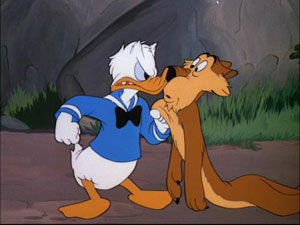 Ink And Paint:
The quality of these transfers is consistently good, showing either a decent amount of clean-up or good storage of the original materials. The most noticeable artifacts were those from the original negative (cel dust), as the materials used were otherwise quite clean. Compression artifacts are not present, and colors remain as bright and beautiful as the day these were first released. The cartoons look sharp, but still faithful to their original looks, and one cannot ask for more from cartoons of this vintage.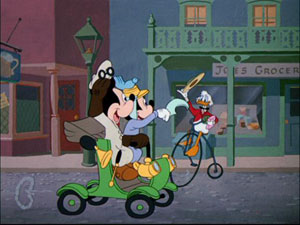 Scratch Tracks:
The mono sound is carried over two channels, and is also presented just as it should be. There is no noticeable modernistic tinkering here, and there is no need for it. The sound design on these was always effective when I saw some of these cartoons on Wonderful World Of Disney back in the day, and it is just as impressive now, with many of the cartoons relying heavily on sound effects and music to bring home the laughs or heighten the action.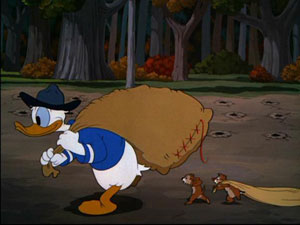 Final Cut:
There are no complaints this time for this particular Disney Treasure. The Donald Duck cartoons were always among the funniest Disney did, precisely because they featured a protagonist who had even worse faults than most of us, yet could be relied on to do the right thing when necessary. In these cartoons, we see that the writers needed to bring in some fresh blood to keep their ideas going, yet none of these cartoons feel watered-down in any way. Hopefully the last set will show the same consistency, with about another thirty cartoons left to go. With sharp transfers, equally faithful sound, and decent bonus features, no duck fan could ask for more this third time out.
Animated Classic or Back To The Drawing Board?