Walt Disney Television Animation/Walt Disney Home Entertainment (November 20 2007), single disc, 44 mins plus supplements, 1.78:1 anamorphic widescreen, Dolby Digital 5.1 Surround, Not Rated (Canadian G), Retail: $26.99
Storyboard:
Winnie The Pooh, Tigger and the rest of the gang go CGI in this delightful pre-school outing for the latest television incarnation for AA Milne's characters.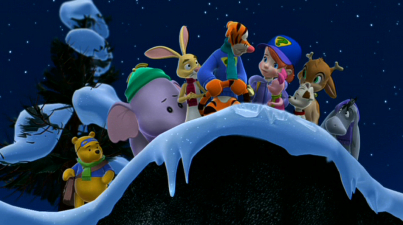 The Sweatbox Review:
In 2004, the then struggling and more than slightly soulless Disney Company sold themselves to the CGI Devil and put out a tremendously awful conversion of Walt's classic characters to the digital realm. Mickey's Twice Upon A Christmas proved to be every bit as magic-sucking as early word suggested, and it remains to this day an abject lesson in how not to translate traditionally animated icons into computer generated dummies, the result being more "Mouse Of Wax" than anything else.
Much, much better was to come when the Studio repurposed the characters for the pre-school market, where the simplicity of Mickey's circular features has always sparked a smile from even the youngest of children. I was and remain a fan of the Mickey Mouse Clubhouse, a learning and interactive series that uses well rendered CGI versions of Mickey, Donald, Goofy, et al, to extremely good effect. For anyone who might cry out that these characters were never meant to be seen or used in this way, I'd just point out that the show is not for you. Walt's early Mouse changed his look multiple times, and the three-dimensional toys and plush figures have never really captured Mickey's exact proportions. As for the animation, well, in his educational I'm No Fool series, Jiminy Cricket wasn't always the rounded, gorgeously animated character from Pinocchio himself! There's a vast difference between doing something badly purely for commercial reasons (Twice Upon A Christmas) and doing something with a clear set of ideals for an specific audience, and doing it with respect and good form, and Clubhouse continues in that tradition.
When I first read that the Studio would then be taking their licensed AA Milne Pooh Bear characters and doing the same with them, I felt the same sinking of heart that greeted my first impressions of the Mickey Christmas project. But this was before I'd seen Clubhouse, and after catching glimpses of that, I was intrigued. The purists will of course be all up in arms once more. Added to Pooh's new look is a completely new, non-Milne character, and – get this – an American girl at that! Gone is the Britishness of Christopher Robin and in comes what many might supposed to be the brash young tones of an annoying moppet. Once again, though, Walt's own history with the characters points to much the same thing: he was originally criticised for imbuing Christopher with a Yankee accent (director Woolie Reitherman's son) in the first Pooh featurette, The Honey Tree, and for stuffing in an old pedantic Beaver into Milne's Hundred Acre Wood. The featurette was hastily re-dubbed with an English Christopher, but the Beaver stayed.
It's also true that, post-Walt, Pooh has taken on a variety of looks, none of which have ever come under fire before. The classic featurettes were always animated in the 1960s Xerox style that so perfectly emulated the storybook illustrations come to life feel, but when Winnie first came to television, in 1983's Welcome To Pooh Corner, the Hundred Acre Wood was populated, he was portrayed by a live-action actor in an Animatronic suit. Welcome To Pooh Corner, now since apparently forgotten, was a charming show that followed on from the last of the animated Pooh featurettes, A Day For Eyeore, and kept the childlike quality that still made the stories accessible for adults.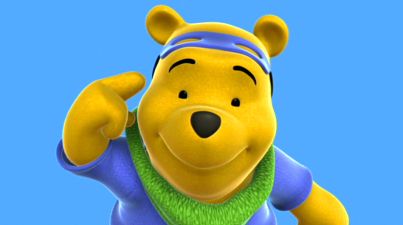 Pooh Bear returned to animation in 1988's The New Adventures Of Winnie The Pooh, a well-remembered if not exceptional series that slotted into the kind of programming that filled the Disney Afternoons. The show proved so popular that it brought about a resurgence of Pooh animated offerings, including a series of TV and video specials. The animation at this time strayed away from the "black marker" approach that Disney's television animation took on at the time, and though things looked a little better when Pooh returned to the big screen in a slew of recent direct-to-video writ large outings, only The Tigger Movie (2000) captured the illustrated line drawing style of the classic featurettes. One year later, the inhabitants of the Hundred Acre Wood took on their oddest look yet, in the puppet performed The Book Of Pooh.
Bringing things full circle, while also combining all these previous styles and updating them for today's children, My Friends Tigger And Pooh debuted on Playhouse Disney in 2007 and proved to be an instant hit with that age group. The Pooh franchise has always seemed, to me at least, to be geared towards the younger set, and even Walt's trio of original featurettes have been the kind of "entry level Disney" animation that many kids find themselves being introduced to before taking on the weightier stuff. The animated but figurine look of the characters allows such effects as Tigger's famous bouncing to come over as being for real, while retaining a puppet feel might actually help children associate these characters with the plushies they no doubt have in their bedrooms. Of course, this still leaves the somewhat controversial introduction of the new girl, Darby…
In actual fact, purists needn't worry. I'll talk about the actual pros of the regular show in my comments on the bonus episode offered in the extras, but as far as the Super Sleuth Christmas Movie goes, the direction presents imaginative angles and production value that's within the project's budget terms, but doesn't necessarily skimp because it's a children's or television production. Jim Cummings reprises the roles of Tigger and Pooh that he's been fulfilling for as long as I can remember now, following in the immortal footsteps of Sterling Holloway and Paul Winchell. The others are pretty good at coming over as we remember them from the original featurettes too, save for Travis Oates' Piglet, just not squeaky enough to match the sadly departed John Fiedler's sweetness.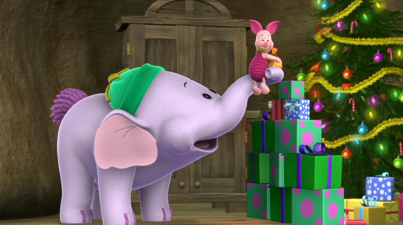 The story picks up on Christmas Eve, and there's just one more sleep 'till Christmas comes to the Hundred Acre Wood. While Eyeore is making a Christmas wish to be able to fly, new member of the team Lumpy (a young Heffalump that accomplishes the need for a Christopher Robin vocal presence) and Roo are out snowballing in the Wood when they come across a Bambi-like reindeer, Holly, lost amongst the trees. Donning their Super Sleuth rescue outfits, they soon help Holly but discover a bigger problem: the little reindeer still has Santa's magic present sack and needs to get it back to the North Pole pronto – or else the big red guy will have no choice but to cancel Christmas! So it's the Darby, Tigger and Pooh Super Sleuths to the rescue, setting off on a snowbound adventure where, along the way, they'll the power of thinking, the night stars for navigation, learn the value of sticking together, and even meet a bunch of merry, musical snowmen who put on an elaborate song and dance that puts the jolly waiters of The Polar Express to shame!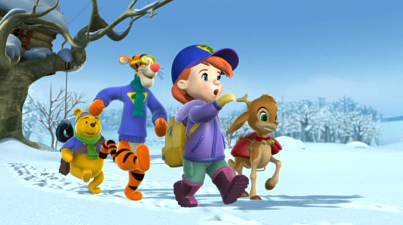 As this naturally heartwarming tale came to an end – and yes, of course Eyeore's wish comes true too – I was left with a little warm glow, partly for the sweetness of the characters (I've always loved Pooh when he's done well) and partly because of my satisfaction with the project: the My Friends series seems to be the perfect move in keeping the Hundred Acre Wood relevant to today. So what if Disney wants to go this route? Why shouldn't they take their stable of suitable characters and slick them up for today's audiences? Walt himself wouldn't have wanted them to sit of a shelf and go stale and would probably have used the Pooh characters in this way a long time ago. What's great here is that it's been done well, within the confines of its purposes, and even the intro of Darby is perfectly focused to its target audience. I wasn't quite so sure about the addition of Buster, Darby's dog, who seems to have not undertaken any kind of transformation into anthropomorphised caricature and remains a naturally characteristic pooh, give or take the seeming influence of Chris Sanders. Even though I reasoned that he's probably here as a reference point for those with pets, I was more disappointed to find that the faintly erudite Owl goes missing instead.
But this is Disney doing what they haven't always done well but totally achieve here, simultaneously updating their Pooh brand and – I think for the most part – keeping us older fans happy enough. This ain't your grandfather's Pooh, your mother's, or even – for those of an old enough persuasion – your own, but without continuing steps like these it's also likely that you wouldn't have a Pooh to share with your own grandchildren in future either. Fun, bright, colorful and Tigger bouncy, My Friends Tigger And Pooh has pulled off the trick of working out how to use the characters in this day and age, and aim the rightly toned show at a specific audience. I do hope Pooh someday makes another excursion to big screens in a proper Xerox-styled feature again, but in the meantime kids are safe in these hands and are likely to enjoy many new adventures in this Hundred Acre Wood.
Is This Thing Loaded?
Appropriately for the target age group, this is a Disney FastPlay disc, and although this means that parents could leave their kids in the hands of Darby and Pooh, I would suggest spending some time getting to know this fun little program for them too! FastPlay sets things moving progressively through the video-based content with the usual Sneak Peeks, here promoting Ratatouille, Santa Clause 3, One Hundred And One Dalmatians, WALL-E, Mickey Mouse Clubhouse, Little Einsteins, Handy Manny and the Disney Movie Rewards among their own menu selection.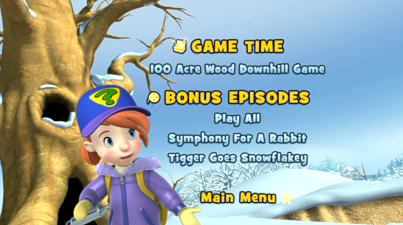 For the list price, you'd be expecting a little more than just a 44-minute special, and indeed we do get a little more. Following previous similar titles in the Mickey Mouse Clubhouse line, Tigger And Pooh's onscreen menu promises a couple of bonus episodes, though really they should drop the plural because this is actually just one 24-minute regular Bonus Episode of the show that naturally follows that format by presenting two half-length stories, in this case Symphony For A Rabbit and Tigger Goes Snowflakey, which is in keeping with the winter theme of the main program.
It's here we literally bounce into Tigger And Pooh's theme song, an absolutely bright, fun filled, joyous ditty that I don't mind admitting I had playing on a loop for quite a few times! Seeing as I wanted to get the feel of the regular show before I viewed the Christmas Movie special, I went for this first and I'm glad I did because the simple, perfectly tuned nature of the song and its absolutely clear storytelling and intentions were a big part of my warming to the show in the first few seconds and informing my thinking to give this friendly, happy little program a fair chance. The song proves again that when Disney is thinking straight, they do this stuff better than anybody. The track should also work for tired adults who might have to usually endure this sort of thing; it reminded me almost immediately of the positive outlook shared in The Beatles' wonderful Ob-La-Di, Ob-La-Da and I was singing along with a big goofy smile on my face even by the end of the first of my many run throughs – what can I say? It's catchy!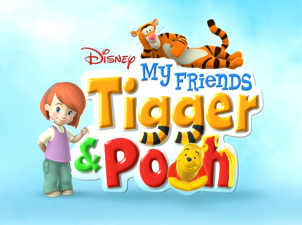 This opening sequence also very cleverly sets up the dynamics of all the characters, and their world, most importantly inviting the viewer to join them for the adventure ahead. Each line of the song, every shot and gesture is geared toward creating a relationship between the characters and the audience, putting the elements out on show so there are no surprises (including a visual name check for all the characters), and ultimately inviting the viewers in through the use of subtle lyrics. It's very direct and up front, as witnessed by the very first shot and lyric, introducing us to the recognisably identifiable character (a little girl) and the title (noticeably the first words we hear). Having been involved in the development of such programming in the past, and seeing how cognitive measures are put into practice, I'm impressed at the thought and technique that's gone into this opening. It's possibly the most inspiring one minute of young children's television I've seen, well, since I was a young child myself.
The Tigger And Pooh show itself, while understandably dropping the animation fluidity a notch, still keeps up the production value. There are moments of startling smoothness for television animation and great, unneeded but there touches, with direction that doesn't talk down to kids. The Pooh characters have never been hot thinkers and most of the humor and storytelling has always come from their misunderstandings, which allow the characters to team up and work through their problems. Somewhat refreshingly, Tigger And Pooh doesn't try and reinvent the wheel, sticking to these basic characteristics and using them assets in a new way that's appealing to today's youngsters. It may not be AA Milne, but Disney's Pooh never really was, and this is certainly Disney's Pooh, of which I'm sure Walt would have been pleased with.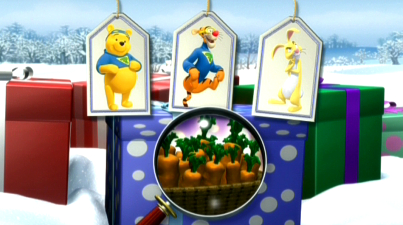 Added to the extra episode is the set-top Hundred Acre Wood Downhill Game. In this 16×9 enhanced activity, Santa's lost his shipment of presents over the Hundred Acre Wood and it's down to the player and Darby to track them down! Unlike many DVD games that struggle to find the balance between the need for advancing game play and plain old simplicity, this is intentionally a small person-aimed game and it works a treat. There's not much to do in "round one", where the player selects a snowboard run and jumps on for a Darby-eye-view down the hill as they pass and collect the gifts, but there's a good element of interaction and imagination called for that's put into use. With the presents found we must of course sort them, based on visual clues, to the correct recipients. The age range means the game will never throw up potentially life-scarring "wrong" answer, opting for friendly negatives instead, and the undemanding gameplay is effective in keeping things clean, fast moving and uncomplicated. With super clear instructions and the benefit of being animated exclusively for this release, this is one of the more successful set-tops I've come across recently, with a nice layout and enough multiple alternatives to keep coming back for more – Tiggeriffic!
Case Study:
The My Friends Tigger And Pooh artwork doesn't shy away, as some early Mickey releases did, of presenting the characters in their new CGI colors on the slipcovered box. In fact, the honesty carries along to listing the correct running time (44 minutes, instead of how the Mouse sometimes bumps things up) and listing the extra stories as a Bonus Episode, rather than the plural on the disc's menu. The Disney Rewards code is inside, of course, along with a chapter index sheet that pushes Santa Clause 3 on the other side and a Playhouse Disney promotions booklet that announces a new Clubhouse movie, Mickey's Wonderland for September 2008. Oddly for a Disney title, it's not actually been MPAA certificated (even though this goes un-noted on the sleeve), but naturally there's nothing in here to offend, as emphasized by the Canadian G rating.
Ink And Paint: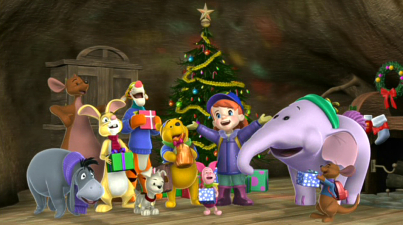 Created in mind with, and premiering on DVD, the Super Sleuth Christmas Movie looks pretty spiffy, as it should being a digitally fashioned program coming to disc in its production year and without the spacing need for any compression. The main program gets to shine in its 1.78:1 ratio, and I'd have liked to have seen the bonus episode in the similar aspect it were perhaps intended for, but as extras it's no big deal and no doubt the regular shows have been framed with a dual aspect in mind, such is the nature of the material. No complaints here!
Scratch Tracks:
Again, the bouncy nature of the catchy, hummable theme tune is sure to lodge itself in any head, not least because of the terrific recording quality. Although the extra episode is only presented in Dolby 2.0 Stereo, the Super Sleuth Christmas Movie gets a nice warm 5.1 mix that doesn't do a great deal with directionality but should please kids watching this in their parents' home theater environments! More than it needs, and therefore impressing for having the extra care taken over it, with the French and Spanish tracks sounding just as good. Hearing impaired English subtitles are an added option too.
Final Cut:
Well, it isn't strictly a "movie", clocking in below three quarters of an hour, and as such it's once again over priced, even slightly down from the Studio's usual $30 tag. But if you have the right aged audience and can find a better online deal for ten bucks less, then the My Friends Tigger And Pooh: Super Sleuth Christmas Movie disc offers up some very good value. It's dropped the very British Christopher Robin and Owl for an American girl and her dog – but who cares? What we're treated to here is an amazingly well made, precisely aimed slice of fun that pushes all the buttons perfectly. Why couldn't Christopher have grown up, moved across the pond and left his Hundred Acre Wood to a younger relative? It works – much better than it should or needs to – and parents should feel more than pleased to leave their under fives in the safe hands of Darby and her friends Tigger and Pooh, even if they don't let their adult lives go for a while and let some quality time with their children draw them back to a time When We Were Very Young ourselves!
Animated Classic or Back To The Drawing Board?