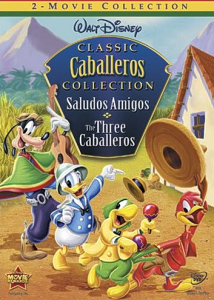 Walt Disney's colorful South American musical classics
Saludos Amigos
and
The Three Cabelleros
are coming back to DVD on April 29 – in a packed two-movie collection!
To celebrate the release, we've teamed with Walt Disney Home Entertainment to give away three copies of The Classic Cabelleros Collection, featuring both films!
The contest is now closed and our three winners are:
• Karin Aaberg, Tenstrike, MN

• Valerie Bizzarro, Rochester, NY

• Michael Tuttle, Oakland CA
Congratulations!
---
About
The Classic Cabelleros Collection
For the first time, two Academy Award nominated south of the border animated adventures are available together when Walt Disney Studios Home Entertainment presents The Classic Caballeros Collection: Saludos Amigos/The Three Caballeros on DVD April 29 2008.
Celebrate a cinematic Cinco de Mayo with Donald, Goofy and Walt Disney himself in this animated and live-action addition to the classic Disney collection.
Embark on thrilling adventures to South America and Mexico and experience all the music, beauty and excitement Latin America has to offer!
In
Saludos Amigos
, Walt and his team of artists, musicians, writers and animators say "Adios!" to the US to explore the heart and soul of Latin America. From the Bolivian Andes to the Argentine pampas, watch four whimsical animated escapades while they travel to fun and exciting places. This delightful international adventure earned three Academy Award nominations in 1943 including Best Musical Score, Best Sound and Best Original Song.
Next, it's Donald's turn to take a fantastic journey through these colorful lands with his friends Joe Carioca and Panchito, in The Three Caballeros. With lighthearted dance and lively music, featuring Carmen Miranda's sister Aurora, this dazzling blend of live action and classic Disney animation is a celebration the whole family will enjoy! The Three Cabelleros received two Academy Award nominations, for Best Musical Score and Best Sound Recording.
In this film clip, Donald gets to grips with his Piñata
gift from Joe and Panchito in
The Three Caballeros
In Saludos Amigos, we see how Walt and his artists
are inspired to create a decidedly loopy llama…
…And in Chili, the artists gain more inspiration – and a
little perspiration! – while Walt joins in the fun!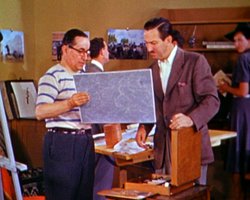 BONUS FEATURES
• South Of The Border With Disney featurette – tag along with Walt and friends on a tour of Latin America

• Walt Disney Interview

• Don Donald – Donald Duck cartoon short

• Contrary Condor – Donald Duck cartoon short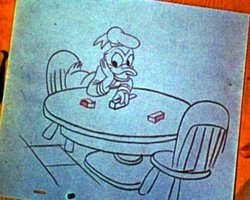 TECH SPECS
• Released: April 29, 2008
• Suggested retail price: $19.99 US / $24.99 Canada
• Feature run time: 113 minutes
• Rated: G for The Three Caballeros, Not Rated for Saludos Amigos. Bonus material not rated.
• Aspect (both features): 1.33:1 original full frame ratio
• Sound: 5.1 Dolby Digital Surround Sound
• Languages: English, French and Spanish Language Track