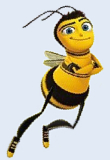 We've been dealing with a combination of real life and site issues this week, hence the no-show from me on this here front page, but hopefully you'll agree that we're at least ending the week with a bang, with a new review and a couple of groovy contests!
First up is my belated take on DreamWorks' latest, Bee Movie, the much trumpeted return of comedian Jerry Seinfeld to screens, and his debut as an animated character. While an often heard criticism of the movie in many reviews didn't exactly praise the episodic nature (many claimed the film felt like three or four episodes of a TV show strung together), I didn't feel that way at all and, if anything, it was the film's shouty dialogue – epitomised by the now increasingly tired Patrick Warburton act – that was my biggest gripe. If you did enjoy the movie, then the "Very Jerry" 2-disc set is the one to go for, with oodles of extras not found in the single disc edition, though DreamWorks do expect you to pay over the odds for the privilege.
Next, we're launching a couple of new contests, for the next in Genus Products' Archie series, the original Sabrina The Teenage Witch: The Complete Series, and the coming together of two of Disney's most unique of his Package Features of the 1940s, Saludos Amigos (1943) and The Three Cabelleros (1944), in the brand new Classic Cabelleros Collection. We'll have a review up for this soon, but in the meantime check out the Classic Cabelleros contest for some fun clips from both films. For those with the earlier LaserDisc release of these films, hold on to those for a bunch of extras that have not been ported over here, but this does look to be a neat collection for those yet to add these important features to their classic Disney libraries.
Have a great weekend, and stay tooned! – Ben.