Fleischer (1938-1940), Warner Home Video (June 17, 2008), 2 discs, 218 mins plus supplements, 1.33:1 original full frame ratio, Dolby Digital 1.0 Mono, Not Rated, Retail: $34.98
Storyboard:
Popeye relocates to the suburbs, but these spinach-powered Fleischer originals still outclass the later shorts by a wide margin.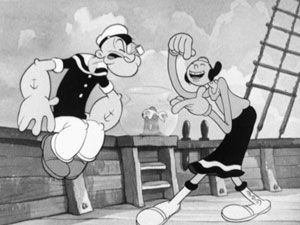 The Sweatbox Review:
It's already been two years since Warner home Video first announced that it had reached an agreement with King Features Syndicate that would allow them to release Popeye cartoons on DVD. And it's been over a year since the first set, featuring four discs' worth of classic Fleischer Popeye shorts, reached retailers and an eager public. The initial excitement may have faded a bit by now, but that hardly dampened my enthusiasm for this second volume of Fleischer Popeyes. The only drawback of this second volume is that Warner decided to switch to two-disc sets, perhaps in order to enhance sales, but one can hardly complain when we are at last seeing these much-requested cartoons finally come to home video. (Okay, the collector in me does bristle a bit at having the format for these releases change between volumes, but I do recognize that it isn't all that big of a deal.) And, in watching these, I was quite impressed at just how well they avoided falling into the formula that would later plague the series.
The one knock that one could possibly make about watching Popeye cartoons is that they all have the same plot: Popeye and Bluto compete for Olive, Bluto gains the upper hand, then Popeye gulps down some spinach to pummel Bluto and win back his "goil." Now, if we were talking about the later Famous shorts or some of the hideous TV cartoons that came in subsequent years, then that formula would be a concern; but the Fleischers kept the sailor remarkably fresh throughout their tenure on the shorts. I was frankly amazed at just how few of the cartoons in this set followed the formula that one associates with Popeye. Many of the cartoons do not have Bluto at all, and a few don't even have him eating spinach. Instead, we are introduced to a wide variety of settings and plots, in a charming collection of vintage animated shorts.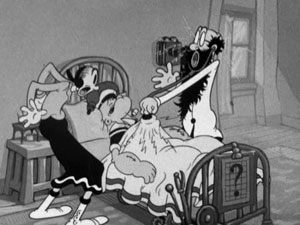 Before going much further, I should point out what distinguishes these shorts from the ones featured in the first volume. The obvious thing is that the voice cast is mostly consistent, with Jack Mercer having long since closed his grip on the Popeye role, and Mae Questel missing only a couple of shorts or so as Olive Oyl. Her temporary absence might be explained by the other big change in this volume, as it was in September 1938 that production of the Fleischer cartoons had been moved to their shiny new studio in Miami, Florida. This placed the artists in a new environment, and new recruits from both the Miami area as well as California joined the New York artists. The number of artists working at the studio more than tripled, from 200 to 700, largely to accommodate the needs of producing the studio's first feature, Gulliver's Travels. Some of the west coasters had been trained at Disney (though some of these were also former Fleischer men), and subsequently they brought a certain refinement in terms of presentation and continuity within a cartoon. On the other hand, the mass hiring also brought in a number of inexperienced artists. Still, the overall effect was that the Popeye series looked better than ever. The energy was different, though. The bounciness of the early years was largely gone, even if the animation was still very fluid. Also, Popeye and Olive no longer seemed to dwell in Depression-era boroughs, but instead appeared to have bettered themselves somewhat with either apartments in a better area of town, or in some cases suburban living.
Yet, while the look of the cartoons did change, none of their appeal was significantly lost. Going through this set, I maintained the feeling that… well, I simply love these cartoons. Popeye is perfectly suited to animation, particularly in the hands of masters like those at the Fleischer studio. This even holds true when Popeye inevitably follows the path of his comic strip self and has to become a bit more lovable and less ornery. One might say that he lost his edge a bit at this time, in an attempt to make him even more palatable to youngsters. (Though, if kids loved Popeye in the beginning, then why would you need to change him to appeal to kids?) This saw such concepts as the magical "dog" creature known as The Jeep appear in both the strip (in 1936) and the cartoons (2 years later), as well as Popeye's adopted baby Swee'Pea. And, in order to keep a rascally presence in the series, both the strip and the cartoon series brought in Popeye's dad, Poopdeck Pappy.
Disc One
This two-disc set has thirty-one cartoons from this period, encompassing an appealing array of stories. The first disc starts with Popeye faking an illness to attract Olive's sympathy in I Yam Love Sick, then he helps her out with some plumbing in Plumbing Is A "Pipe.". The third cartoon is notable for introducing Eugene The Jeep in The Jeep, where he leads Popeye on a wild goose chase while trying to track down Swee'Pea. (Oddly, the second disc has a cartoon from two years later, Popeye Presents Eugene The Jeep, where a deliveryman played by Pinto "Goofy" Colvig brings Popeye Eugene as a gift from Olive, as if the previous cartoon had never happened.) Popeye next survives a bullfight in Bulldozing The Bull, then a mutiny on his own ship in Mutiny Ain't Nice, before the classic introduction of Pappy in Goonland. In this one, Popeye sails to the island of goons, where he finds pappy a prisoner (this combines different elements of the comic strip, but makes for a fun and effective cartoon). Pappy is initially not impressed with seeing his boy (a situation true to the strip and echoed in Robert Altman's Popeye feature), but eventually takes a can-full of spinach in order to save his son from an army of goons. The resulting fight is so intense that the film is shown to tear apart, only to be fixed by the projectionist!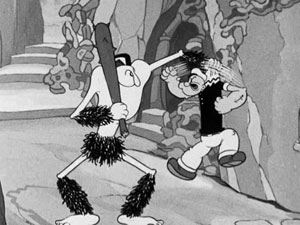 Popeye and Olive then go roller-skating in A Date To Skate, and Popeye inadvertently gets into some trouble with a police officer in Cops Is Always Right before Bluto finally makes his fist significant appearance on the set in Customers Wanted. Again bucking expectations, their rivalry here is over their penny arcades, and Olive barely even appears in this cartoon. Next up is the third and final two-reel color featurette, Aladdin And His Wonderful Lamp. Though this is generally regarded as the least of the two-reelers, it is still far better than most of the shorts being pumped out by rival studios at the time. It was also another stepping stone in the studio's development towards doing Gulliver's Travels. The lush backgrounds, splendid animation, and storybook theme make this an obvious precursor for what the studio would be presenting a year later.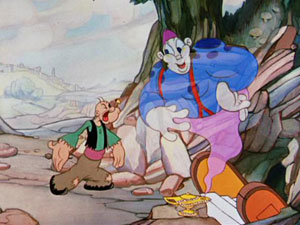 A puppy-in-a-pet-shop story follows (Leave Well Enough Alone), before finally seeing this set's first true match-up between Bluto and Popeye in Wotta Nightmare— only, as the title suggests, it is in a dream sequence. Bluto makes a more conventional appearance in the next one, as he tries to scare Popeye in Ghosks Is The Bunk. Popeye fights, of all people, Wimpy in Hello, How Am I?, as Wimpy poses as a doppelganger for the sailor. And finally, in the very last cartoon on Disc One, we see Popeye and Bluto really go at it in the appropriately titledIt's The Natural Thing To Do. So, contrary to popular belief, this first disc amply shows that the Bluto-Popeye slugfests were actually a relative rarity in the Fleischer Popeyes, even mid-way into their run.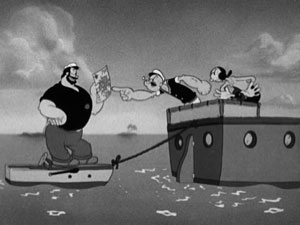 Disc Two
The second disc continues a nice assortment of plotlines for our favorite sailor. Never Sock A Baby obviously is another Swee'Pea cartoon, with Popeye's duelling natures telling him whether or not he should feel guilty for spanking his little boy. Shakespearean Spinach brings on another Bluto fight, as he shows his reaction to being replaced by Popeye in a local drama production (a musical version of Romeo And Juliet!). Females Is Fickle has Popeye chasing down a goldfish so that it won't drown in the ocean, while Olive frantically drives Popeye crazy. Stealin' Ain't Honest would appear to be the prototypical Popeye cartoon, with Bluto stealing a map that will lead him to Olive's gold mine. Me Feelings Is Hurt continues to bring on what we expect, with Popeye heading west to find Olive, who has taken a liking to cowboys who look like Bluto. Onion Pacific sees Popeye and Bluto racing in a competition to see whose train gets the state franchise. Wimmin Is A Myskery introduces the characters who later on will become Popeye's nephews, as Olive dreams of a life married to Popeye, only to find herself overwhelmed by four miniature Popeyes as her kids.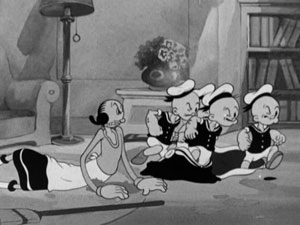 Speaking of kids, Popeye and Bluto go to woo Olive, but wind up babysitting Swee'Pea in Nurse-Mates. Fightin Pals naturally has Bluto again, but this time he faces off with Popeye in the jungle. Doing Impossikible Stunts has a few clips from previous cartoons, but also is notable for having Swee'Pea take spinach to save Popeye. Wimmin Hadn't Oughta Drive has only Popeye and Olive and is, I think, self-explanatory. Popeye and Olive put together a vaudeville act, where Popeye imitates several prominent comedians, in Puttin On The Act. Popeye Meets William Tell is a departure, as Popeye comes across a number of new characters that look like they stepped out of Fleischer's Gulliver's Travels. Popeye's dad gets two more appearances, first building a boat with his son in My Pop, My Pop, then going out carousing in With Poopdeck Pappy. The set ends with the aforementioned Popeye Presents Eugene, The Jeep.
These cartoons represent pure bliss for those of us who love the classic stuff. It simply does not get better than this. The 31 cartoons on the set represent some of the best of what the golden age of animation had to offer, with a nice variety of story set-ups, beautiful animation, and lively characterizations. How wonderful it is to have more of these classics to watch over and over again at long last.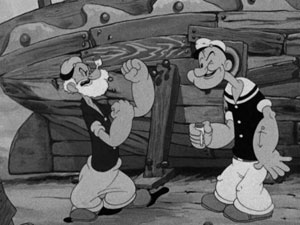 Is This Thing Loaded?
Though we have two fewer discs this time, Warner did once again pile on some impressive extras for this set. You might have thought that no more could be done than what was already presented in the first volume, but this second set includes some very fine bonus material. Of significant interest are the thirteen Audio Commentaries, mostly on the first disc, by many notable animation experts including Jerry Beck, Greg Ford, Daniel Goldmark, Michael Barrier, Paul Dini and more. What's great is that they're pretty well all worth listening to, and even if you don't care for the speaker, they're over in about eight minutes.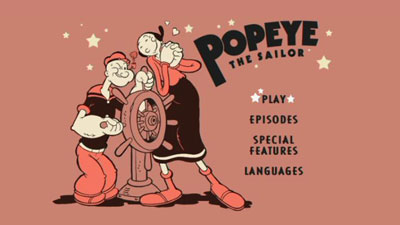 The first disc also has three Popumentaries. Eugene The Jeep: A Breed Of His Own (3:17) explains how Eugene first appeared in the Thimble Theater comic strip in 1936 as a gift to Olive from her Uncle Ben. Narrator Gary Owens is joined by commentators like Maurice Lamarche and Mark Evanier. Next, people from King Features Syndicate, several cartoonists, and animator and DVD producer Steve Stanchfield appear in Poopdeck Pappy: The Nasty Old Man And The Sea (5:09). O-Re-Mi: Mae Questel And The Voices Of Olive Oyl (8:40) is a great little discussion of Questel and the other actresses that portrayed Olive over the years, courtesy of Fleischer studio book-writer Leslie Cabarga, Leonard Maltin, and more— including a tribute by voice actor legend June Foray. Very nice.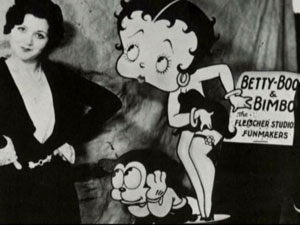 Out Of The Inkwell: The Fleischer Story (47:23), though it covers a lot more ground than just Popeye, is probably the gem of this set. An array of animation historians, as well as Max's son Richard and his grandson Mark, join narrator Carl Reiner for this superb documentary. Tracing the Fleischer family right from when the parents immigrated to New York from eastern Europe, the documentary looks at all the siblings who had an effect on the studio. It also examines the Disney rivalry, culminating in a friendship between Max and Walt in their later years. Other highlights include looking at Koko The Clown, Betty Boop, Superman, the two features that came out of the studio, and the exciting but fateful move to Florida. The touchy subject of the studio's takeover by Paramount, amidst family squabbles, is also examined, making this a much more in-depth documentary than Leonard Maltin's Cartoon Madness (which is still worth seeking out for its inclusion of other bonuses like Fleischer's Raggedy Ann And Andy.)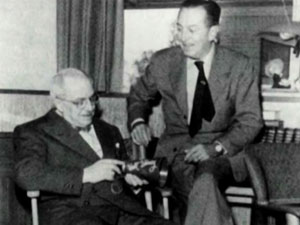 There are still some nice extras on Disc 2, as well as trailers for a few Warner Home Video offerings. Three of the audio commentaries are here, plus assorted odds and ends. Men Of Spinach And Steel (6:19) is a mildly interesting discussion that makes a case for Popeye being the first superhero. Paramount Presents Popular Science (6:32) is much better, being a vintage 1939 theatrical short that is subtitled The Max Fleischer Studios In Miami, Florida And The Art Of Creating A Popeye Cartoon. The making of the two-reel Aladdin featurette is highlighted, with views of the artists and Max at work in Miami. This featurette is letterboxed on the DVD. Though much shorter than the studio documentary on the first disc, this one is just as valuable in its own way based on its historical merits.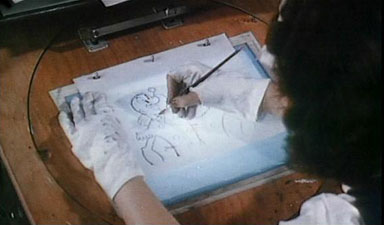 The 1941 Superman cartoon The Mechanical Monsters (11:03) is also included on this disc, being as it is of similar vintage to the Popeye shorts in this volume (though it would actually fit in better chronologically with the next volume). This Superman short provided much of the inspiration for the giant robot scenes in Sky Captain And The World Of Tomorrow. An Early Max Fleischer Art Gallery (3:06) follows, with a montage of nineteen drawings that Max did when he was fourteen years old, in 1897. We then get back to some more Popeye-centric extras with a Females Is Fickle Pencil Test (0:31). This is a true rarity, since the Fleischers did not typically use pencil tests. Then, a Storyboard Reel for Stealin' Ain't Honest (6:12) contrasts storyboards with the final product.
Lastly, there are two rare audio-only programs. The I'm Popeye The Sailor Man Vintage Recording (2:25) plays over the menu, and has what sounds like Jack Mercer's Popeye voice but not Mae Questel's Olive Oyl. Michael Sporn Interviews Jack Mercer (6:11) is a recording that was done when Mercer had already been playing Popeye for over forty years. He discusses exactly how he got the part and how he did the voice.
Case Study:
I'm still a little miffed that Warner decided to forego their original plan of releasing all the Fleischer cartoons over two sets rather than three, but at least this means that they can feature more beautiful artwork on the packaging of an extra set. Stephen DeStefano, wonderful and admired 'Mazing Man artist/creator of my youth and now working on Venture Bros., was obviously born to draw Popeye. His artwork again graces this set, which is a simple digipack with two overlapping discs set inside a slipcover. The packaging does a nice job of listing all the contents on each disc. There is also an insert extolling the virtues of Blu-ray. Yeah, I don't know why Warner picked this set to include such an insert, although they do have two animated titles on there.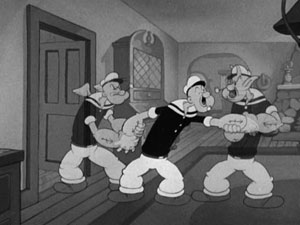 Ink And Paint:
Keeping in mind that these cartoons are about 70 years old, they clean up pretty well. Just don't over-inflate your expectations. Depending on the cartoon, there are problems with flickering, scratches, and grain, not to mention the dust, scratches, and smudges native to the negative. I won't complain too much, as I would have hated it if they had gone overboard on cleaning these up to the point of destroying the original look of the cartoons.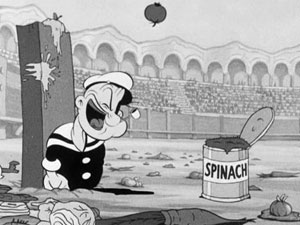 I will, however, complain that the picture wavers horribly during the titles for The Jeep, which seems somewhat unforgivable, but at least it clears up pretty quickly once the short starts. And speaking of title cards, Warner Home Video has acknowledged that two of the cartoons on the first disc were presented with older title cards used in later syndication. Both Customers Wanted and Hello, How Am I? have the a.a.p. title cards.
Here's the text of WHV's announcement about this issue, including a disc swap offer:
Warner Home Video is advising consumers who purchased Popeye the Sailor 1938-1940 Volume 2 DVD that two shorts on Disc 1 have an alternate opening credits sequence.
For any consumer who wants to have disc 1 replaced with the original opening credits sequence, please contact Warner Home Video at 1-800-553-6937 so that a self-addressed stamped envelope can be sent to you for return of your current disc. Please note that the replacement discs will be sent to you in approximately 8-10 weeks.
Scratch Tracks:
The audio also gets a mixed review, but again the vintage of the cartoons in question must be kept in mind. The audio is essentially decent, but on the thin and hollow side. Much of this is certainly attributed to the recording technology of the day, not to mention how much of the dialog includes mutterings and asides improvised by the actors.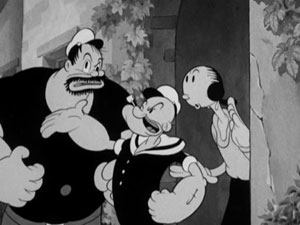 Final Cut:
Just keep buying these.
No, seriously. I'll let you know when you can stop. If you collect cartoons, you have to buy all the Fleischer Popeye sets. There's one more to go, and it's coming out soon, so you have to check this one out. The restorations are nice though maybe not quite at "miraculous" levels, and the supplements are very good. But the main thing is that the cartoons themselves are true classics that never disappoint.
Animated Classic or Back To The Drawing Board?