Today, as you read this, Ben, James and myself are probably knee-deep in cool collectibles and drooling like geeks at the things on show at this year's Comic-Con in San Diego. But we didn't think it was right to leave those that couldn't make the show out of any kind the fan excitement, so it's Astro Boy Day here at Animated Views, as we present a quartet of special articles. With Astro Boy slated to be a major animated film in 2009, this is a great time to begin familiarizing yourself with this classic Japanese character.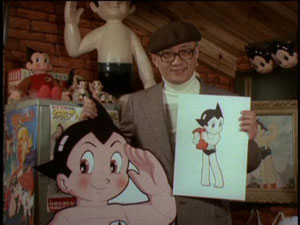 First up, we have a
special book review
of
The Astro Boy Essays: Osamu Tezuka, Mighty Atom, And The Manga/Anime Revolution
by guest contributor Raz Greenberg. We're hoping that Raz will be offering us more reviews in the future, as I think he did quite a nice job detailing what this book has to offer.
It is so nice to finally see a book of this type being published, and Raz certainly convinced me to give it a look. To begin to understand the legendary status of Astro's creator, Osamu Tezuka, you should read Raz's review of The Astro Boy Essays, then go out and read the book itself!
While Dark Horse Comics has in recent years put out many volumes of the original manga, for most of us the first exposure we had to Astro Boy was his television cartoons. I grew up watching the 1980s version, but have also loved seeing both the original 1960s anime, as well as the 2003 re-imagining, come out onto DVD. I wrote reviews of all these DVD releases a while back, and this seemed like the perfect opportunity to dust them off and present them here at Animated Views. Each version has its pros and cons, but all three are good fun.
• Astro Boy (1963): Ultra Collector's Edition Sets 1 & 2 – The first series got two huge, beautiful box sets. I take a look at each set in this review, and detail the origins of Astro Boy.

• Astro Boy (1980): The Collection Box Set – This was essentially a full-color remake of the original black and white series, though there were some alterations made.

• Astro Boy (2003): The Complete Series – The DVD presentation could have been so much better, but I still enjoyed the state of the art animation and harder edge of the 21st century version of the character.
We hope you enjoy re-visiting this great character again. We'll be back from the Con next week, so stay tooned for more great features! – Rand.