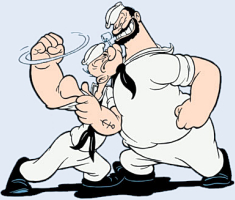 Today's the big day, folks…today you can run out and grab yourself Disney/Pixar's latest WALL•E on single-disc DVD (nah!), two-disc Blu-ray (maybe!) or three-disc DVD and BD (yay!), those packs' third disc being a digital file for portable playing, if that's your bag. As posted yesterday, you'll find my full WALL•E review here, which touches on all editions but mainly concentrates on what you'll find in the three-disc DVD package. Quite ironically, this latest purely cinematic animated character comes to disc on the very day that Walt Disney's Mickey Mouse burst onto screens in Steamboat Willie 80 years ago. Disney doesn't seem to be interested in celebrating this milestone, but I've put up a small tribute over on our Animated News page – happy birthday, Mick!
Staying in space, and Rodney has flown by in his starship cruiser to drop off his latest remarks, for a review of George Lucas' continuation of his long-running saga, Star Wars: The Clone Wars – 2 Disc Special Edition from Warner Bros. Despite this basically being Star Wars the TV show, and indeed The Clone Wars is a pilot/introduction to the new series of the same name, Rodney gives the movie a fair chance, and the bonus package sounds like decent support. How come Padme looks like Posh Spice, though!?
Hopping over to Rand's reviews, and I forgot to make mention of Tinker Bell on Blu-ray Disc, the first of Disney's planned new direct-to-video franchise. I've yet to look at this personally, but Rand gives it a fair appraisal, acknowledging the young girl audience aims but coming away moderately impressed by the animation and the disc's tech specs and extras, suggesting a rental for Disney fans.
He's much more juiced – of course! – by the third collection of Fleischer shorts in Popeye The Sailor: Volume Three 1941-1943, which concludes the raid on the original black and white spinach-guzzler's cartoons. No prizes for guessing that the set earns high marks, naturally, though Popeye's joining the Navy to assist in the war effort loses some of the "bounce", as Rand puts it, of the earlier cartoons, with the heavy stereotyping of the time prevalent though admirably presented uncut and intact on WB's "invaluable" collector's set.
---
Speaking of prizes (see what I did there?), don't forget that you still have a few hours to make the deadline on our WALL•E three-disc giveaway, which ends tonight. We also have some very cool clips from today's release on show, for those yet to pick up the DVD.
There's more WALL•E on the site too: one of the big things being promoted on the disc is the new animated short BURN•E, and Jeremie recently sat down to a roundtable discussion with BURN•E's director Angus MacLane, who at one point mulls over the meaning of BURN•E's acronym. Could I simply suggest "Basic Utility Repair Nanobot – Engineering class" and be done with it!? MacLane sounds like a fun guy, and there's lots of good stuff in the chat!
Finally, there's the second of our fun fact sheets to be seen at the tail end of this message…just click on the "More…" link to meet the characters of WALL•E!
Stay tooned! – Ben.
---