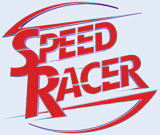 As promised (some time ago, but we'll gloss over that!), I've finally reached the finish line on my review for Andy and Larry Wachowski's live-action/CG hybrid take on Tatsuo Yoshida's 1960s animated series, recently released by Warners, the Speed Racer: Widescreen Edition. Though we're gradually moving across on select titles to cover more and more Blu-ray hi-def editions, it's the regular DVD I've covered here, though no-one should be disappointed with the stellar sound and picture housed on the disc.
Being as close to reference quality as it gets, the Blu is sure to look at least as good, even though there have been complaints of lower capacity BD-25 discs being used as opposed to the expected BD-50 (the figures refer to the gigabyte allowance). As for the movie itself, those of you who have read some of my previous reviews and know my aversions to noisy filmmaking may be genuinely surprised at my comments: I thought Speed Racer was the best kids and family picture to come along in a long time, complete with almost transparently innovative techniques powering the story onwards. Far from the car crash the box-office returns may have suggested, Speed Racer – even in a slight DVD package – is a very well recommended rental at least.
---
On to a couple of new disc announcements, and the big one is Universal's The Mummy: Tomb Of The Dragon Emperor, coming on December 16 in a two-disc DVD ($34.98) or BD ($39.98) that will include deleted scenes, commentary, featurettes and a digital copy. The BD adds Live and U-Control extras plus a game. Though I had major issues with the film, it's enjoyable enough hokum for those that like the series, which is also available in a Mummy Trilogy on the same day, on both DVD ($64.98) and BD ($94.98).
Following their generally decent series of upgrades (the latest of which Rand will be along to offer his views on shortly), Warner has set You're A Good Sport, Charlie Brown: Deluxe Edition for January 27. $19.98 gets you the special, plus an extra episode (TBC) and a newly produced featurette. Check back later today for Rand's take on You're Not Elected, Charlie Brown.
Also on the site, don't forget that our Looney Tunes Spotlight Collection Volume 6 contest is still open until midnight this Friday, and that our full Golden Collection 6 review will be up sometime next week!
---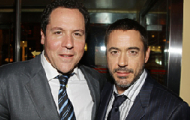 Lastly today, the big news is not only that director Jon Favreau and star Robert Downey Jr [pictured left to right] will regroup for the hotly anticipated Iron Man 2 for Marvel, but have both confirmed participation in the fledgling studio's The Avengers motion picture! Downey Jr – who has a four-picture deal with Marvel – will reprise his role of as Tony Stark in both the sequel to this year's $578 million grossing surprise blockbuster and the new Avengers movie. Favreau directs the sequel and will executive produce the Marvel team-up. In both films Downey Jr will also be joined by Don Cheadle, as Stark's best friend Colonel Jim Rhodes, replacing Terrence Howard from the first film, and set to become the suit-wearing War Machine.
Iron Man 2 is expected to lead to at least one further entry in the franchise (hence Downey Jr's four-picture deal), while The Avengers will bring together an extensive live-action grouping of super heroes to the screen for the first time ever, including Iron Man, Captain America, Thor, the Hulk and more (the "more" not stating or denying Spidey's no-show or if Edward Norton's participation as Bruce Banner is on the cards). Marvel's current design is to introduce these additional characters via individual movies that lead to their banding together to "battle the biggest foe they've ever faced". Iron Man 2 is scheduled for May 7 2010, with Avengers to follow on July 15 2011, both through Paramount.
Shame that Warners' sadly canceled Justice League feature isn't on track for a similar time-frame…now that would have been a real superhero showdown! Stay tooned! – Ben.