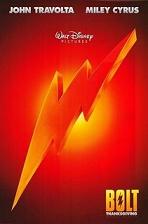 Just a quick one today as we continue to bring you some fresh reviews for old and new titles: look for
Kung Fu Panda
this week from me as well as some other titles on their way!
Today we're kicking off Jeremie's new Bolt coverage in celebration of Disney's latest feature now in theaters, and the first to be creatively overseen by the new John Lasseter regime at the Studio.
Though the new The Art Of Bolt predictably omits the earlier development, Jeremie speaks to the book's author Mark Cotta Vaz about the artwork included and how he goes about documenting a production for these types of tomes.
Lasseter's been given a bit of a short-thrift over the switching of directors on the project, but the good public reaction seems to indicate he knew what he was doing, given a $27 million opening, healthy in the face of teen screamer Twilight and the unassailable James Bond in Quantum Of Solace, all of which push DreamWorks' Madagascar sequel down to fourth place (for a close to $140m total, while surprise hit Beverly Hills Chihuahua drops from the top ten but stays within the top twenty with a $92m gross).
Look out for more from Bolt's designers and animators, as Jeremie continues his new series of interviews throughout this week!
Stay tooned! – Ben.