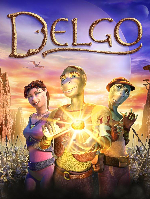 Just in time for the weekend we have a packed update for you, and there I was saying that we were starting to slow down for the holidays! A couple of days ago our own James R Whitson posted his take on Disney's latest, the animated animal adventure Bolt, and seems to have found it something of a return to form for the Studio, remarking that "Disney's computer animation has come a long way since Chicken Little just three years ago" and praising the "outstanding action sequences" and camera work. John Travolta and Miley Cyrus' voice work isn't a high point, but as James says, "it's great to be able to go to a Disney movie again and know you're going to have a good time".
James has been a busy man, also reviewing the just released – and long in the making – Delgo, a feature which unfortunately became something of an easy target when it was closed down, re-financed, started again, and then went all mysteriously quiet. Finally coming to theaters today, James got a sneak peek recently and presents his full Delgo review right here. If I tell you you're going to be surprised at his comments, that's kind of giving away his feelings on the movie, right? Well you'd be right: James calls it a "fun, smart and beautiful film", with some "impressive, epic storytelling on a much more grand scale than we've seen in a long time in an animated film". There are points docked for some elements, but on the whole, "Delgo delivers". I was interested in seeing the result myself, but now I'm even more intrigued…who'da thunk it!?
---
Also new today is the first of our Christmas Contests which we'll be running from now until the holiday break. Coming on December 19 from Universal, The Tale Of Despereaux is a CG animated adaptation of the first of four books that was at one point to be directed by The Triplets Of Belleville's Sylvain Chomet. Now under the watchful eye of filmmaker Gary Ross, the movie looks to be one of the more magical family entertainments in an otherwise rather uninspiring Christmas period and to celebrate we have one Despereaux pack up for grabs stuffed full of goodies: just follow the link to be in with a chance of winning!
---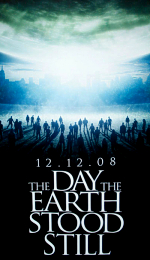 James isn't the only one to have been to the movies this week: Wednesday evening was a bit of a triple-header for me as I sat through a trio of films, and poor Delgo is unlikely to stand a chance against Klaatu and his giant organic robotic technological friend in the first of them, which of course you've guessed is Fox's reimagining of The Day The Earth Stood Still, featuring Keanu Reeves and Jennifer Connelly. I'm a massive fan of Robert Wise's film, but was intrigued to see what had been done here: without blasting any spoilers at you, it takes the bare essence of the 1951 original – man, robot being, the Earth coming to a halt – and then throws out the rest, basically coming up with a totally new take on those ingredients.
From its 1920s set opening and first sight of Keanu, anyone that knows the original film will know this is a very different film than what has come before, and indeed it's not your average sci-fi action blockbuster, being a more thoughtful outing that ties its message into the current environmental issues. The first half is pretty neat, director Scott Derrickson pulling out all the Spielbergian stops and creating a very intriguing new-ish story, but once Klaatu alien Keanu finds himself on the run, the film seems so intent on making itself so different from the original that it eventually runs out of steam, heading off in several directions and not coming to the kind of chilling resolve the original did. It's still spine tingling, but not all in a good way, in fact its a bit bleak, drawing on a Close Encounters tone instead of a feel-good sci-fi adventure.
Klaatu himself is a bit of a boring character: Keanu is his usual, almost blank self, which is actually perfect for his character but the film desperately needs the warmth and humor that original alien Michael Rennie brought to the role way back when, and the changes in storyline offer us a very different kind of Klaatu than Wise did in 1951; here he's less the warning of an apocalyptic future and more the instigator. In Sam Jaffe's professor part, John Cleese is woefully underused (the guy must have a good agent: he gets near top billing for a single scene), as is Kathy ("should've bought a squirrel"!) Bates who just gets to strut around as a government official, while Connelly basically reprises her scientist role from Hulk to decent enough effect and her relationship arc with an adopted boy is well resolved.
In other areas, the visual effects are well done; there are moments that you know must have been VFX shots but they're executed well enough. The big obvious effect is Gort the robot (or not a robot, as the film changes things here, with the military giving him his name) of course, and here he's a big dollop of quite convincing and underplayed CGI that's about as good as a tall guy in a suit would have been for the 1950s, with the now kitsch looking flying saucer replaced by another dose of CG in the form of a mysterious glowing globe. It's not always successful – there's a major plot hole involving a conveniently connected phone call that makes no sense – but will no doubt Hoover up a lot of money, and it somewhat deserves to, even if it might well leave a bit of a sour taste. Let's just say The Day The Earth Stood Still 2 isn't on the cards any time soon.
---
As a follow-up I found myself enduring Madagascar: Escape 2 Africa and wondering what the world is coming to when such commercially minded yuck as this can go out and make so much moolah. Honestly, I thought there was a good film in here but was as if DreamWorks had actually skipped a second film and delivered us the Shrek The Third of Madagascar movies. The story issues were not helped by having to start the movie hopping between Africa (actually Kenya) and back in New York, replaying the first movie plot in seven seconds, and then just throwing any amount of crowd-pleasing jokes and loud music at the screen and seeing what sticks.
Basically it was more of the same, plus more of what we liked first time around: so more penguins, more King Julien (whom I didn't actually like first time but warmed to more here with his Peter Sellers schtick), more of that really annoying old self-defense lady and a double dose of The Lion King for good measure. I was really surprised to find Alec Baldwin in the cast as the evil uncle, not least because I had felt the voice was weak throughout and wondered why they hadn't gone all out, acknowledged it more as a straight nod and a wink and gotten a stronger actor in for the role. Baldwin's usually very good, but he made little impact here, certainly not as much as Bernie Mac – another whom I can't quite enjoy usually – who was here a very warm and perfectly cast character. But the writing was mostly lazy, being satisfied for Ben Stiller to simply reprise his bolshy "what? how? why? me?" act (I can't believe they had him repeat his "you wanna piece of that!?" line again) instead of giving his character any of his own dynamics.
In the end, I found it very frustrating…a typical DreamWorks outing that chased the lowest common denominator (the audience I was with loved it and laughed throughout) and forwent a strong story for an episodic plot that felt very, very forced. I don't have a problem with filmmaking by numbers when it's done well, but Mad 2 was only interested in one thing: keeping us laughing enough so that we didn't realize how bad it all was. We should have got it from the title: Madagascar is part of Africa you nuts, and where they actually end up (escaping from one part of the continent to another) is Kenya where, for argument's sake, that volcano has been extinct for thousands of years… Ahh well, with all the money it's making and an even poorer third helping in the works, I shouldn't think they care very much.
---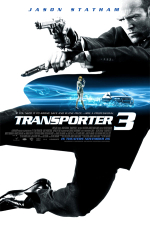 Lastly, I caught up with Jason Statham in the latest of his Luc Besson action adventure films. I hadn't seen the original The Transporter until a week or so ago, when it and its sequel played on TV in the run up to the recent release of Transporter 3 in theaters, but I found it to be great fun. Statham isn't the sharpest thespian on the block, but that hasn't ever stopped a good action man, and he is certainly that.
The Transporter films – so called because Statham plays a very experience driver hired to transport often sensitive packages – remind me of the Indiana Joneses…they're not crude (there's no nudity) or violent in anything other than a cartoon way, there's little on screen that'll give anyone nightmares and the quips come thick and fast (though be warned for limited use of the F-word).
It would also be hard to pick a best of the three – a rarity in itself – since they're all happy to be different in their approaches and bring a fresh angle each time, even though they're all ostensibly about a man and his car. The Indy comparison isn't far off: the first film payed homage to Raiders by having Statham battling a bad guy on the front of a truck, while the second was even more explosive even if it strayed from the driver concept in parts.
In Transporter 3, Statham finds himself back behind the wheel and tied to it via a Speed like contraption that will detonate if he wanders more than 75 feet from the vehicle…leading to all sorts of cliffhangers and near misses as he brings the bad guys to task for their kidnapping plot. With a healthy dose of tongue in cheek humor and top-notch production values, I'd very much suggest giving the Transporter films a test drive, with this latest third ride around easily the most enjoyable of the three films I caught on Wednesday's screenings.
So there we have it…Transporter 3 and Delgo being our top choices of the moment. Don'tcha just love it when the underdogs win?
Stay tooned! – Ben.