In 2005, there was a lunch… No, wait…wrong intro!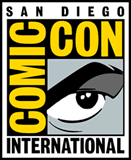 A couple of years ago, just after launching Animated Views as a companion to the Animated News service, several of us thought it would be fun to eventually meet up someday, and the idea of a mass visit to the San Diego Comic-Con to put names, voices and real faces to the words we had exchanged so many countless times over the web was brought up. At first, this was a semi-serio suggestion; after all, we're a pretty spread out bunch! James is pretty comfortable in the USA, but Randall's a lot further North, in Canada, while yours truly is stuck in the sticks of the old country, England!
But the idea stuck, and the longer we toyed around with it, the more real it became. Last year, we decided to go for broke. It was too close a call to arrange things for a visit then, but we three resolved to make firmer plans for 2008. Suddenly, it's that time of year again: Comic-Con is here and for the first time ever, James, Rand and myself will be able to shake hands and enjoy each other's company (with our significant others in tow)!
We're quite excited, not only for the rare (I won't say "once in a lifetime" as that jinxes us for future gatherings) opportunity to share some fine wine and food together, figuratively speaking, but for the chance to witness the biggest geek get together on Planet Showbiz! And when we're done and exhausted having trekked miles to catch the most important (to us!) panels and snag the coolest autographs, what will we do then? Well, we're going to Disneyland!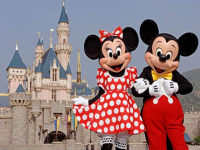 That's right – we three Disney geeks will be going back to the Happiest Place On Earth where the magic first came to life, staying at Walt's original Disneyland Hotel itself for a couple of days of unwinding and catching up on the latest attractions at the Magic Kingdom in the company of Mickey, Minnie and new inhabitant Captain Jack Sparrow!
Needless to say, Animated News is being left in the more than capable hands of our excellent contributors, so the rush of up to date stories will keep coming thick and fast, while we'll also have some pretty cool content coming up for you next week right here at Animated Views to plug the gap while we're "away from our desks"!
Of course, we'll do our best to clock in from time to time with as many scoops as we can, and welcome the opportunity to say hello to anyone who cares to try and grab us between events! We haven't quite worked out a way to call attention to ourselves yet, but here's a list of the panels we're going to try breaking in to. Just look for the Three Stooges with Animated News or Views on their name tags and it's a pretty safe bet that you'll bump into James, Rand or myself!
And if you're going to the Con – enjoy, have fun and a great time! Hey, maybe we'll see you there! – Ben.
---

Below is a listing of the events and panels we're hoping to attend. We're making no promises that any or all of us will be at each one – there'll be some splitting up to cover the most ground – or that we may even be able to get in to most of them! But keep an eye out for the big guy with this logo on his hat and the chances are you've at least found me!
Comic-Con 2008 Panel Attendance
WEDNESDAY
• PREVIEW NIGHT
THURSDAY
• 75 YEARS OF DOC SAVAGE

• GENE RODDENBERRY LEGACY

• FREAKS, GEEKS AND TINY TOONS

• NOEL NEILL

• DISNEY ANIMATION STORY

• KNIGHT RIDER

• SUPERMAN: MAN OF TOMORROW

• HUMOR IN SCIENCE FICTION

• BONGO COMICS

• ANIMATION ON A SHOESTRING

• DVD/BLU-RAY DIGITAL BITS PANEL

• FLOYD NORMAN

• SCIENCE BEHIND SCIENCE FICTION

• STAR TREK

• BILL PLYMPTON'S IDIOTS AND ANGELS

• TV FUNHOUSE

• WILL EISNER DOCUMENTARY

• STAR WARS FAN FILMS
FRIDAY
• BATMAN: BRAVE AND BOLD

• BIG BANG THEORY

• VARIOUS STAR WARS: CLONE WARS PANELS

• POWERPUFF GIRLS 10TH ANNIVERSARY

• INDUSTRIAL LIGHT & MAGIC AND THE KINGDOM OF THE CRYSTAL SKULL

• WATCHMEN

• THE WOLF MAN

• HASBRO STAR WARS AND INDIANA JONES

• TRAILER PARK

• JOSS WHEDON

• GHOSTBUSTERS: THE VIDEO GAME

• 70s ANIMATION

• BATMAN

• THE SPIRIT

• 75 YEARS OF KING KONG

• IT'S A GREAT COMIC-CON, CHARLIE BROWN

• THE VENTURE BROTHERS

• STAR WARS 2008

• 24 PREQUEL AND SEASON 8 PREVIEW

• STATE OF THE ANIMATION INDUSTRY

• JERRY BECK'S WORST CARTOONS
SATURDAY
• SPOTLIGHT ON FORRY ACKERMAN

• FAIRLY ODD PARENTS

• FUTURAMA

• SPOTLIGHT ON RAPLH BAKSHI

• THE SIMPSONS

• FIRST LOOK AT HEROES: VILLAINS

• LOST

• FAMOUS MONSTERS OF FILMLAND MAGAZINE 50TH ANNIVERSARY

• CARTOON VOICES I

• TERMINATOR: SALVATION

• DC UNIVERSE ANIMATED MOVIES

• DISNEY/PIXAR'S BOLT AND UP

• MAD MAGAZINE IN THE 1960s

• SPOTLIGHT ON RAY BRADBURY

• ASIFA TREASURES

• LEGION OF SUPER HEROES

• THE WORLD OF STEVE DITKO

• FRINGE

• THE MUTANT CHRONICLES WORK IN PROGRESS SCREENING
SUNDAY
• SMALLVILLE PANEL

• SPONGEBOB SQUAREPANTS

• REMEMBERING DAVE STEVENS

• THE LITTLE MERMAID: ARIEL'S BEGINNING

• PHINEAS AND FERB

• BUSINESS OF CARTOON VOICES

• NICK JR

• CARTOON VOICES II
---
UPDATES!
There's free wi-fi in the convention center, so keep checking back. We'll have a full report on each of our experiences coming soon…!