DisneyToon Studios (January 21 2003), Walt Disney Home Entertainment (September 16 2008), single disc, 73 mins plus supplements, 1.66:1 anamorphic widescreen, Dolby Digital 5.1 Surround, Rated G, Retail: $29.99
NOTE: This is a revised and updated edition of a review for the original release of Patch's London Adventure, which may be read here.
Storyboard:
Picking up right after the events of the first film, we find Roger and Anita Radcliffe organising the move to their dreamt of Dalmatian Plantation. Everyone is excited, except for little Patch, who feels lost in the sea of Dalmatian spots and wants to feel special. His time soon comes when the moving van leaves without him, and he is unintentionally left lost and on his own in London. Luckily for Patch, Thunderbolt, the action canine TV star from the puppies' favorite show in the original, is in town to promote his series and the two strike up an unlikely friendship.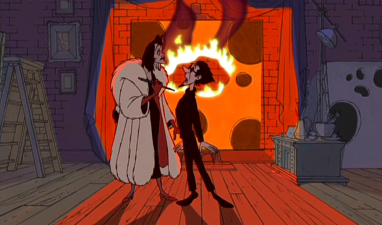 The only thing is that Thunderbolt is not exactly the hero he makes out (he is a Hollywood dog after all!) and although he tries to hide this fact from Patch, eventually the two find themselves facing Patch's old adversary Cruella De Vil. Seems that, although Jasper and Horace have found themselves in jail, Cruella got away on probation and has declared herself a patron of the arts. Her favorite artist, Lars, needs inspiration for his particular brand of artistry – something Cruella knows she can find in the 99 puppies that escaped first time around. She's soon sprung her old cohorts from jail and they team up to provide Lars with all the "inspiration" he could ever need…
The Sweatbox Review:
Bounding back on to DVD hot on the heels of the Platinum Edition of Walt Disney's original 1961 classic One Hundred And One Dalmatians is the latest in the company's "Special Edition" reissues for the line of often discarded and much maligned direct to video sequels. These films can cause a bit of a stir – at the original time they were released, many purists jumped on the "cheapquel" bandwagon and cried foul at the Mouse House's tampering with its own classic history; now time has passed, and the overall quality of these endeavors improved, quite a few of those critics have been surprised by some of these outings and, dare I say it, slightly impressed.
At worst, these films leave a bad taste in the mouth, a feeling of "one step too far" in some cases, but, at best, the artists involved did try and come up with scenarios that would compliment their original inspirations. None of these films will be remembered for their attention to detail, character arcs, or fantastic artwork, but they do, in a way, hark back to simpler, classic storytelling, without the big budgets and advertising campaigns that can sink a movie before it opens. On video, titles can be issued with or without a massive splash, and either make a nice lump of cash, or end up in the bargain basement shelves without much derision. They'll all sell one day, and without the embarrassment of huge media attention. Some of them even proved to be quite popular, hence the current Mouse House practice of reissuing them in so-called Special Editions…essentially a marketing ploy that adds little to the actual disc contents but gets the titles back out onto the shelves.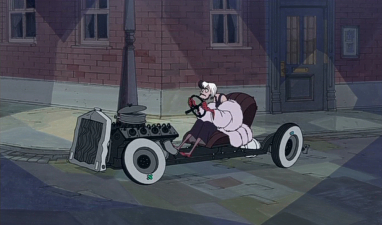 First released five years ago, 101 Dalmatians II: Patch's London Adventure came to disc as a direct to video feature amidst Dalmatian fever. Walt's original movie, with its contemporary setting and classic, timeless characters, played just as well in a theatrical reissue in the 1990s as it did back in 1961, and a phenomenally successful debut on home video made it a hot franchise ripe for exploration: a live-action remake produced by John Hughes (he of the Home Alone films) and starring Glenn Close as Cruella De Vil, also went through the roof at the box-office. An even more stylised animated television version, based more on this live-action movie than the original film, was a natural progression, as was the announcement that One Hundred And One Dalmatians (Walt's original film) would be the next classic to get the animated sequel treatment, as a theatrical release no less. It was all systems go: Dalmatians was about to become the major Disney brand.
But then, rather quickly and unexpectedly, enthusiasm for the spotty dogs cooled off. The animated series, an odd hybrid of the Glenn Close movie combined with elements from the animated movie, wasn't popular enough to last more than one season, including a one-off special, Dalmatian Plantation, and a big budget live-action sequel, 102 Dalmatians again with Close, failed to gel in the story department and didn't exactly set the box-office alight, despite some delicious designs. Merchandise wasn't flying off the shelves, and suddenly the prospects of another animated Dalmatian movie hitting cinemas didn't look so rosy. The project was shunted back into development, and destined for video release. In its place came the Peter Pan follow-up Return To Never-Land, which the execs were more excited about, and which turned out to be a charming and well-devised successor to Walt's original 1953 movie.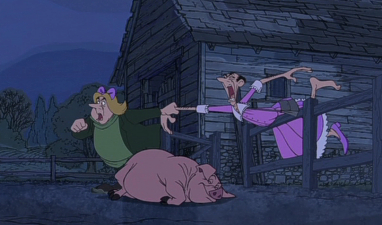 I was hoping to say that they'd done it again here – and I almost can, though it's a shame that 101 Dalmatians II ultimately only got the video treatment when another outing for a different 60s Disney favorite, The Jungle Book 2, got the full-on theatrical treatment, and for what was an inferior film. I suppose that one had the bigger voice cast (Haley Joel Osment, Phil Collins, and occasional "Mr Disney Voice" John Goodman), but Dalmatians II has the better styling and probably more entertainment value. This takes you right back to your childhood, when Pongo and Perdita were almost like your own dogs, and their original adventure seemed very real, or could that be because I lived in London and the locations were right around my corner?
Patch's London Adventure is aimed an audience age a little lower than its predecessor, and the story reflects this. It's a simpler affair, with a cut and dried villain that we all know and love, and the kind of predictable and breezy plot that just about carries it through. There's not a lot here for adults to get their teeth into, but it's all proficiently drawn and strives to retain the right feel from the original movie. Of course, Dalmatians II has also entered notoriety for another reason: the bigger theatrical release of the Studio's latest comedy adventure, Bolt, certainly trades on several elements first established here, which may provide aficionados with a further reason for a re-watch or discovery.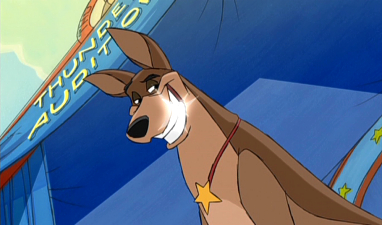 What I did find annoying was the voice cast. There seems to have been no attempt whatsoever to mimic the vocals of the characters from the first film (something that Return To Never-Land, and even The Jungle Book 2 got down pat). They're all in the right ballpark, but fall short from recreating the voices that audiences know and remember from the original. Roger seems too high, Pongo too deep, and Cruella just lacks that evil edge that really did actually make her scary and which even Close hit on in the live-actioners. Here, she's more of a comedy figure, playing up to the fact that she's known for being eccentric and over the top. Jasper and Horace don't come off too badly, but remain stuck to the sidelines, as do Patch's parents Pongo and Perdita.
Of the new characters, Martin Short's Lars is his now standard brand of mixed up, "misunderstood genius", although he does put in a hilarious performance. Less successful is Barry Bostwick (TV's Spin City) as Thunderbolt. Bostwick has the right tone, but his lines don't do him justice, and some work on his material really would have beefed his character up and made him less clichéd. Not many of the other Dalmatians speak, which I found a good thing, as their very native English voices clashed with the American kids we know from the original. Patch himself is an adorable little character, and Bobby Lockwood's voice reminded me a great deal of Paul Terry's pitch in the stop-motion James And The Giant Peach. And way down in the cast list, under additional voices, I noticed one Kathryn Beaumont – could this be the same Ms Beaumont who voiced Alice and Wendy for Walt back in the 1950s?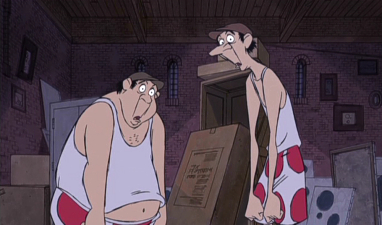 As a kids animated movie, this is undoubtedly a cut above the influx of Disney animated video sequels, although not quite near the original quality of 101 Dalmatians. The artists have done sterling work in keeping the block-colored styling from the first film in the backgrounds, but the attempt at retaining the pencil look in the characters' line drawings is somewhat marred by the digital perfection of today's animation systems. The animation itself sits somewhere between the higher grade of the sequels (Never-Land) and the bottom of the barrel TV quality (Cinderella II). It was mostly carried out by the Character Builders company, although the story and editorial departments were based at Disney Animation in LA.
The quality is consistent throughout, and it's only in shots with multiple puppies in view that repeats are noticeable (something that could, in fairness, be levelled at the 1961 film too). There's a tendency for the amount of little dogs that appear on screen to increase and decrease as the film plays out, although in a production of this type and budget (it's not a full blown "classic" by any means) it is acceptable. CGI backgrounds, props and vehicles, in particular a double-decker bus, are expertly handled and are colored and shaded to blend in well with the other 2D artwork, which looks to have been completed mainly in Japan.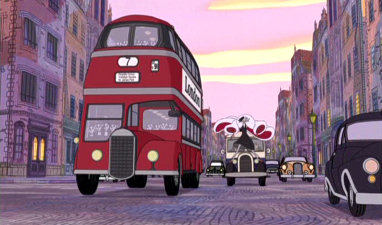 Music wise, I was disappointed that George Bruns' score from the first film had not been carried over in any way. Part of the success of any sequel is the music, and the feeling that you're in good company when the strains of a familiar tune pops up, something that really aided Return To Never-Land's acceptance. There are snippets of Mel Levin's songs from 1961, including a tiny bit of Cruella De Vil and a terrible rendition of Dalmatian Plantation, but overall composer Richard Gibbs uses almost nothing of the themes from the original (unlike Joel McNeely's much more successful score for the Peter Pan sequel). One addition that brought a smile to my face was the chorus of dogs that accompany the famous When You Wish Upon A Star theme on the Disney Pictures logo, setting the audience up for the tone to follow.
All in all 101 Dalmatians II: Patch's London Adventure is an undemanding continuation of one of Walt's more contemporary films. This sequel does have the paradox feeling that, although it is probably technically superior in terms of production (but not animation), it just misses the mark in terms of story and character development. But then it doesn't have a bestselling book to count on as source material (though who knows why not: Dodie Smith wrote a sequel, The Starlight Barking, which remains ripe for a translation). Fans of the original will want to take a look, and may or may not be a little disappointed, but younger kids will get a kick from the returning (visual) cast, and there are plenty of "hidden Mickeys" in the artwork for those looking for them! Perhaps it's not quite top dog in its attempt to duplicate a classic, but it's not the hound-dog many might have been expecting either.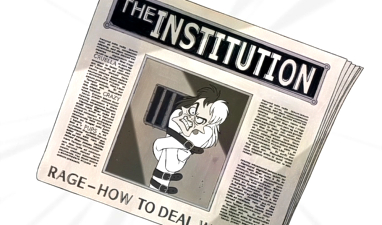 Is This Thing Loaded?
While not exactly brimming over with an overabundance of extras, the original Patch's London Adventure disc did offer a handful of fun bonuses, now supplemented by "a new game". As a side note (and not really an extra at all), the film's running time is stated on the sleeve at 71 minutes, although I clocked it in at just over 73, so you do get a few more spots for your buck – and don't forget to hang around at the end for a little post-credit fun!
On spinning the disc for the first time, there's a selection of trailers for up-coming Disney fare both in theaters and on DVD. Also viewable in the Sneak Peek selection, the trailers contained on this disc are for the upcoming releases of Sleeping Beauty, WALL-E, Little Mermaid II: Return To The Sea, the theatrical release of Beverly Hills Chihuahua, Movie Rewards scheme, various Disney TV shows, Tinker Bell and My Friends Tigger And Pooh And A Musical Too.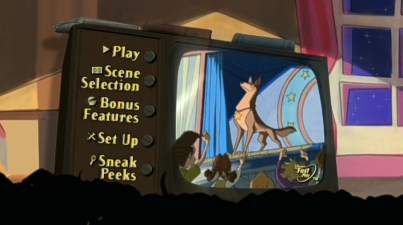 The extras have taken a bit of a shuffle around since last time, so up first is the Music & More section, featuring two music videos for songs from the film. Try Again is an up-tempo big band number with vocals by Will Young (from the UK's Pop Idol), while You're The One, from LMNT (which does not, I've been told, stand for Little Mutant Ninja Turtles!), is a song put to sequences from the movie. A couple of toe-tapping tunes and an extra few minutes of Dalmatian entertainment, both videos add more than a little enjoyment for the target audience, presented in 4:3 within a 16×9 anamorphic frame.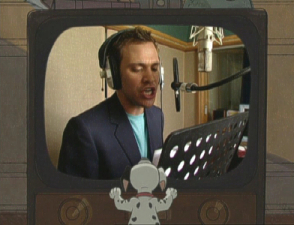 In Games & Activities, Thunderbolt: An Inside Look takes us into old Thunder's dressing room. This still-framed image allows the visitor to find and click on a variety of Thunderbolt-related clips. Best of all is the "blooper reel", which takes existing animation from the main program and re-voices it in the style of the outtakes from the recent slew of Disney/Pixar movies. As with Thunder's lines in the film though, the scripting isn't as tight as it could have been and the lines not as funny as they might be. The outtakes are a little bit of fun though, and other things to be found in the dressing room are simple CGI'd commercials for Thunderbolt-endorsed products, fan mail and signed pictures. Not much, but better than nothing.
New to the title, and giving it its sole Special Edition tag, is the Patch's Twilight Adventure game, which is in short, pointless, long, boring and nonsensical. You can tell I didn't like it, right? After a packed one minute introduction which throws a real barrage of information at the player that one couldn't possible take in, you're dumped into a series of puzzle games that ostensibly help Patch find the keys to find the stolen puppies in London. There's nothing special about this, except the mind-numbing that it's sure to give any player, and with no reward on offer by the end of play, it's yet another waste of space that could have been given over to the DTS track dropped from the previous release. Honestly, when you're asked repeatedly how many butterflies are on screen and you can only select up to #4 even though there are many more than that fluttering about, one has to ask what the point of it all is. Certainly not a reason to rush out and buy this disc!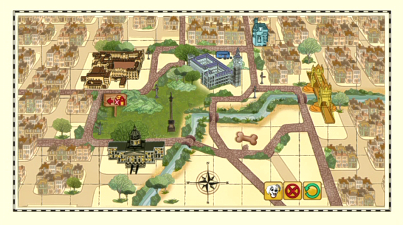 Dragged over from the last edition, the Lost In London game is a much better inclusion, and a quick tour around London's sights. Helping Patch to find his brothers and sisters, the player must select which London landmark they think Cruella has the puppies hidden behind from a three-choice menu. If the correct place is selected, a brief film clip highlighting the location plays, giving kids an interactive tour of the city without leaving their home! Since this basically provides a much better version of what's trying to be achieved in the new game and provides some fun educational content, this only further prompts the question of just what the Twilight game, which doesn't even take place at twilight, is all about!?
Finally, and the meatiest of the extras as before, is a seven-minute Making Of "Dog-umentary", covering the animation process from the eye view of a bunch of interested dogs. The featurette takes us to meet directors Brian Smith and Jim Kammerud, various artists and the voice stars in the recording booth. It's all been seen before, but the dogs' perspective makes it a little bit of fun, and kids will lap it up, so to speak. The menus on the disc are carryovers from the original edition.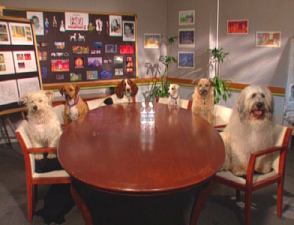 Case Study:
Replacing the frankly bland cover art of the original release is a much brighter and appropriate cover image, featuring main stars Patch and Thunderbolt, also replicated on a glossy, embossed slipcover – new to this title – that matches the recent Platinum Edition of the original film. Inside there's a lack of dedicated chapter index – a slightly annoying new trend in Disney DVDs again, it seems – instead going for a promotion for Disney And Me magazine and a Patch-themed advertisement for US Postal Service Disney stamps. The now standard "Blu-ray is the best thing that ever happened to Disney films" booklet is included along with the all-important Movie Rewards code. The Disney logo gives up any attempt to place the film in any kind of series, and simply opts for a "Walt Disney" designation, treating the film in all other areas as if it was made back in Walt's day.
Ink And Paint:
Presented in widescreen, the ratio on the cover states a 1.66:1 "family friendly" aspect, 16:9 enhanced and looking fantastic. The image overall on the original disc was exceptionally clean, if a little too bright and lacking contrast, but here for some reason that contrast seems to have been amped up, resulting to an edge-enhancement effect that isn't as noticeable as before. The animation, in trying to capture the original feel, is all too slightly angular and pointed, and this new DVD only shows this up even more. Everything is now super sharp – too sharp in fact – leading one to hope that the tiny amount of color bleed in some areas of the picture (usually around dog collars) from before had at least been eliminated as a consequence. Unfortunately, that remains, lending the image a very processed look about it.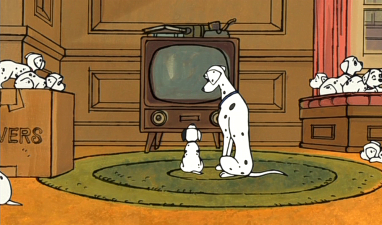 Scratch Tracks:
The soundtrack here is great for a DTV release, a feature-style Dolby Digital 5.1 surround mix. Points are lost for dropping the originally included DTS from the previous release, probably due to having to find space to include the all-important new game. Also included is a French-dubbed track that sounds the same as the Dolby surround. English subtitles are included.
Final Cut:
Disney's major theatrical outing Bolt is about to bound into theaters any moment now, and its story of a deluded Hollywood dog who believes himself to be a hero until he finds himself tied up in a real-life adventure compares interestingly to this earlier take on the same theme – it's obviously some kind of insane sub-genre, with Hollywood Dog and the Mouse House's own Indian-animated film Roadside Romeo all following the same script. But 101 Dalmatians II: Patch's London Adventure is much better than some of the sequels that have appeared from the sequel factory in the past, rating alongside Scamp's Adventure and Simba's Pride in terms of animation and ambition. Plot wise, there is an attempt to tell one story over the length of the entire movie, so this certainly isn't an episodic compilation of the animated TV show, and it is presented on the disc, as before, as if it had been a theatrical feature.
Dodie Smith's The Starlight Barking sequel's often whimsical elements have not been touched on here, and while Patch's London Adventure doesn't have the depth in the plot, or the image, of the original film, the Thunderbolt TV sequence is huge fun, and the showdown bus chase is an exciting thrill ride. It'll be very interesting to see, after having basically explored the avenues here, how the "grown up" animators of Bolt will come up with anything new! Maybe they could shove all the Disney dogs into one canine-filled movie? Next to mice, they seem to have been the most auspicious animals for the Studio. What's next though: 103 Dalmatians?
Animated Classic or Back To The Drawing Board?