Sonic Underground is the third animated series based on the popular SEGA video game character, featuring Family Matters' Jaleel White as the voice of Sonic and Sean Connery as the voice of Great-Grandfather Athair. Each of the 40 episodes in the series also featured a Sonic Underground song in music video form. Thanks to Shout Factory, we have five copies of this new DVD – which includes a CD soundtrack featuring 8 Greatest Hits from the series – to give away!
The giveaway is now closed, and our five lucky winners are:
• Jeremy Dely, Abbington, Apex NC

• Mathew Gaastra, Decatur, AL

• Joanna Shalvoy, Cheshire, CT

• Michael Tuttle, Oakland, CA

• Joel Swaan, Saskatoon, Canada
Congratulations to all! Stay tooned for more Contest Corner giveaways soon!
---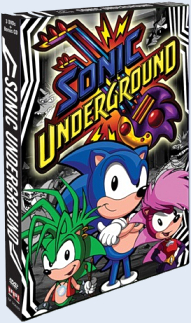 About
Sonic Underground
It's juice and jam time as Shout Factory and DIC entertainment bring you Sonic Underground Volume 1, available for the first time on December 18, 2007. This special 3-DVD set also includes a CD Soundtrack featuring 8 of Sonic Underground's Greatest Hits!
The heroic hedgehog is back! As told in an ancient prophecy, Sonic is reunited with his two siblings, Sonia and Manic, to form a band – Sonic Underground – using their electric guitar, keyboard, and drumset (which seamlessly transform into weapons during battle) to fight the evil Dr. Robotnik, all while searching for their mother, Queen Aleena Hedgehog. But there's still one more problem: the queen doesn't want to meet her children at the wrong time, thus altering the fate of her family – but only when the prophecy is fulfilled can the planet Mobius return to a world of peace and harmony! Rock on with Prince Sonic, Princess Sonia, and Prince Manic as they travel to planet Mobodoon, elude captivity by the robotic hands of bounty hunters Sleet and Dingo, and battle ART – Dr. Robotnik's most horrible henchman yet!
Tech Specs: Sonic Underground aired for one season from 1998-1999 on ABC's Prime Time Saturday Mornings and has since entered syndication. The 40-episode collection includes the following bonus features: Developing The Underground: a retrospective interview with Executive Producer Robby London, Songs From The Underground: a look at the music of Sonic Underground featuring interviews with original songwriter Michael Piccirillo and Executive Producer Robby London, Music Videos, Storyboard-to-Screen:The Opening Title Sequence, Original Concept Art, CD Soundtrack featuring 8 of Sonic Underground's Greatest Hits!
---
---
THE SMALL PRINT: Winning names will be drawn at random. Participants must provide a full name, mailing address and valid email contact. This information will be kept confidential and deleted after the contest has closed, although Animated News & Views withholds the right to publish winning names and location area only. One entry per household. Disc prizes are Region 1 editions, but the contest is open to US and non-US international readers. Prizes are non-transferable and no cash alternative will be offered. No responsibility is accepted for inaccurate prize descriptions provided to us at the time we go to press. The administrator's decision is final and no correspondence will be entered into. Associates of Animated News & Views and Shout Factory are unfortunately ineligible to enter. The contest closes on Friday, 21 December at 11:59pm ET.