Filmation Associates (September 10 1966), Warner Home Entertainment (June 26 2007), 2 discs, 252 mins plus supplement, 1.33:1 original full frame ratio, Dolby Digital Mono, Not Rated, Retail: $26.98
Storyboard:
The mighty Man Of Steel is back to fight evildoers everywhere in this gloriously old school, slightly camp, but amazingly important television series.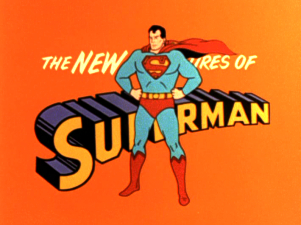 The Sweatbox Review:
The story behind The New Adventures Of Superman is the story behind the launch of the Filmation studio, the guys who jumped into the Saturday morning cartoon arena and grew to rival television giants Hanna-Barbera. One of the studio's main problems was that they rarely created characters of their own – otherwise a Hanna-Barbera strong point – which led to later wrangles over character copyrights. Superman is such a show, and while many of Filmation's properties now reside with license holders Entertainment Rights and are finding renewed appreciation thanks to BCI's fantastic DVD retrospectives, a handful still sit with other companies.
Star Trek controllers Paramount latched on to the current wave of Filmation nostalgia and issued that animated series last year and now Warner Brothers bring us a couple of their animated Detective Comics incarnations: this collection, and The New Adventures Of Batman, sadly the closest yet we've gotten to having the classic, camp Adam West show on disc. As for good ol' Supes, well, we almost get the entire New Adventures Of Superman on disc here…
In the early 1960s, producer Lou Scheimer and his director partner Hal Sutherland were hungry for work, etching out a living creating commercials. Fred Ladd and Norm Prescott, producers of a proposed sequel to The Wizard Of Oz, brought that project to Lou and Hal, and a deal was struck with Scheimer and Prescott agreeing to found Filmation Associates. The Oz project hit a stumbling block due to the finances involved in creating an intended big screen theatrical feature, and for a while all looked lost. And then Lou took a call from a strange visitor from another planet – well, a representative from National Periodicals anyway, the publishers of the Superman comic book. They were looking for someone to produce – cheaply – a Superman television series similar to The Dick Tracy Show that had proved a successful strip translation for UPA and launched a number of other adaptations and revivals to the small screen.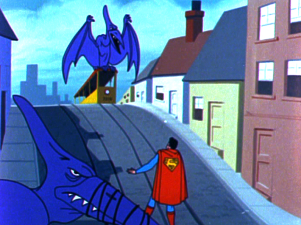 Superman had almost never been out of performed media since his radio debut after the launch of the comics in the 1930s and certainly never off screen where he jumped from lavish animated shorts through economical but affectionately remembered movie serials and flew onto television. National Periodicals producer Whitney Ellsworth had shepherded the phenomenally successful George Reeves series The Adventures Of Superman all through the 1950s, though after the star's death, the company was at a loss as to how to continue any Super presence on the small screen. A couple of misguided pilots were mounted, for the still fairly new Superboy character to appear in live-action and a hysterical take on the format, Superpup, with a dog-costumed actor as Bark Bent (no joke, it's well worth checking out in The Ultimate Superman Collection set), though understandably neither of these were picked up. Animation seemed the way to go, and Ellsworth's DC set up the meeting with Filmation.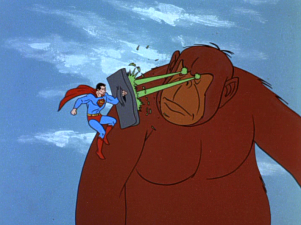 Lou Scheimer – faced with the comics guy visiting an empty studio – somewhat famously grouped friends and family to act as his "staff", with several people filling in as artists and animators "working" on the Journey Back To Oz movie even though many had never held a paint brush! The ruse, however, worked, and DC Comics was impressed enough to hand Scheimer the series, setting Filmation well off into full swing on their first official production. Although it was a "sequel" to the original Reeves show, The New Adventures sought to capture the feel of the elaborate 1940s cartoons that Max and Dave Fleischer had produced for Paramount. Filmation had just a fraction of the budget to complete their efforts with compared to the generous monies spent on those theatrical shorts, but the tightly written stories do mirror their plot structures: danger, Lois Lane in trouble perhaps, mild-mannered Clark Kent becomes Big Blue, saves the day and turns in the story to Daily Planet news chief Perry White with a knowing wink to camera.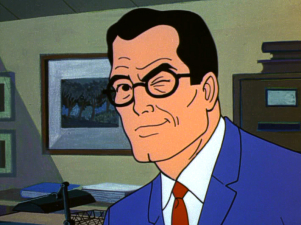 In addition, both series carry over the same voice announcer, the inimitable Jackson Beck, who utters the immortal opening lines: "Rocketed to Earth as an infant when the distant planet Krypton exploded to fight a never-ending battle for truth, justice and freedom with super-powers far beyond those of ordinary mortals" – this is exhilarating stuff! The other, highly spirited voices also come from Superman lore, and in particular the Fleischer cartoons, including original radio and Paramount series Superman himself, Bud Collyer, and Lois Lane, Joan Alexander, animation legend Janet Waldo (as Lana Lang) and TV regular Bob Hastings, who went on to secure the role of Commissioner Gordon for the 1990s animated Batman. Apart from returning names from the past, Superman was joined on screen for the first time in animation by several comics regulars making their cartoon debuts: Superman's pal Jimmy Olsen and classic villains as Lex Luthor and Brainiac, who never made it into the Reeves show.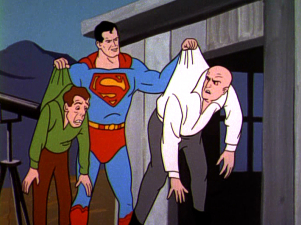 The mix was an instant hit for the CBS network, and Filmation were rewarded with orders for a second season, The Superman/Aquaman Adventure Hour, and more shows based on other characters from the DC Universe. This collection pulls together all 36 stories from the first season, though has had to omit the Superboy segments that were originally squeezed in between each show's two Superman adventures. This is unfortunately due to ongoing copyright battles between the estate of Superman co-creator (with Joe Shuster) Joel Siegel and DC Comics/TimeWarner, leading to an odd length of around 14 minutes per episode. However, the lack of Superboy, who may yet turn up in future releases, isn't sorely missed (except for the odd name check in the closing credits, where Scheimer is "Louis" at this early stage in his career) and it actually gives the set the chance to focus on the title's star more clearly.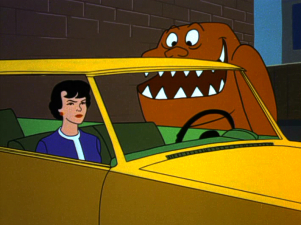 Disc One packs in a ton of stories (every two make up a "complete" episode), and many of titles speak for themselves (all are highly infectious, but bold italics indicate especially effective double bills). With each story packing everything into little more than six minutes, you can pretty much guess what happens in: The Force Phantom/Mermen Of Emor; The Prehistoric Pterodactyls/Merlin's Magic Marbles (highlights for their simply loopy plots!); The Threat Of The Thrutans/The Wicked Warlock; The Chimp Who Made It Big/The Deadly Icebergs; Robot Of Riga/The Invisible Raiders; The Neolithic Nightmare/The Return Of Brainiac (confusingly, everyone already seems to know Brainiac even if this is his first screen appearance); The Magnetic Monster/The Toys Of Doom; The Iron Eater/The Ape Army Of The Amazon (bizarrely, the first has a great set up but the "monster" is hilariously ludicrous, while Ape Army is your pretty typical jungle adventure); and The Fire Phantom/The Deadly Dish.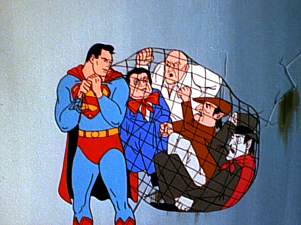 Disc Two completes the selection with such magnificently titled stories as: The Insect Raiders/Return Of Warlock; The Abominable Iceman/The Men from APE (hey, Lois Lane in a swimsuit! And a Kryptonite-powered Luthor, Warlock, Toyman, Prankster team-up!); The Tree Man Of Arbora/The Image Maker (with a silly film-capture plot but some very nice atmosphere); Superman's Double Trouble/The Deadly Super-Doll (the first is not the doppelganger shenanigans you might expect but some pretty multiple heroics, while Super-Doll is a crazy voodoo story); Lava Men/Luthor Strikes Again; Mission To Planet Peril/The Pernicious Parasite; The Two Faces Of Superman/The Imp-Practical Joker (I'm a sucker for "double trouble" plots and here we finally get one, plus an early outing for Mr Mxyzptlk); Superman Meets Brainiac/Seeds Of Disaster (this introduction of Brainiac leads me to wonder if these aren't in original series order), and The Malevolent Mummy/The Bird-Men From Lost Valley (the first again featuring some nicely detailed backgrounds and demonstrating how serious the show could be, the second going for the flip side's completely nuts approach).
There's no denying the effect Filmation's Superman had on fans or television executives and audiences, and The New Adventures both laid the groundwork and heralded a swelling of superhero cartoon programming to follow: Spider-Man swung around the corner just a year later for starters. It's clear why it was a hit – the comics were popular and Filmation delivered on the requisite action and fanciful bad guys. The writing (primarily by Oscar Bensol, who often explores Superman's confounding by magic) is pretty intense too, with a never ending well of imaginative problems (Luthor especially resembles the original scientist from the comics) and solutions (some of which notably turned up again in later films and TV series) providing some epic situations that Kal-El can really get stuck into with a cry of "Up, up, and away!" His super powers could actually be shown on television, and instead of having to imagine it, we saw Superman flying and battling real aliens and super villains. John Marion's swinging choral theme tune might not have portrayed the heroics as strongly as any of the earlier Superman music or even the later, perfect John Williams score for the Christopher Reeve epic, but it captures an essence that immediately lets us know the tone of the show and creates a suitably contagious vibe.
The New Adventures Of Superman is a pretty terrible show…dated, cheap looking, sometimes oddly drawn…but I LOVED it! There's a charm in these drawings not found in any other screen appearances for the Man Of Steel, and an energy that really feels like the comic panels have sprung to life. The designs are certainly closer to those drawn in the DC Comics of the time, and it's just a delight to see a character being portrayed so close to his roots without all the heavy and foreboding "dark" aspects that seems to be the attitude de jour of our comic personalities, or the melancholy crassness of the recent Superman Returns. A bright, cheerful and downright sometimes cheesy show that wears its innocence on its red, yellow and blue costume, The New Adventures Of Superman saved Filmation back in the day, and comes ready to provide a few hours of super-powered enjoyment again now!
Is This Thing Loaded?
It always puzzles me as to why predominantly 4:3 "fullscreen" material is usually subjected to 16:9 anamorphic menus, especially when the FBI notice and even the Warner logo is presented 4:3. Ho-hum, the widescreen menu certainly looks the biz, offering a Play All for each disc, an Episodes list, and the special features on Disc Two. Each story is classed as an episode, and all are individually selectable, meaning that every two will feature the show's introduction, while every other two will include some end credits.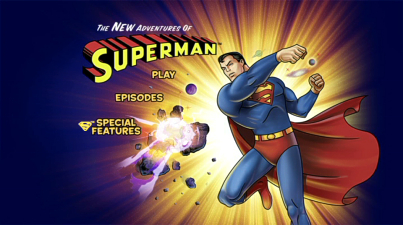 While not classed as extras, the Disc One double bill of The Magnetic Monster/The Toys Of Doom features a pretty neat Superman bumper ("we'll be right back!") at the start of that episode, and we even get a glimpse of Superboy and Krypto in a super cool bumper in-between The Fire Phantom/The Deadly Dish!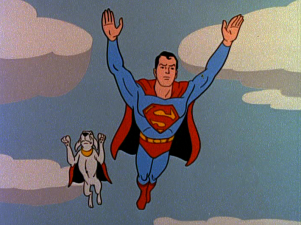 On Disc Two we find the set's lone extra, something of a disappointment after the deluxe treatment given by BCI to even the lamest of their Filmation controlled shows. As such, this feels more like a token offering, but it's a welcome gesture nonetheless, running just over 15 minutes in 4:3 format. Various talking heads – including Mark Hamill and series producer Lou Scheimer, without whose presence none of these shows' extras would be half as entertaining – fill us in briefly on the character's comic book history and quickly get to the decision to bring Superman back to animation. The mini-documentary places the 1966 series into appropriate context, compares the comic against the cartoon, and generally covers a lot of ground, making it a few minutes well worth spent.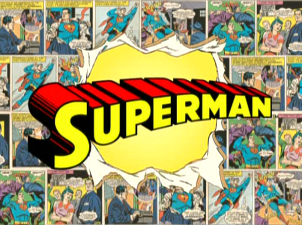 Finally, we're presented with optional trailers for other Warner Bros-owned product with a similar collectors or comic book lure: Popeye The Sailor: 1933-1938, Justice League Unlimited Season 2/Batman Beyond Season 3, Classic Cartoons From The Vault (highlighting Droopy, Space Ghost and Birdman), and The Batman Season 3/Teen Titans Season 3. Unfortunately not available from the menu, a Superman: Doomsday promo plays as Disc Two starts up, previewing Bruce Timm's next foray for the Man Of Steel into animated territory, coming as the first of DC Comics' Warner Premiere titles later in 2007.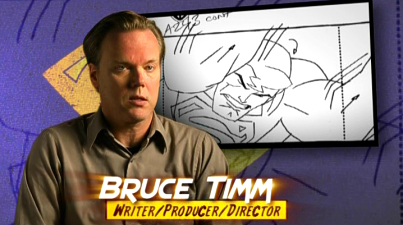 Case Study:
The New Adventures Of Superman comes housed in a nifty cardboard digipack slipcover, with the disc tray holding the two discs overlapped in placement. The packaging cleverly avoids adding a "complete" or "volume one" tag of any kind, but the cover art is striking, with episode titles listed on the inside flap.
Ink And Paint:
The correct 1.33:1 frame is presented intact, just as the show was screened in the 1960s. From my 1980s VHS release I don't remember this amount of film grain on the prints, but then again tape didn't have the more direct means of reproduction that digital discs do. The first few shows on Disc Two are probably the worst affected, but though some occasional episodes may look slightly soft and speckled, the progressively scanned transfer means that we don't lose any more sharpness due to frame interlacing. Filmation's coloring is suitably bold and gets a strong showing here, easily being the highlight of the artwork throughout, proving that even at this early stage, no one did color and backgrounds like this little studio.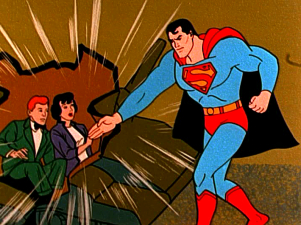 Scratch Tracks:
I had to blink my eyes when the back packaging announced a "Dolby Digital 5.1 Surround" track, and even though John Marion's theme sounds appropriately thundering in the closing credits, a quick glance at my amp confirmed that we're actually hearing good old Dolby 1.0 Mono, just as these shows were originally recorded and broadcast. There's a distinct lack of background noise, with voices coming over as the priority in the mix, and the often-repeated sound effects are enjoyable in their own right.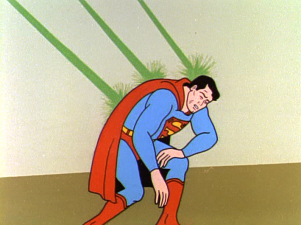 Final Cut:
I've stuck with Supes through and through, and continue to be thrilled by the current television incarnation Smallville (heck, I even tried to sit through last year's inferior movie rehash twice to give it another chance). Fans of those current outings coming to these episodes for the first time may well feel the distinct lack of full animation and super-dooper effects, for this is certainly of its time and for the nostalgic. We've been seeing quite a lot of these classic DC shows cropping up on DVD – particularly in the SuperFriends line – and hopefully that means there will be a call for more from this vintage: there were certainly more Superman and Superboy cartoons produced soon after this season that should get an airing if possible. I never really got to be a fan of the recent Superman: The Animated Series, even though I was a big and early supporter of Batman: TAS. I didn't think they adapted the "retro-Gotham" look correctly to Metropolis and had trouble finding the right tone there, but I am already in line to see what Superman animated brings us next, with the graphic novel adaptation Doomsday later in the year. While that certainly looks enthralling, I don't get the feeling it's going to be as categorically entertaining as these New Adventure outings. Super fun!
Animated Classic or Back To The Drawing Board?