Disney (1990-1991), Walt Disney Home Entertainment (November 13, 2007), 3 discs, 617 mins, 1.33:1 original full frame ratio, Dolby Digital 2.0 Stereo, Not Rated, Retail: $34.99
Storyboard:
Baloo pilots a plane for "Higher For Hire," a company owned by a single mom, and together with their friends they find out that the aviation business has its share of dangers— both in the air and on the ground.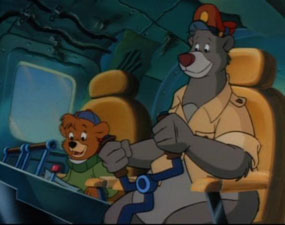 The Sweatbox Review:
Of all the Disney Afternoon shows that premiered in the late 1980s and early 1990s, there are two that stand apart due to their unconventional use of established Disney characters. And, while Chip 'n' Dale Rescue Rangers took the classic squirrels out of their usual element, TaleSpin went even farther in presenting its characters in such a different light that one wonders what the point was of using them in the first place. Baloo, once a dedicated permanent denizen of the jungle in Disney's The Jungle Book, in TaleSpin becomes a down-on-his-luck courier pilot in a cargo shirt who becomes indebted to aviation company owner Rebecca Cunningham. Baloo's lazy charm remains intact, but otherwise this is clearly a whole new character. Just like in The Jungle Book, however, Baloo has a little buddy who idolizes him while still managing to correct Baloo's immature behavior. Here, this lad is a cub named Kit Cloudkicker, apparently an orphan who loves hanging around airplanes. Lest one thinks that all the other characters on TaleSpin are new, the series also adds in Louie, no longer an ape king, but instead transformed into a nightclub owner; and Shere Khan is still predatory, but now exercises this trait as the head of a large aviation company. From the standpoint of a Jungle Book fan, it's all a little weird; but that doesn't mean it's a bad show. Not at all.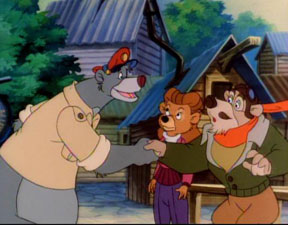 In fact, it's quite an enjoyable show, at times reaching towards the heights of DuckTales, though not generally having its scope of adventure. Baloo sometimes comes off as a little too selfish to be likeable, but of course he is always given the chance to redeem himself. Rebecca, on the other hand, always seems justified in her frustrations with the work ethic-impaired bear, and I found her to be a most sympathetic character, in large part to the voice work by Sally Struthers and the character's warm relationship with her daughter Molly. Kit Cloudkicker is a nice character, an adolescent who has many honorable traits, always trying to elevate Baloo. He is an obvious stand-in for Jungle Book's Mowgli, even going as far as calling Baloo "Papa Bear," and himself being referred to as "Little Britches." I do have a hard time wrapping my brain around seeing Louie as a nightclub owner, but he does otherwise seem familiar. Shere Khan's role in TaleSpin is fairly delicious. As played by veteran actor Tony Jay, Khan comes off as malevolent but noble— certainly a villain, but one you can almost respect. In some ways, I only wish that the creators of the show had done more with TaleSpin as a "re-imagining" of The Jungle Book. If you're going to bother casting Baloo and the others, you might as well find roles for Bagheera and Kaa, too, don't ya think?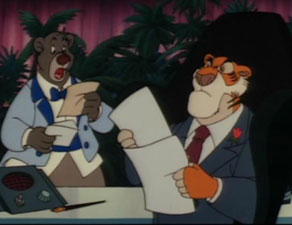 Disc 1
Nevertheless, there is a nice mix of adventures on this set of 27 episodes (out of a 65-episode run), which starts out strongly with the Indiana Jones-like A Baloo Switcheroo, which features a Raiders-inspired opening that introduces an artifact which causes Baloo and Kit to switch places and leads to a confrontation with Don Karnage and his air pirates. Next, Baloo becomes disillusioned with his idol in Whistlestop Jackson, Legend, though of course ol' Whistlestop comes through in the end ; the best part of the episode, though, is in watching the machinations of Shere Khan as he tries to win a contract with Klopstokia. Baloo teaches Kit all about the value of laziness in Double Or Nothing, and then tries to enter an air show competition in the episode Feminine Air, a tale which could have been inspired somewhat by O. Henry. The series goes a bit epic in the pulpy Last Horizons, where Baloo finds the lost city of Panda-La; instead of this feat causing him to be a proclaimed a hero, though, his discovery ends up endangering Cape Suzette. The action in this one is actually quite rousing, a large departure from most of the other episodes.
Molly and her babysitter Wildcat stow away on the Flight Of The Snow Duck, so that Molly can visit Thembria and see snow; but her fun in Thembria has dire consequences. Khan makes another memorable appearance in Save The Tiger, as he becomes indebted to Baloo, who saves his life and proceeds to make a pest of himself. The Old Man And The Sea Duck finds Baloo and company lost in the ocean. In the first disc's final episode, Baloo pretends to be radioing Becky from outer space, somehow convincing the military to prepare for a Martian invasion, in War Of The Weirds.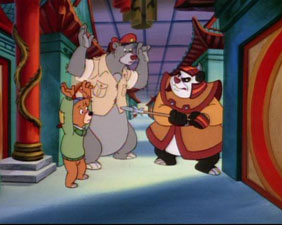 Disc 2
Another miscommunication occurs in Captains Outrageous, where the air pirates mistake a children's fantasy with talk of a real weapon. Originally, this story was followed by an airing of a four-part "origin" story called Plunder And Lightning, but this was included in the first DVD volume. This second volume continues then with The Time Bandit, a madcap tale where Baloo's scheme to convince Becky to pay him a day early gets a whole country believing it's really tomorrow, under penalty of death! For Whom the Bell Klangs – Parts 1 and 2 sees the show once again venture into DuckTales territory, as a vacationing Baloo and Louie repeatedly get caught up in searches for hidden treasure, finally encountering archaeologist Katie Dodd and mysterious villain Thaddeus Klang. Next, Baloo is shot out of the sky along with Wildcat, who is mistaken for Shere Khan by Khan's long-forgotten employees, in Citizen Khan. In Gruel And Unusual Punishment, Baloo's weight-loss attempt is sabotaged by Wildcat, who accidentally takes him to a prison instead of a weight reduction center.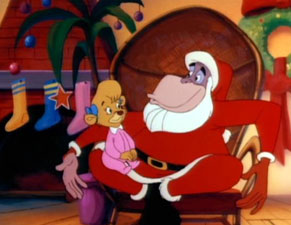 A Jolly Molly Christmas is a favorite of many TaleSpin fans, telling the story of Molly's Christmas wish for snow, and Baloo's attempts to make it happen. Baloo then trains to become well-mannered in order to accompany Becky to a businesspersons' ball, in My Fair Baloo. Then, in Waiders Of The Wost Tweasure, Baloo competes with an old rival named Airplane Jane as they try to track down some lost rubies.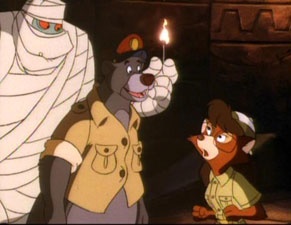 Disc3
Flight School Confidential sees Kit training in Thembria to be a pilot, before he finds out it is all a ruse. Baloo has more identity problems, this time concerning an escaped convict, in Bringing Down Babyface. Don Karnage, the air pirate, schemes to get into Cape Suzette by stealing the Sea Duck in Jumping The Guns. In Search Of Ancient Blunders has it all— more Don Karnage, a mummy, death traps, and hidden treasure. Louie's Last Stand sees Louie fight to keep his establishment from Shere Khan.
Sheepskin Deep has Baloo returning to school in order to qualify for his high school reunion. In Pizza Pie In The Sky, Baloo and Louie run a pizza business into the ground. Baloo and Kit must help to clear the name of a scientist working in Khan's employ, in Baloo Thunder. Finally, in Bullethead Baloo, Baloo takes inspiration from a comic book superhero in trying to impress Kit's friends, then takes on more serious business involving a mad scientist (well, "mad" as in angry, anyhow).
So, as you can see, there is a nice mix of plots present. Personally, I would have enjoyed the show even more if it had more of the pulp-inspired stories of strange civilizations and searches for treasure, but then I guess that's what DuckTales was for. TaleSpin stands on its own as fun family entertainment, with its mix of humor, adventure, and appealing characters that one appreciates visiting with in each successive episode.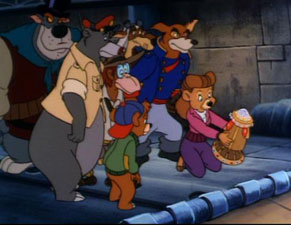 Is This Thing Loaded?
Sadly, this thing is not loaded, carrying on the "poor little sibling" status of all the Disney Afternoon collections. There are no special features pertaining to the series on this set. All we have here are a few Sneak Peeks, including ones that play at start-up for the 101 Dalmatians Platinum Edition DVD, as well as Wall*E, Santa Clause 3, and a promo for Disney Movie Rewards. These are also available from the menus, along with Sneak Peeks for the new issue of Return To Neverland, Underdog, High School Musical 2, and Wish Gone Amiss.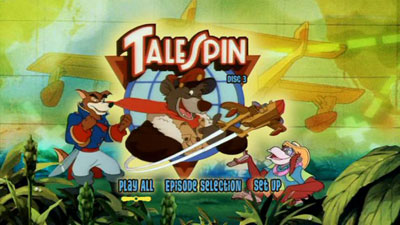 Case Study:
Once again, TaleSpin is released in a three-disc configuration consisting of three slims housed in a slipcase. While the slipcase cover is nicely designed, the artwork on the individual slimcases has some reeeeeeally off-model figures on them. As usual, the slimcases are clear but contain no interior artwork. Episodes are listed on the back covers of each slimcase. The box also contains a Disney Movie Rewards insert.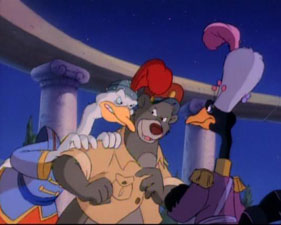 Ink And Paint:
The show is looking pretty decent here, certainly better than DuckTales has looked on DVD— or at least more consistent. Prints are fairly clean but not perfect, with occasional scratches and other imperfections. The transfers are a little noisy, with a minimum of shimmer effects, and with some dot crawl. The picture also does look a tad soft, but overall has a pleasant in not remarkable appearance.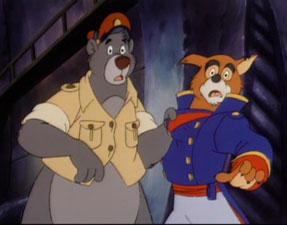 Scratch Tracks:
The stereo sound in some episodes really does impress, principally the dogfight sequence in Whistlestop Jackson, Legend. Sure, it's no Star Wars in the sonics department, but the combination of airplane guns and fireworks certainly gives a satisfying audio experience, with even a little bass creeping in. Other episodes do considerably less to impress, with many of them having far more mundane mixes; but then, this show is as much sitcom as it is adventure show, so I'm happy to take the standout audio where I can get it. English and French subtitles are available.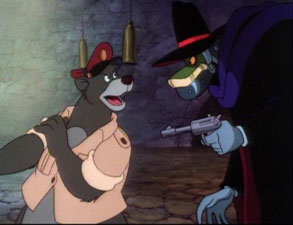 Final Cut:
This is an amiable show with a nice diversity of plotlines, first-rate voice acting, and slick animation. It may not have much to separate itself from other good-quality TV fare, but it is easy to get into the program and enjoy a few episodes at a time. As a collectible, the lack of extras and the so-so transfers make this a DVD set for fans primarily, but I was quite happy to experience what the show has to offer.
Animated Classic or Back To The Drawing Board?