First up, a little thanks to Rand for picking up my slack yesterday – seems I wasn't as over my recent attack of the flu as I thought and it hit back hard last week. Whatever it is out there, wrap up warm, as you seriously don't want to catch this beast. Take care!
In other site news, Josh has sneaked in some DVD Deals on today's release of Flushed Away, including a snazzy-looking Wal-Mart exclusive double-disc set. He's also just posted a great interview with Ice Age's Scrat's director Chris Renaud, Oscar-nominated for No Time For Nuts, a very funny short produced for the Ice Age 2 DVD. It's an interesting discussion, during which Chris fills in his background and the path No Time took from being a disc extra to being considered in the shortlist for this year's Academy Awards. Congratulations on the nomination, and good luck this Sunday!
---
Okay, a couple of cheats before I sign off today. We don't usually cover live-action releases, but we just love the work BCI is doing on their cult titles, and these two could well be of interest to hard-core 70s animation fans, seeing as they were executive produced by Filmation's Lou Scheimer.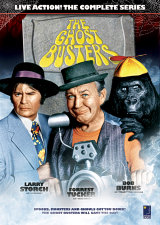 First up (and spawning an animated series itself, so we're only slightly leaping here!) is the release of The Ghost Busters: The Complete Live-Action Series, available April 17th for $29.98. Produced by animation studio Filmation, the 2-disc set will feature all 15 episodes of the show as well as several custom made bonuses of the kind BCI have been excelling at. As the blurb says: "When trouble calls, The Ghost Busters answer! From their run-down office, Spenser, Tracy, and Kong take on assignments no mere mortal could face. Good thing that Spenser and Kong have the super-smart gorilla Tracy on their team! In the super-secret missions assigned to them by the mysterious "Zero", the trio of bumbling detectives confronts phantoms, vampires, werewolves, the Frankenstein monster, mobsters, Vikings, magicians, and even a devilish dummy!" Debuting in 1975, each episode featured popular guest-stars from the time, including Billy Barty, Ted Knight and Jim Backus. In addition to the shows, the set will include:
• Bonus animated Ghost Busters episode
• Over twenty minutes of fascinating behind-the-scenes interview stories with producer Lou Scheimer, and Tracy the Gorilla star Bob Burns
• Rare Footage: Live Action Bumpers – Versions 1 & 2
• Extensive Behind The Scenes, Promotional and Tracy The Gorilla Photo Galleries
• Easter eggs; Episode Guide insert with Trivia & Fun Facts; DVD-ROM: Scripts for all 15 episodes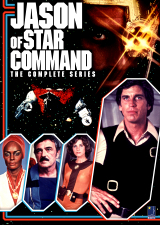 Secondly, BCI are set to put out Jason Of Star Command: The Complete Series as a 3-disc set on May 8th. This 28 episode set is highlighted by a series of special features including a brand new documentary and a special effects commentary track, and will retail for $29.98. Jason starred notable actors James Doohan, Sid Haig and Tamara Dobson as a small band of heroes out to "combat the sinister forces that conspire to dominate the stars", accompanied by the robot Peepo and the portable W1K1. Together they face the evil self-proclaimed "Master of the Cosmos" Dragos and his alien minions aboard the Dragonship. If it all sounds vaguely familiar, the links are enhanced by a crew that worked on both Star Trek and Star Wars. The most expensive kids show on TV when it began airing on Saturday mornings in 1978, it was a sequel of sorts to the popular Space Academy and ran for two seasons. The DVD set will also include:
• New half-hour documentary featuring interviews with the producer, stars, and visual effects artists
• Commentary tracks for season one episodes Attack of the Dragonship and The Disappearing Man with executive producer Lou Scheimer, and actors Craig Littler and John Berwick
• Special effects commentary for season two episode Beyond the Stars! with supervisor Chuck Comisky, animator Jim Aupperle, and creature artist John Carl Beuchler
• Special effects demo reel; Extensive gallery of promotional photos, behind the scenes photos and cast & crew reunion
• Art gallery style guide for proposed Jason animated series
• Booklet with episode guide and trivia; DVD-ROM script material; Easter eggs
Both The Ghost Busters and Jason's features have been produced by Andy Mangels, who also hosts the commentary tracks and is the author of Animation On DVD – The Ultimate Guide. Each set looks to continue the great work BCI has been putting into these collections, which usually put the selections on titles from bigger studios to shame. Keep up the great work guys!
– Ben.