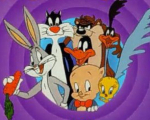 Hot on the heels of Disney's sending out corrected discs for errors made in the pressing of the More Silly Symphonies collection in the Walt Disney Treasures line, Warner Brothers Home Entertainment have announced that fixed copies of disc FOUR in the Looney Tunes Golden Collection Volume TWO are now ready and shipping. The issue with the disc is that some of the cartoons on that specific disc were encoded as interlaced video and not progressive as intended.
To arrange a replacement, contact Warners' video help department at 1-800-553-6937 so that a pre-paid mailer can be sent to you for return of your current disc. They'll then send you the corrected replacement within approximately 2-4 weeks. For international customers, there's nothing stopping you using that number but we're trying to get you an email address that may be simpler and more effective. Thanks to Dan, in the ol' AN&V Forum, for pointing out the good news!
---
Now then, we've a couple of new reviews as promised, the first for the release of the latest from the Disney Afternoon series Darkwing Duck: Volume 2, which Rand goes really in depth over accounting for original episode numbers, which began to make my head spin! But it's clear he had fun watching the "good natured" show, and even though he chastises the lack of extras he does concede that the 3-disc set provides fans with a lot of dang for their duck!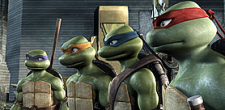 Still in review mode, and I think I had just about as much fun hanging out with those heroes in a half shell, the Teenage Mutant Ninja Turtles, or the TMNT as these abbreviated times we live in would have it. Director Kevin Munroe, who sat for an interview with us at the time of the film's release, comes from a video game background and the influence is clearly felt in the design and animation of the picture, but there's a certain nostalgic feel about the lighter than light story, and despite the use of fantastical weaponry, parents should find the new TMNT disc a good enough rent for family time.
---
Finally, back to those Silly Symphonies and Matthew Sharp has posted an excellent comparison between the many worthwhile changes to that More Silly Symphonies release that's well worth checking out for a complete rundown of the issues and the resulting fixes. Looking good!
Rand will be back later in the week with some more review nourishment, and we've Muppet Show Season Two and Woody Woodpecker Collection coverage in the works too! Until then, stay tooned! – Ben.