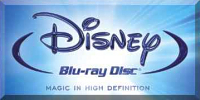 The big news left over from last week, of course, is the announcement that bona fide Disney Studio classic Sleeping Beauty will be making her high definition videodisc debut next fall (2008) in a deluxe, feature-packed edition. That Disney is using Beauty as a testing ground for its first truly home grown, hand-animated release – and one from the Walt era come to that – isn't much of a surprise. Disney has had a habit of issuing its box-office under performers on new home video formats, and this will mark Beauty's third dipping into new format waters after being one of the first early titles released on both VHS and LaserDisc. For those anticipating an onslaught of the really big Disney titles, I can only suggest we're in for a bit of a wait, since it can only be a matter of time before we see the other three initial test titles from the past – Pinocchio, Dumbo and Alice In Wonderland – hit Blu-Ray before we start to see staggered releases that follow previous VHS, LD and DVD strategies.
The good news is, however, that Sleeping Beauty will be accompanied onto BRD by another Pixar favorite, Finding Nemo. The newly-acquired Pixar are really doing their bit for the Disney-supported Blu-Ray format, and Nemo would be not only their third picture released to BR but also one of their most important. It's a pretty crafty, though perfectly marketed, way to appear to be keeping the big-name, hit titles coming while holding back the crown jewels of The Incredibles and particularly the Toy Story duo (out in 2009/10, anyone?) for maximum sales leverage.
It's great to see Disney playing the Blu-Ray Disc game seriously and still ridiculous that Universal continue to solely hold out on rival HD-DVD when the war has effectively been won. Titles like these from the Mouse House are what is going to propel Blu-Ray to the front of collectors' minds when they make their move into hi-def, and while they're certainly being aggressive in their approach, it's good to see that we will indeed be getting bang for our buck and real rewards for those for whom the jump will be more than a little pinch. The way things are looking, it should be worth it. With tons of deals coming up for the holiday sales, start saving!
---

To the Fun Factory department now, for a little TMNT promotion. The recent CGI-take on those turtles in a half shell just came out on DVD and Warners have launched the ultimate in Ninja Turtledom, a community page where you can create your very own virtual Ninja turtle, give it a name, feed it pizza and give it baths in radioactive ooze! Designed for all Ninja lovers, it's easy, fun and simple – it says here – and all you have to do to score points is interact with it more. To start sparring with other Ninjas turtles, click on the picture link and have fun!
Cowabunga! And stay tooned! – Ben.