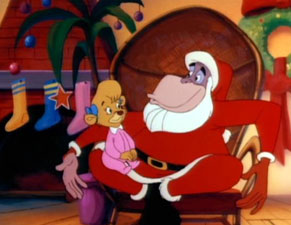 A rare Monday morning Christmas Eve posting, and have we got some presents for you! We'll be off until just after New Year's Day, but keep an eye peeled for some new bits an' bobs making their way to the front page during the week.
First up, Randall has posted his thoughts on Disney's second helping of TaleSpin, as you might have recognized from our festive image on the right! I never really saw the point of using the Jungle Book characters in such a drastically changed format, and even though Rand came to the show with the same in mind, he seems to have ended up finding the good within and calls the comedy action program "quite an enjoyable show, at times reaching towards the heights of DuckTales". Praise indeed, though the Mouse House's usual zilch approach to extras for their TV outings carries over here, so there's nothing new to get excited about.
It's fun to see Rand agree with me on the surprisingly entertaining Peter Pan follow-up Return To Never-Land. I remember being quite impressed with this DisneyToon effort on its theatrical release in 2002 and praised its first DVD release in my original review. Uniquely, Rand's take on the brand new Pixie-Powered Edition makes this Pan continuation one of the few titles we have alternative reviews for…and we ended both liking it! Naturally, this should tell you something about the overall quality of the film, which does a pretty good job of blowing away expectations.
Did TaleSpin or Never-Land make the cut of our favorites from the year? Find out in our extensive Best Of 2007: The Year In Review, where myself and Rand count the top ten DVDs and recommendations, and James adds his top three from the last twelve months worth in the theatrical stakes. There are links to all our full reviews, plus Amazon links if our comments sway you to pick one or two of the titles up, and remember that any purchase through those links goes some small way to helping keep the content coming at Animated News & Views, so it's all much appreciated! And for those of you brave enough to have jumped into the next generation formats, James has a handy round up of all the hi-def activity this year too.
But we're not just asking! Up in our Contest Corner you'll find a couple of new giveaways, for a couple of holiday grab bags featuring a handful of fun Disney Channel DVDs and a duo of Filmation favorites. Those contests will run through the holidays and we'll name the lucky winners next year – see I can say that now!
Stay tooned, and we'll catch'ya in the New Year! – Ben, and the entire AN&V Team.