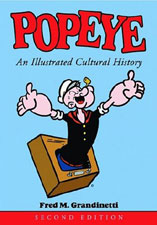 Likely no one is more excited about seeing the Fleischer Popeye cartoons coming to DVD at long last than Fred
Grandinetti
. Fred is a Popeye historian, author, and founding member of the
Offical Popeye Fan Club
, and his efforts to help bring the cartoons to DVD are well known. With the DVDs now here, Animated Views has taken the opportunity to get Fred's perspective on the release and find out about his next Popeye project.
After reading this new interview, read on for a review of Fred's Popeye book, Popeye: An Illustrated Cultural History and the transcript of a 2005 interview where Fred discusses the Fleischer Popeye's absence from DVD. Years from now, we'll be taking for granted that all of the classic Popeye cartoons are available to own, but it took a long time to get to this official release. Fred reminds us that, while there are larger events in the world, the presence of a spinach-eating sailor does make a difference. Popeye may be over 75 years old, but moral fortitude never goes out of style!
---
A Few Words With Fred On The New Popeye DVD Release:
Animated Views: You campaigned long and hard to get the Fleischer Popeye cartoons out on DVD. Did you have any advance word of the announcement once the deal between Warner Bros. and King Features was finalized? Or were things being kept pretty quiet?
Fred Grandinetti: I always had a pulse on the DVD situation and had a contact with someone who was filling me in on what was happening. People, outside of Warner Brothers and King Features, were very generous with information, which needed to be shared with me.
AV: At the risk of asking a rather obvious question, what was your response when you heard the news that the cartoons were coming to DVD?
FG: I was thrilled to hear the cartoons were being restored and are coming out. The question is, with King Features dragging their corporate feet so long on this issue, is it too late to revive Popeye? Fans have been waiting for over twenty-five years.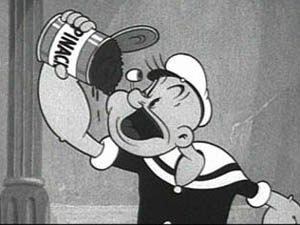 AV: What do you think was the main reason this deal finally happened?
FG: I think the deal happened because King Features' CGI Popeye special in 2004, which was based on the style of the Fleischer cartoons, did not revive the sailor's popularity in the United States. There were no dolls, coloring books or story books based on the special. These kinds of licensed products usually come shortly before or after a special featuring a well known cartoon character. This and the never-ending e-mails to King's public relation's department perhaps made the syndicate realize something had to get done. Warner Bros. did say this DVD release was their most consumer requested property. With all the correspondence I have personally received on this issue for the past several years, I can certainly believe it.
AV: As the foremost authority on Popeye, were you given the opportunity to be involved in the production of the DVDs?
FG: New Wave Entertainment, which produced the extra features, used my 2004 book as source material. They came to my house and taped my commentary and Popeye collection. While my name is on the credits and my collection seen very briefly, my comments were left on the cutting room floor. I'm not going to say I wasn't upset because it took me two and a half weeks to prepare my bedroom housing most of my collection. I had to take out all of my non-Popeye items, try to fit in two chairs and make room for a huge light. Anyone who has seen photos of my room knew I would need more than one can of spinach to prepare. I did contact the people at New Wave and they said they're hoping to have the people who were left out included on Volume 2. The history of Popeye section features a lot of material from my book so perhaps they felt my remarks weren't needed. I'll admit to being confused and friends in the media who know about this said I have been "stung". Well, I guess we'll see if the stinger comes out on the second set.
AV: The announced special features for the first DVD set look marvelous. Can you think of anything they missed putting on there?
FG: I don't believe they missed anything on the first set as far as special features. The challenge will be coming out with special features on the next few volumes, but I have already sent suggestions and am willing to assist. I would like to see a profile on Margie Hines, who provided Olive Oyl's voice on the later Fleischer and early Famous Studios cartoons. The creation of Popeye's nephews, and research into the reasons behind the change in Popeye's sailor uniform would be interesting.
AV: You have had some contact in the past with the Fleischer family. Have you heard of any reactions from them about the new DVDs?
FG: I wrote to Mark Fleischer a few years back urging him to convince the president of King Features to get this deal done. He may have helped but I have no idea if he did. The time span from when I wrote to him and the announcement of this deal was long. Perhaps his interest in preserving Max Fleischer's work only involves Betty Boop? I tried.
AV: With the original Segar strip now being reprinted again by Fantagraphics, and the DVDs on the way, Popeye may be ready for a renaissance. If you were in charge of the character, what would you like to see done with him next?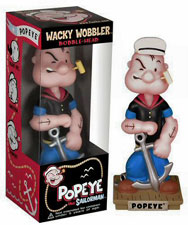 FG: If I were in charge of Popeye, I would stop marketing him as a gambler or street hustler on T-shirts. Check eBay and you will see many different variations. Someone who still works at King told me many years ago, "Popeye is the most raped cartoon character in the licensing business. King will do anything to him to make money." Remember, "Can the spinach I wants me Quaker Oatmeal" a few years ago? "Can the spinach?" Popeye saying that!! Keep Popeye the way Segar/Fleischer portrayed him for the baby-boomer market and re-introduce him all over again for the children. Get the Popeye stories printed in digest comics in Italy and translate them in English. I believe Hearst still has a publishing division. Publish these stories for children and collectors who don't have access to them in Europe. Reprint the Popeye Wonder Books from the 1950s and 1960s with images introducing Popeye to children. Through my years working with children I can tell you they go for Popeye in a big way once they're introduced to him but vehicles are needed to do that.
AV: With the DVDs finally announced, how will you be directing your Popeye-based energies? Any new projects to announce?
FG: I was in touch with Mrs. Virginia Mercer for several years and she authorized me to write about her husband's career in animation. There was very little published on Jack Mercer but I did manage to come up with over 200 pages. It looks as though Bear Manor Media will be the publisher and a book will come out later this year. Jack Mercer was the voice of Popeye for over 40 years but was also involved in many other aspects of the field of animation. As for the sailor himself, when I was in junior high and high school, I was always beat up and verbally abused because I wasn't into sports. I would come home depressed but as soon as I watched a Popeye theatrical on The Uncle Gus Show I managed to make it through another day. For that reason, among many, I will always keep my finger on the pulse of what is or isn't happening with Popeye.
Thanks for your comments, Fred!
---
Popeye: An Illustrated Cultural History
Archive Book Review and Interview
What follows is a look at Fred Grandinetti's book Popeye: An Illustrated Cultural History, plus an interview with Fred from the Spring of 2005. At this time, there had been no word whatsoever of the possibility of Popeye's Fleischer cartoons coming to DVD. Fred was known as a tireless proponent of an official DVD, and this interview shows his perspective on what was holding things up at the time, as well as why he felt it was so important that these cartoons be widely available. Though the new DVD release dates this interview a little, it remains an interesting look at the issues involved in bringing the Fleischer Popeye to home video for the first time in authorized editions. The interview is being reprinted here in full with Fred's permission.
---
Introduction
With the 75th Anniversary of Popeye now having come and gone, Popeye fans are STILL waiting for an announcement concerning a release of the classic Fleischer cartoon shorts. To date, only the same old handful of public domain Fleischer shorts have been released (in numerous editions of varying quality) on DVD. That still leaves most of the over 100 Fleischer Popeyes unreleased. That's not even including the additional 100-plus cartoons made by many of the same people when the Fleischer studio was taken over by Paramount and re-named Famous Studios in 1942. In all, there were well over 200 Fleischer/Famous Popeye cartoons produced from 1933 to 1957— and about 200 remain unreleased on home video! Can that be right? That's a whole lot of Popeye we're not able to enjoy! The reasons for this have been debated between fans for years. To help us wade through some of the issues, as well as to shed light on some other questions surrounding the animated Popeye, we are joined by Fred Grandinetti. Fred is a contributor to the International Popeye Fan Club, and author of Popeye: An Illustrated Cultural History, now in its second edition from McFarland Publishing.
Reviewing The Book
The 343 pages in this book contain a wealth of material about Popeye, from his 1929 beginnings as a supporting player in the comic strip Thimble Theater, to his rising stardom as he took over the strip and emerged as a star of animated cartoons, then going on to conquer the worlds of merchandising, television, and even a live-action film. For the whole story on Popeye you will want to read this book. Facts large and small are explored with equal enthusiasm. There is so much information presented that one cannot help but be impressed. If you like trivia, such as a listing of the stations and their television shows where the theatrical Popeye shows were first shown when they entered syndication (such as Popeye And Janie in Indianapolis), then this book is for you! While one more edit could have tightened up the writing (like I said, there are lots of minor facts in the text), one cannot overstate the significance of what this book contains.