Just when it looked like Sony's Blu-Ray Disc had this format war all sewn up, Paramount Home Entertainment, previously a "format neutral" company, which meant they released titles to both Blu-Ray Disc and HD-DVD in addition to standard definition DVD, has announced that, starting with the Will Ferrell comedy Blades Of Glory this August 28, all their subsequent releases will be issued on HD-DVD only.
Wow…call me shocked! It's amazing that, with unbelievable pressure on Universal – up until Paramount's decision the only staunch HD-DVD supporter – to turn to Blu-Ray or at least go format neutral, a major studio has carried out what is effectively a surprise 180-degree turn in policy. What does this mean for us animation fans? Well, while Paramount's own cartoon catalog is otherwise fairly light on true gems, the distributor is home to DreamWorks Animation, throwing a spanner into the works for those who quite rightly reasoned until now that Blu-Ray would be sure to be the format of choice for animation films and fans.
There is already speculation that money is behind the move, with as much as $50 million being shunted Paramount's way and talk of $100m going to DreamWorks. For Jeffrey Katzenberg, however, it's all about reaching families: "We decided to release Shrek The Third and other DWA titles exclusively on HD-DVD because we believe it is the best format to bring high quality home entertainment to a key segment of our audience – families", he said, pointing to the low cost of the new hardware. Still, this is an odd move for a distributor to make, especially after it went format neutral in the first place.
The development means that only Warner Home Video is releasing films on both formats, while giving DreamWorks' rivalry with Disney a new angle: the Mouse House is sticking exclusively with Blu-Ray. This could well drop a bomb in the Sony camp, who were depending on Paramount/DWs hits Shrek The Third and Transformers to boost sales, though the news has been countered by Fox/MGM's announcement that they are finally jumping into Blu-Ray in a big way: this fall will see hi-def versions of a number of major catalog and new release titles, including Fantastic Four: Rise Of The Silver Surfer, the Die Hard quartet, Mr And Mrs Smith, The Fly, The Day After Tomorrow, Edward Scissorhands, I Robot, Independence Day, Cast Away and RoboCop. That's quite a slate. As always, our friends at The Digital Bits have much more for those interested. The war continues…
---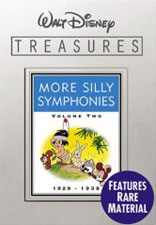 In better, less confusing news, we have an update on the glitches on the More Silly Symphonies set from the last Walt Disney Treasures wave. According to series host Leonard Maltin's own webpage, it seems bonus content producer Sparkhill spent time recreating the original title plates that would have graced the cartoons back in the day for some pristine new masters – and these elements were not used in the finished collection. Further, a new master of The Night Before Christmas was supposed to feature a moment cut from prints soon after its original release…now these omissions have been fixed and corrected discs are available directly from Disney Home Entertainment. To get yourself a set of the rectified new discs, simply call 1-800-723-4763 in the US or 1-888-877-2843 in Canada. Thankfully, Disney is honoring international customers too…just send an email explaining the problem and giving your shipping information to: ReportProblem@dvd-videosupport.com and they should take it from there! As with the speedy replacements of the True Life Adventures, kudos to Disney Studios Home Entertainment for resolving these issues, and we look forward to what the next releases in the series brings us in just three months' time!
Stay tooned! – Ben.