Marvel Films/Hearst Entertainment (1986), BCI (October 10, 2006), 5 discs, 800 mins plus supplements, 1.33:1 original full frame ratio, Dolby Digital 2.0 Stereo, Not Rated, Retail: $39.98
Storyboard:
Flash Gordon enlists Mandrake The Magician, Lothar, and jungle hero The Phantom to help him fight Ming The Merciless, who is scheming to take over the Earth. The offspring and wards of the heroes join the fight, becoming The Defenders Of The Earth!!!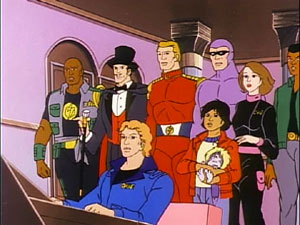 The Sweatbox Review:
Even now, I find the concept amazing. I was always a huge comic strip enthusiast, despite the fact that I was born decades after the heyday of my favorite type of comics, the adventure strip. And, I have always enjoyed seeing how these larger-than-life heroes soared or struggled with their adaptations to television or movies. I actually remember watching the 1979 Mandrake TV movie, while that same year's Flash Gordon was one of my all-time favorite cartoons. I was also intrigued by The Phantom ever since reading a Scholastic Books publication of a book about comics, then later discovered the paperback series of Phantom novels. With each successive attempt of adapting these and other characters, I have found myself rediscovering the initial joy that these characters brought to me. This trio all first appeared in the mid-1930s, and together represent the archetypical heroes of science (along with the even earlier Buck Rogers), magic, and the jungle. So, imagine my amazement in 1986 when I heard of the concept for Defenders Of The Earth.
Truthfully, I found the whole thing hard to believe. Though team-ups had been common in comic books for some time, a permanent teaming of diverse newspaper strip heroes was unprecedented, in print or otherwise. And yet, apparently Marvel Films (the studio responsible for Spider-Man And His Amazing Friends) was teaming with King Features Syndicate and its corporate brother Hearst Entertainment to produce a syndicated television show that was bringing together Flash Gordon, Mandrake The Magician, and the Phantom. Holy smokes!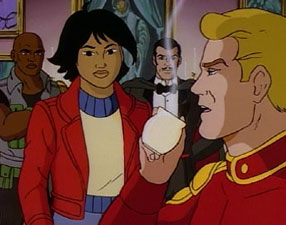 The news was true. Defenders Of The Earth launched in daily television syndication in 1986, though it was years before I actually managed to catch an episode on videotape. The series was set in 2015, a leap forward into the future that allowed for the addition of new wrinkles for the characters. Flash Gordon, who first defeated Ming The Merciless on the planet Mongo years ago, was married and had a grown son. We can likely assume that his wife was Dale Arden, though on the show she was portrayed as blonde, even though she was a brunette in the comics (she was also oddly blonde in the first serial starring Flash, which was otherwise quite authentic, but the actress went back to her true roots in the follow-up serial). The first episode of Defenders Of The Earth, named Escape From Mongo, sees Flash returning to Earth in order to ask Mandrake The Magician for help against Ming, who is holding Flash's wife as a prisoner. Mandrake's long-time assistant Lothar joins them, and it is not long before they also contact The Phantom, the masked jungle hero who normally resides in Africa.
Unfortunately, the rescue mission is not very successful, as Flash's wife is killed— a very unusual thing in a kid's cartoon. Right off the bat, one of our heroes has the ultimate failure. Still, out of this situation the Defenders Of The Earth are born. Ming has new plans to take over the Earth, even building a base there, and so some of the biggest battles are yet to come. Joining the adult heroes are their offspring. In addition to Flash's son Rick, The Phantom has a teenaged daughter Jedda, Lothar has a son named L.J., and Mandrake (whose companion Norda remains unseen and unmentioned in the show as far as I could see) has an adopted son named Kshin, a younger boy he assumedly met somewhere in Asia during his globetrotting adventures. No show like this can survive without an annoying animal sidekick, so this one has a little alien creature from Mongo named Zully. Other liberties are taken by the show that are not easily explained by the futuristic setting. Mandrake and The Phantom have increased powers, and Ming is now colored green.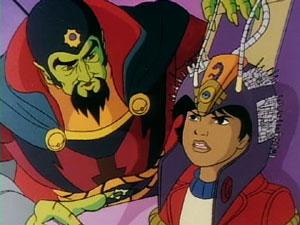 Episodes criss-cross the globe, showing the team to be truly guarding the whole planet against Ming, who has a command center called Ice Station Earth. Mostly, they are seen in Central City, in and around Mandrake's estate, including their mountain headquarters known as Monitor. The second episode sees The Creation Of Monitor, and also introduces one of the creepiest things I've ever seen in cartoons, as Rick uses his dead mother's digital essence to give personality to the team's super-computer, Dynak X.
The series did have fun exploring the mythos of these diverse characters, particularly The Phantom, who has one of the richest origins in comics. The Phantom is a generational hero, whose line began during the days of pirates. The Phantom seen on Defenders Of The Earth is the 27th, as opposed the 21st that first saw publication in the 1930s and continues in the comics today (the later cartoon show Phantom 2040 featured the 24th Phantom— yeah, the math doesn't work out too well for the 27th one). A couple of Defenders episodes, beginning with the fifth on the set, A House Divided, bring in The Phantom's jealous older brother Kurt Walker, who once lost out on gaining the family mantle. Ming transforms Kurt into a powerful being called N'Dama. Part 2 of this tale, Family Reunion, originally was produced and aired 16 episodes later, but it is placed correctly on the DVD set, right after the frist part of the story. A number of episodes in addition to these (like The Revenge Of Astra and The Panther Peril) take place in Africa and include aspects of Phantom lore, like the Skull Cave.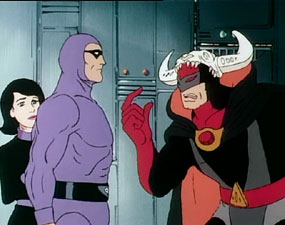 While many of the stories are quite good in an "I like to relive my childhood" kind of way, many of them are painfully bad. Bits 'N' Chips is a typically ill-considered story, where the whole team, these great Defenders, drop everything to fly to Paris for a chess tournament. The team seems to beam directly from their HQ to Paris and back again, with no concern for scene transitions or time lapse. Worse yet is the preposterous plot that sees the kids shrink down to enter Dynak X in order to defeat an electronic maggot placed here by Ming. Who makes up this stuff? The next episode, Root Of Evil, is notable for featuring entirely different designs for all the characters. Presumably, this would have been the first animated episode, before models were finalized. However, even the trivia notes for the following episode, Cold War, have to point out just how off-model the characters can be even when the final designs are used. Amusingly, the trivia notes for Doorways Into Darkness proclaim it to be the worst-animated episode.
Stan Lee had some involvement in the show, given his position at Marvel Films, and his influence seems to have rubbed off on the writers. Story ideas are often bold and melodramatic— and frequently silly— and dialog tends towards being unnatural. Of course, this was on par with all those syndicated 1980s adventure shows.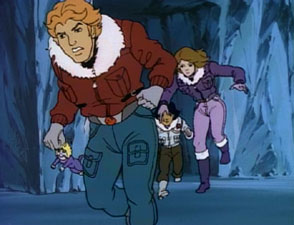 I noted that Arthur Byron Cover wrote The Sleeper Awakes. This is interesting just because Cover also wrote the 1980 Flash Gordon movie adaptation. Even more delightful is the appearance of fellow King Features hero Prince Valiant in the time travel episode Terror In Time. Val becomes an unofficial Defender in this one, which takes place largely in the context of Val's own strip. This, of course, preceded Val's appearance on his own show by a few years. For comic strip buffs, this is trippy stuff. Sadly, King Features' Popeye never appears in an episode, though that would have been quite cool!
Many typical episodes center on Ming's quest for power sources, weapons, and mystical doodads. We also meet Ming's youngest child in Like Father, Like Daughter?, and an old enemy of Mandrake's in The Evil Of Doctor Dark. The 33 episodes on the DVD set are presented in the best story order, which differs from the production or broadcast order. This first volume therefore represents about the first half of the show's total number of episodes, with the restto follow in Volume Two.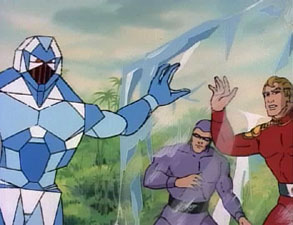 The commentaries mention that the show had a rushed production, and I'm afraid that the results are evident. The Korean animation is choppy though ambitious, and animation mistakes are not hard to spot. Continuity is an ongoing problem, and people's limbs tend to disappear at humorous moments, while some characters become ventriloquists. When The Phantom calls upon the "power of ten tigers", anywhere from 8 to 13 tigers may be seen to be sequentially superimposed on his body. And on it goes. Meanwhile, designs are generally appealing, though sometimes overly busy and literal. Again, this is a pretty typical 1980s adventure show.
Those who loved He-Man or G.I. Joe may also find Defenders Of The Earth worth a watch. In fact, Defenders could be seen as a cross between the two— with fantasy elements mixing with a real-world setting, though set slightly into the future. It's essentially an animated Marvel comic using King Features newspaper comic strip characters, a mighty (if loopy) concept with uneven execution. Still, it is hard to deny the appeal of the show, especially for those of us who dig those old-time heroes.
Is This Thing Loaded?
As per usual, BCI and consultant Andy Mangels have put together a nice set of extras for a show that is more of an oddity than a cult favorite. An Audio Commentary On Escape From Mongo, featuring Mangels interviewing various producers and artists, is available from its own episode menu. The origins and development of the show are discussed, and they acknowledge how rushed the production was. Add in a few nice bits of trivia, and the track is very informative and entertaining.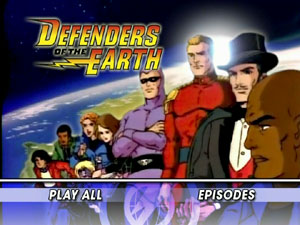 The rest of the bonuses are found on Disc 5, including a selection of Interviews (33:50 total), playable individually or all together. Featured are director and line producer Bill Hutton, comics historian Rick Norwood (who nicely discusses the origins of all the characters), producer David J. Corbett, Phantom actor Peter Mark Richman, and his son-in law Loren Lester, who played Rick Gordon. The latter two gentlemen describe, among other things, how they became related.
Storyboard To Episode Comparison is a full-length multiple angle feature for the Prince Valiant episode Terror In Time. The viewer may choose from having either the storyboards or final episode in a larger of two boxes, or have them equally displayed side-by-side. Character Biographies actually has extensive text for a number of artefacts, thirty characters, and many creatures, locations, and technology, describing all these aspects of the show. A Model Sheet Slideshow has just under twenty pieces of artwork to show off.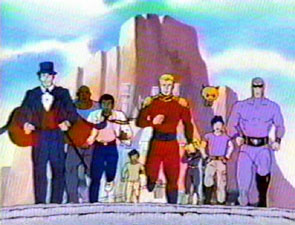 The Original Pilot Presentation (7:35) is very interesting, as it uses animation not seen in the final show. In fact, it has characters not ever seen in the show. Flash's and The Phantom's offspring switch genders (becoming Jedda Gordon, with telekinetic powers, and Kit Walker). Other different designs are also seen, some similar to those seen in that anomalous episode Root Of Evil. The video is shoddy for this pilot presentation, bit it is clear enough to make everything out. Amusingly, one can pick out sound effects and music from Spider-Man And His Amazing Friends.
The box and booklet promise a bonus episode from the 1979 Flash Gordon series, but it appears to have been dropped from the set. I could not find it on the discs. Too bad that BCI missed this chance for cross-promotion, but hopefully anyone interested in Defenders Of The Earth already has the box set for the superior older series. It appears that it may show up as a bonus on the next Defenders set instead.
Trivia And Fun Facts appear for each episode on its respective menu. Charmingly, the writer of the trivia notes pulls no punches, often noting animation mistakes or other errors. You will miss these if you select "Play All" for any disc, so I recommend you select each episode individually.
DVD-ROM: If you place the fifth disc into your computer (PC or Mac), you can find Scripts, Storyboards, and the Complete Series Bible. I love it when they do that.
Case Study:
The design and quality of the packaging is terrific. Inside a glossy slipcase, there are three slimcases, with two of them being doubles to hold two discs, making a total of five discs. The first four discs are double-sided. The art for each slimcase focuses on Flash, Phantom, and Mandrake & Lothar, with model sheets shown inside. There is also an envelope containing a well produced and nicely illustrated Episode guide, and two Art Cards with work by Rafael Kayanan and Michael Allred. (Oh, and then there is a Funimation catalog too.)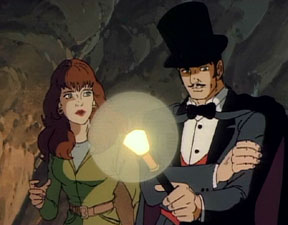 Ink And Paint:
It would almost have seemed inappropriate for these transfers to outshine the show itself, right? Thus, we get a collection of assumedly non-remastered, soft, spotty transfers. I would say these are about on par with what Disney is doing with their Disney Afternoon shows on DVD, maybe a little worse. It's all colorful enough, but not terribly sharp. At times I felt like I really needed a new prescription for my eyeglasses. (The screen captures I reproduced here are nicer than much of what I viewed on the set, but quality varies. Plus, things look worse when seen fuller-size on a television set.)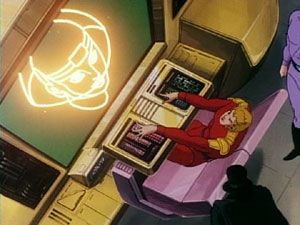 Scratch Tracks:
Likewise, the audio is nothing to right home about, though in this case it is likely as good as it can be. The soundtrack doesn't pack as much punch as it would if the show was produced today, but it's perfectly adequate and does not have any real problems.
The extras reveal that the show was recorded much like a radio play, with all the actors present and in sequence. I do have to admit that the show is surprisingly well voiced, with a high quality of acting all-around. If you do not think so, imagine yourself spouting some of that corny dialog, and compare it to how good it sounds coming from the actors on the show. There. Case closed.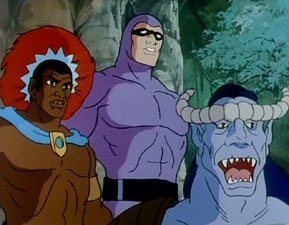 Final Cut:
This show really should not work, given its premise (scenes of The Phantom in space battling aliens is kind of weird), and to be honest the rushed production on the show does keep it from being very good. Animation mistakes abound, and the scripts are far from polished. Characterizations barely go beyond two-dimensional, and continuity between episodes (or scenes) is often weak. And yet… there is a distinct enthusiasm present, one that reveals the fun that the creators were having while using these classic characters. The concepts are wild, the action is large, and there is that indefinable extra "something" that comes with using such familiar characters. I cannot help liking the show, given my own love for the characters and the zest that the stories contain. It may not be great television, but it is great fun. Plus, with the extras available on the set, and the wealth of episodes, it makes for a great buy for cartoon fans, particularly those with a soft spot for '80s superhero shows or comic strip characters.
Animated Classic or Back To The Drawing Board?