Just a really quick one today from me, to say "I'm baaaaa-aaaaack" online after being hit by a virus last week that totally wiped out my operating system. Geeez… Thanks to Rand again for picking up the slack, and hopefully you'll be hearing a lot more from him as we begin to juggle the demands of keeping this front page updated!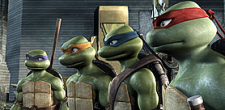 Anyhoo, with 300 already breaking the bank in box-office, it looks as if Warner Brothers' disastrous luck of the draw last year , when the studio had poor shows for their biggest tent-pole pictures such as Poseidon, The Ant Bully and, um, the big blue turkey that was Superman Returns, is seriously turning around. This weekend saw the debut of more than five wide releases, but coming out on top were those heroes in a half shell, with a surprising take of over $25million! According to studio estimates, it seems the kids who watched those original cartoons and series of live-action films is what gave the film a boost: audiences comprised 28% children, 28% parents, 22% teens and 22% adults over 17. Ahh…nostalgia!
With those kind of numbers and the continued success of 300, Warners should be looking at very healthy Easter returns – let's hope their summer slate can keep that momentum going.
---
I have some remnants of my PC woes to put in place before I can get on with any real work this week, but rest assured we'll be adding new content in the next few days, and announcing who won those Flushed Away discs. Have a good week!
– Ben.