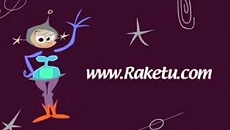 On March 14, we reported that Raketu Communications Inc., a global internet communications, information and entertainment company, had enlisted Ren & Stimpy creator John Kricfalusi for a stylish new marketing campaign. The partnership would center on a futuristic representative, Raketeena, interacting with various characters from the mind of John K. As seen here at All Kinds of Stuff, the blog of John K., these humorous and imaginative encounters explain the benefits of Raketu.
The exciting marketing move is the brainchild of Greg Parker, CEO and Founder of Raketu Communications, Inc. With more than 20 years of technology industry experience, Parker has earned multiple degrees in Astrophysics and Computer Science. Through his knowledge, he invented Raketu and Raketu's unique P2P architecture.
Interestingly, Raketu Communications, Inc. is Parker's fourth startup. He has likewise served as CTO, Board of Directors, Warp Technology Holdings Inc., Application & Network Acceleration; CEO, Founder, SpiderSoftware Inc., Internet Acceleration Technology (purchased by Warp Technology Holdings, Inc.); CTO, Board of Directors, Brainium.com, Multimedia interactive media over the web; and Co-Founder, Director, Products and Partnerships, Enlogix Inc., CRM and online billing 9M end-use consumers. Adding even more to his impressive credentials, Parker has a long history of speaking engagements, such as being a guest lecturer at a university MBA program, an invited speaker at COMDEX in Las Vegas, and most recently as keynote speaker at the P2P Media Summit.
Animated News & Views' Josh Armstrong recently spoke with Mr. Parker. During the brief conversation, the main topic discussed was Raketu's collaboration with John K. From how the animator was chosen, to the future of this promotion's cartoon characters, Parker was happy to share some thoughts regarding his company's unique marketing strategy.
---
Animated Views: What inspired you to promote Raketu using animation?

Greg Parker: I guess what inspired me a bit with Raketu was how to explain the multitude of functions we have available. We have many communications, many entertainment and information functions. In our early days, we sort of looked at it and said, 'How can we bundle these up? How can we make these accessible to users?' Because what we've become with the iptv stuff, as well as all the different things we do with special networking, etc., we really are MySpace meets YouTube meets Striked meets Juiced, all bundled into one.
That's a lot for people to understand – to take in and use. So we started to look for ways that we could simplify things – to make them fun. Not just simple, but also fun. People could look at it and enjoy it and be entertained, even just watching these characters of John's come alive and tell the story of a piece of what Raketu does.

Late last year, we engaged John to come up with a banner ad for us. He created Raketeena, at the time. So we had a cartoon animation piece of Raketeena, just saying on a banner at the right of many, many blogs to come click here and see what Raketu is all about. We had a promotion at that point and time, which was free calling to locations in over 40 countries around the world. We still have that today, by the way, so you sign up for our dial service and get unlimited free calling to over 40 countries.
That's how we started. We got exposure to John K. that way and his way of looking at the complexity of what we have inside Raketu. We started to discuss it, and we sort of came up with, 'Wow! Wouldn't this be a great way to use your characters and Raketeena and create these little shorts for us – sort of animations that would be advertisements for us! That would make it fun and engaging and get the message across.' Long story, but that's how it came about.
AV: Overall, how much creative involvement did you have in this Raketu promotion?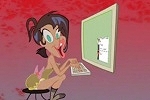 GP: I'm the CEO, founder and inventor of Raketu, so I had a great deal of upfront involvement with – I suppose what you'd call – the messaging. 'What was this particular – I don't know if you'd call them cartoons – ad supposed to be? What was the messaging that was supposed to be inside this?'
Working with John and some of the other colleagues of John, we developed the storylines. Then, periodically when John was drawing this, and it was getting colored and put into Flash, I got involved at certain points to see the development. I'm not an animator, though.
AV: Where were the Raketu ads animated?
GP: The Flash was done by a group out of Ottawa, called Copernicus. John did the animations.

AV: Were any animators considered other than John K?
GP: I'm going to say 'not really.' But we did certainly upfront – we took a look before we got Raketeena done. John had a history with Ren & Stimpy and other characters. So we met with John, and he just seemed like a very good fit. He was very keen. He spent some time learning Raketu first, which was important to us, because before someone can take on a challenge like this, they need to understand why it is so difficult to explain this.
AV: One thing John is sometimes noted for is an arguably risqué sense of humor. Was that ever something considered during the planning of this Raketu promotion?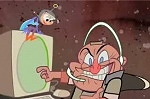 GP: Yeah, we wanted to be a little risqué, because Raketu itself, in a lot of ways – to use the cliché – pushes the envelope. We're on the leading edge of things, and we're not like a big corporate eBay. We're different. We're a young company; we're a startup company. We're making waves. We've done first-to-market releases on our technology side.
What we wanted to do was something that would be fun, risqué and engaging. All those things we find in what John has delivered – very much so. They're not safe, but they're not outlandish either. They're somewhere in-between.
AV: How much creative freedom was John given for this particular project?

GP: Actually, a lot. Other than the storylines themselves, he sort of went away and built them out. We'd say, 'Do more of this, or do less of that,' so to speak.
AV: Were there any particularly memorable experiences you had working with John K?
GP: Have you ever met John K?
AV: No, sir. Unfortunately, I haven't.
GP: Well… [laughs] It's a memorable experience. I think in one of our meetings, we were sitting down, discussing. There were several of us in the room. It wasn't just John K. We were discussing certain concepts.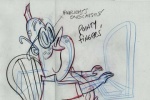 John sort of drifted off into 'Toonland,' or whatever you want to call it, and began to doodle. He created three or four of these very interesting little doodle sheets with his animated characters, that had themes around them already about things we were obviously discussing in the room. It was interesting how he just sort of fell out, did these quick – I'll call them 'scribbles,' but they were actually very good. I said, 'Well, hey, what were you working on over there?' So he showed us what they were. They were very funny. That was very memorable.
John's a fun guy. He's a really smart guy – very interesting, very engaging. I guess in a way, he's kind of like a cartoon – he's kind of like his characters.
AV: As for Raketeena, are there any plans to promote her the way that other companies have promoted their mascots?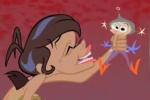 GP: Yeah, one of our things is to develop out what we call the 'Raketu family.' It's to build up these characters and incorporate them more and more as time goes on, with the brand, obviously, but also within the application itself – and to rapport more of our ads around the whole Raketeena and the Raketu family, if you will. Certainly going forward.
AV: Have you planned how many more characters you'd like to introduce [for Raketu]?
GP: Yeah, we're looking at a couple more, and also continuing to develop these characters that we have as well.

AV: Referring to the continuing development of the Raketu family, about how long do you estimate the collaboration with John K. will last?
GP: Well, I have no immediate plans of stopping it. I don't know – as long as it's working for both him and us. [laughs]
---
From everyone at Animated News & Views, special thanks are sent to Greg Parker for participating in the interview. In addition, we are grateful for Mark Hall's arranging of the discussion.