Walt Disney Feature Animation (1948 – 2000), Walt Disney Home Video (February 12 2002), single disc, 58 mins, 1.33:1 full frame ratio (John Henry is cropped from 1.66), Dolby Digital, Rated G, Retail: $19.98
Storyboard:
Host James Earl Jones introduces four tales that made America, all illustrated by Disney animation old and new: Paul Bunyan (1958), Johnny Appleseed (1948), The Brave Engineer (1950) and the recent short John Henry (2000).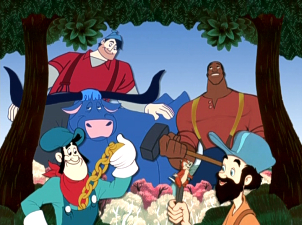 The Sweatbox Review:
When Disney's American Legends was announced way back at the end of 2001, the rumors of what was going to be included in this animated collection of cartoons based on legendary figures was enough to spark off interest in this release, for word went around that we would finally be able to see the Studio's long delayed short John Henry. When the cover art was posted on pre-order sites online, it was apparent that our wish had come true! Well, sort of…
Completed in 2000, but left on the shelf until it was attached to a few select prints of Return To Never-Land in 2002 theatrical release, John Henry tells the tale of the black slave Henry, who is freed and helps forge a railroad, proving himself against a technologically advanced steam-powered construction engine. It's a masterpiece of tightly paced animation and story, over in nine minutes and leaving you wanting much more. Created at Disney's now-closed Florida animation studio (the folks responsible for Mulan, Lilo And Stitch and Brother Bear), it was originally handed to them as a "filler" project, while the suits at Burbank decided how to play the then-crowded animation business.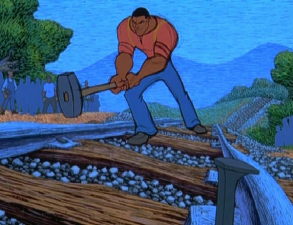 Directed by Mark Henn (who had been lead animator for Mulan) over a five-year period, John Henry was purposely produced in the style of the classic Disney shorts from the 50s and 60s. Animators were told to be bold with their drawings, and clean up artists had to be reminded not to make the lines too smooth! The original, complete film opens with a highly stylised traditional Sleeping Beauty castle Disney logo which dissolved into the main titles and patchwork quilt that Henry's wife Polly is seen sewing as the story begins. Henn had to fight to get the film completed, as featurettes and shorts, before Disney recently jumped back on that wagon, were seen as money losers, with no real avenue for recouping their investment.
When the film was finished, there was then the issue of actually releasing it, with the main reason given for its long no-show as it being a film about black characters, animated and created by mostly white artists and therefore had to be handled "sensitively". Of course, this is a ridiculous argument, but the political correctness of modern day Disney coupled with a not-so-happy ending meant that they did not think that they could do anything with the film. It played for three days at the Studio's own El Capitan Theater in L.A. before heading for the archives. On the basis of the brief theatrical run, John Henry wound up being tipped for an Academy Award nomination for Best Animated Short, although the way it was dumped meant it did not qualify. Eventually, it was bundled in this collection, which itself leaves a lot to be desired!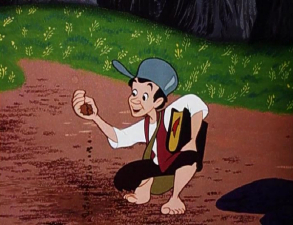 Each short here is chapter indexed on the "pages" of an old book, titled American Legends. Select 'play' and the program begins with a cheap looking, badly shot and very poorly compressed video introduction by actor James Earl Jones. The eagerly awaited John Henry short is first up. Rather annoyingly, the shorts are presented as part of a whole program, with Jones presenting each short. Basically this means that we are still waiting for the definitive widescreen, full version of John Henry, as it's been pan-and-scanned to fit the rest of the 1.33:1 material here, with its credits cut and placed in a roll with the others at the disc's end. The animation itself fits very well into the mix of the other classic Disney shorts – it bares most similarities with Paul Bunyan, with a soundtrack very much in the Gospel Hercules style. In these sequences, there is some amazing light and shadow work, and the animation overall achieves the very classic look, although it may try too hard to capture the "pencil line" look of the 60s and 70s – some of the shots expose this technique a little too obviously.
As for the controversy in having a white director direct a story about predominantly black characters, well frankly I don't know what all the fuss was about! John Henry is a fantastic short which does nothing but celebrate this unique character. The supposedly downbeat ending doesn't detract at all – in fact you could argue that Pocahontas is more unresolved. True, the film remains close to the legend and Henry is shown to pass away, but the atmosphere soon builds itself up again to reveal the legacy he left behind, both in the form of a son, and the finished railroad. The animators at Disney have every right to be proud of this film – it is daring, bold and triumphant in every detail and on every level. The brass at Disney shouldn't be afraid of it at all, and I am glad it at least available in some form, although a widescreen full-length version would be even better!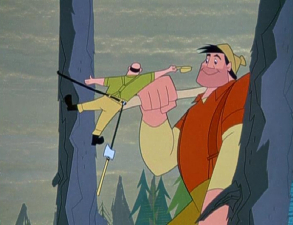 As for the rest of the American Legends, the additional shorts included are picked and scattered from Disney's past glories. Paul Bunyan from 1958 is quite similar in theme to John Henry, pitting its giant woodcutter hero against a new-fangled tree-saw machine, and shares the same stylised animation. Johnny Appleseed, from the 1948 Melody Time feature, has our apple planting wanderer creating fields of apple blossom, in an entertaining segment which itself was re-issued as a stand-alone short in the 1950s. Finally, the tale of The Brave Engineer (1950) shows man and machine working together and making sure that the mail gets through – whatever stands in their way! It's a fast paced and very funny short, with some outrageous touches ("she-mail!"), a general sense of fun and is a fine way to wrap things up.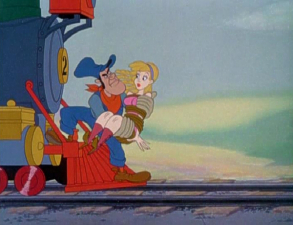 There are many more American Legends that could have been included (Pecos Bill, Ben And Me, The Saga of Windwagon Smith) to build up running time and create a more substantial disc. With the James Earl Jones links and the films presented with their original main and end credit titles, this could have been one heck of a collectors' item! As it is, it seems to play just like any other episode of a Disney TV program, which is a shame as the material on show here deserves much better. As a babysitting device, it's sure to keep the kids amused for an hour or so, but for animation fans, get it for the chance to glimpse John Henry.
Is This Thing Loaded?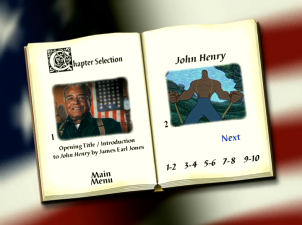 With such a lacklustre presentation of the main feature, the bonus features weren't expected to raise any levels. The extras are limited to an American Legends Learning Game, which is actually pretty neat, made up of two stages (based on the Bunyan and Henry stories) and featuring new graphics, and the original Walt Disney television introduction to Johnny Appleseed.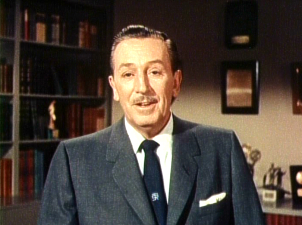 This comes from a 1957 episode of the DisneyLand TV series, and while it's always a pleasure to see such rare footage, especially in color, it only lasts around 55 seconds and is cut off rather abruptly. The DVD also includes peeks at Beauty And The Beast: Platinum, The Many Adventures Of Winnie The Pooh, Atlantis: The Lost Empire, Schoolhouse Rock, the 101 Dalmatians II teaser and a general Disney DVD promo circa 2001.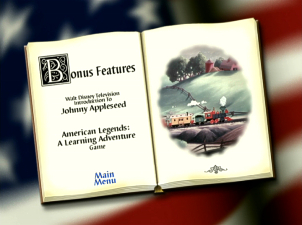 Case Study:
A pretty nice looking front image collages the faces of our four main legends against the American flag, with slight prominence leant to John Henry. The case, in initial pressings at least, is a standard white keepcase, with a chapter index that lists the four shorts. The cover character montage, in which all but John Henry, for some reason, are gazing adoringly at the Stars and Stripes, is repeated on the other side, and as the disc's art.
Ink And Paint:
Filling only a third of the space available on a DVD disc, American Legends is very disappointing, sometimes even resembling those bootleg MPEG-1 VCD imports from other countries. Okay, so it's not really that bad, and is hardly noticeable on the animation, but the production value and encoding of the live action James Earl Jones segments is a joke. Despite the entire program only running 58 minutes, the bit-rate on these intro links rarely jumps up past 5.0 Mb/sec! Real-time TV compression works harder than this!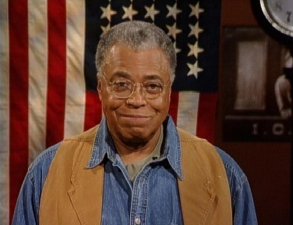 Scratch Tracks:
The James Earl Jones and John Henry sequences are, as you would expect, recorded well and reproduced cleanly, with the John Henry music score energetic, forthright and the highlight of the entire program. The exuberance of the cast's performance is an asset to the film, and to this disc, making the mountain sequences some of the most memorable scenes in recent Disney animation. There are no other audio language tracks, although English captions are available.
Final Cut:
I knew going in that John Henry had been slightly trimmed so the biggest surprise with American Legends was finding how compressed the program was! Running at just 54 minutes (a four-cartoon credit scroll, which repeats Henry's end title music just as many times, makes up the difference to 58), this title should have really been transferred at maximum bit rate. The digital artefacts are a slight distraction, and even if you are not looking for them, they'll pop up and surprise you somewhere! To an average viewer, these are minor problems, but for the fans whose only chance this will likely be to own the John Henry short, it's a real disappointment. Here's hoping that if the long-planned version of that other "tricky" title, Song Of The South, ever makes it to disc that we might see an uncut letterboxed version as an extremely suitable bonus. In the meantime, I'm glad to have this disc on the shelf for its only official release so far, and would recommend American Legends to animation fanatics just for this short – it deserves and suits its place next to classic Disney.
Animated Classic or Back To The Drawing Board?