Well, we're a week in and it's time to get the ball rolling on some daily updates…or as close to daily updates as we can! By now we hope you'll have found your way around the site (some of us are still lost!) and worked out the general gist. We've added around 30 new and archival reviews, and Randall has completed his survey recently on the history of the Filmation animation studio, so there's plenty to catch up on!
I'm also hard at work on something cool too – an exclusive tour of the current Disney exhibition Once Upon A Time…Walt Disney, currently being staged at the Grand Palais in Paris until January 15 2007 after which it will travel to Canada. The exhibition contains a wealth of Disney backgrounds, layouts and character cels, as well as drawing on popular and high art to reveal the sources of inspiration behind the creation of such landmarks as Snow White, Pinocchio, Fantasia and Bambi, through to the later movies as Sleeping Beauty and One Hundred And One Dalmatians. I was lucky enough to meet with Bruno Girveau, the chief curator of the Grand Palais gallery and museum, who gave me a guided tour of the exhibit. We'll be bringing you that as fast as my little fingers can thrash out the transcript! But it's on its way!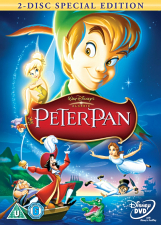 Speaking of that era of Walt produced films, did anyone catch the specs announced for the UK 2-disc edition coming out next year? As an indicator to what we can expect on the US Platinum Edition, it's a fairly good estimate, and I for one am a little disappointed to say the least. Many of the features are holdovers and carry-ons from previous LaserDisc or DVD editions (the always excellent John Canemaker's audio commentary, a making of and The Peter Pan Story), leaving the rarely, if ever, seen TV special The Walt Disney Christmas Show, from 1951, the only jewel in an otherwise over worn crown. Hopefully, theatrical trailers are an as-yet unannounced bonus that we can expect, though the set is sorely lacking the 1924 Paramount silent feature version found in some of the European issues of Pan in 2-disc configurations.
In other DVD news, don't forget that yesterday saw the release of The Fox And The Hound 2 ('nuff said!) and that you still have a couple more days to squeeze in your entry for our Looney Launch giveaway!
Right…back to the booty on the Dead Man's Chest extras… Back soon!
– Ben.